History of Lilleshall Abbey
Lilleshall Abbey was founded in about 1148 for a community of Augustinian canons. By the late 13th century, it had become a religious house of great reputation and prestige. In the 14th century, however, a financial crisis contributed to a gradual dwindling of the community. After the abbey was suppressed in 1538, it was converted into a private house. The buildings were severely damaged in the Civil War during a Parliamentarian siege, but the extensive sandstone remains still give an impression of its past magnificence.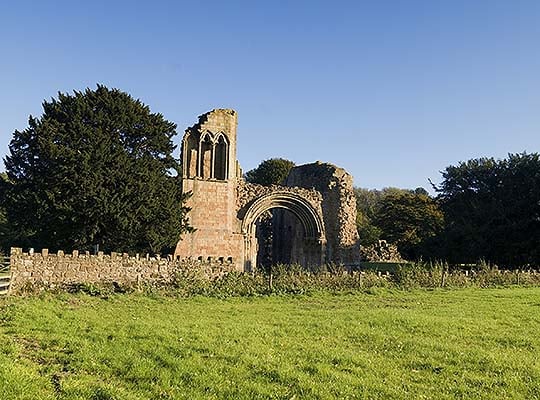 Origins
Lilleshall Abbey was founded in about 1148 for a group of Arrouasians from Dorchester Abbey in Oxfordshire, part of the wider congregation of Augustinian canons. The 'black canons', so called because of the colour of their habits, were communities of priests following a monastic rule but also preaching in churches and undertaking other parish work.
It is uncertain how many canons originally came to Lilleshall, but the founding community is likely to have been about 13.
Prosperity and Crisis
During the13th century, Lilleshall enjoyed great prestige. The abbey derived a respectable income from gifts and legacies, farmland, two watermills and investments in property, as well as tolls for the use of the Atcham Bridge over the river Severn. Henry III (r.1216–72) was entertained here twice in about 1240.
During the early 14th century, however, Lilleshall suffered financial problems. The abbot was accused of mismanagement, and finances were further undermined by the reckless selling of pensions to lay people. Although stability was eventually restored, the number of canons had fallen to 10 or 11 by 1400.
Suppression and Later History
The abbey was closed in 1538, as part of the Suppression of the Monasteries. At its closure the community had shrunk to nine canons and 43 servants, with one schoolmaster. In 1539 the abbey was granted to James Leveson of Wolverhampton, whose family lived in a house on the site until the mid-17th century.
During the Civil War (1642–51), Lilleshall was fortified for the king. In 1645 it was besieged by Parliamentarian troops. After several weeks, the troops forced entry and severely damaged the former abbey buildings.
Lilleshall was then abandoned and left to decay. During the 18th century a canal was cut through the abbey precinct. The remains were placed in state care in 1950, and later repaired and consolidated.
Further Reading
Ferris, I, Haughmond Abbey, Lilleshall Abbey and Moreton Corbet Castle (English Heritage guidebook, London, 2000)
Rigold, SE, Lilleshall Abbey (English Heritage guidebook, London, 1989)