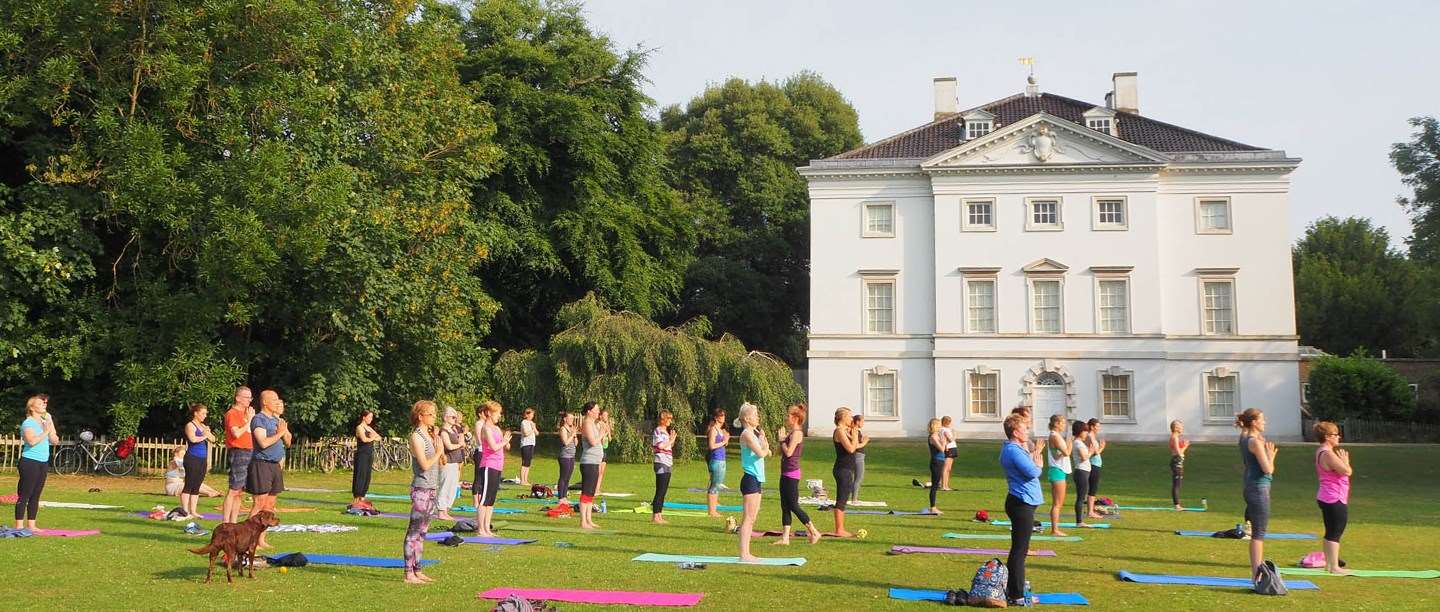 Marble Hill Revived
There is an exciting project underway at Marble Hill. We are working hard to open up the house more often, revive the landscape, and - from the play area to the sports pitches - improve the facilities across the park. And we need the support of volunteers to help us get it right.

Marble Hill in Twickenham is a much-loved space for both locals and Londoners, young and old, to relax and play. However, since the 1980s it's seen little investment. Opening times for the historic house are limited, while the park's original character has been lost. Across Marble Hill, the facilities need upgrading.

Now, with the award of a grant of over £4m by National Lottery, English Heritage will do justice to both house and park through a series of £6m improvements.
Our plans for Marble Hill
Key elements of our plans include:
Conserve and re-present Marble Hill House and open it to the public, for free, five days a week for seven months a year
Open up more areas in the park and create new habitats to improve the park's biodiversity
Improve the sports pitches and changing facilities
Refurbish the existing café
Create a new play area for children
We want to keep what makes Marble Hill so special but we also want to make it even better. And we need your help to do this.
Thank You
Thank you to everyone who supported our proposal, our activity plan is now well underway and we are recruiting for admin and event volunteers. Find out more about how you can get involved and apply today. You can also see our appeal page here.
Support our proposal
Latest updates
DECEMBER 2018 - OUR PLANNING APPLICATION HAS BEEN APPROVED

Richmond Council has approved our Marble Hill Revived plans! We are delighted and would like to thank everyone who supported and commented on our proposals – we could not have reached this milestone without you. We can't wait to start reviving the house and park.
Please find our community newsletters below:
April 2018 - Our consultation is underway

Since we withdrew our planning application and decided to look afresh at our plans for Marble Hill, our consultation with the local community has been in full swing.
March 2018 - Further consultation

We want to get our plans for Marble Hill right. In light of concerns raised about the project - about the extension of the café, the play area and the restoration of the historic garden - we are starting a new community consultation programme to try to find a practical consensus on the areas of concern.

We will:

Widen the membership of the existing Community Steering Group to include additional residents' groups and other groups so that their concerns can be fully represented
Set up a number of Consultation Workshops to discuss those aspects of the proposals that have attracted particular concerns
Organise a number of open days at the park where we can answer your questions
Be in touch with you more regularly so that you can see and read about the proposals more easily

We hope that, together, we can go forward positively to secure agreement on how best to revive Marble Hill House and Park.
September 2018 our revised planning application has been submitted

SEPTEMBER 2018 - OUR REVISED PLANNING APPLICATION HAS BEEN SUBMITTED

We've been listening to your thoughts and concerns about our proposals for Marble Hill. And in response, we've made some significant changes including:

■ The Café – instead of extending the existing café, we'll refurbish it and keep it within the Stable Block

■ The Play Area – we will keep the existing baby area and provide another space for young children

■ The Landscape – we will place a greater emphasis on biodiversity and we'll restore the landscape at a slower pace to reduce the short-term impact on wildlife

For more information, read our latest community newsletter.

Thank you to everyone who commented on our plans. The feedback we've received over the past six months has made for a better proposal. We've now submitted a new planning application and we're asking you to support it.
Background to the Project
HENRIETTA HOWARD AND MARBLE HILL
Henrietta Howard (1689–1767) is best known for being the mistress of the Prince of Wales, later King George II. But that's only a part of her life story. Orphaned at the age of 12, she was married at 16 to a drunk and a gambler, and from quite a young age was partially deaf, but she overcame these circumstances to become one of the most liked ladies of the royal court.
It was during her 20 years at court that she began to build Marble Hill House at Twickenham as a retreat from court life. Here at Marble Hill, Henrietta built friendships and networks to become central to the 'Twickenham set', including Jonathan Swift, Alexander Pope, John Gay and Horace Walpole, and triumphed over adversity to marry again, happily, later in life.
Our new interpretation will re-animate the house with tales of the vibrant cast of characters around Henrietta, from family members to visitors to pet dogs.
Read more about Henrietta Howard
The Historic Landscape
Henrietta Howard's garden is a rare surviving example of an early 18th-century villa landscape. It was designed to provide an appropriately 'ancient' setting for the villa itself, which was in the classically inspired Palladian style. Key figures in the history of designed landscapes, including Charles Bridgeman and the poet Alexander Pope, played a part in the garden's creation.
Marble Hill became a public park in 1902, after a campaign to protect the land from development and save the famous view from Richmond Hill – the only English landscape view protected by Act of Parliament. Today it's a much-loved and lively local amenity, used for sports as well as a tranquil retreat from city life.
Currently, though, the park reflects neither the landscape's 18th-century origins, nor Henrietta's story. English Heritage plans to restore elements of her lost garden, which lay directly between the house and the river. Key features, based on a detailed plan made in about 1749, will be recreated for the first time, including a ninepin bowling alley, flower gardens, terraces and serpentine paths.
Read more about the Historic Landscape
We would like to thank the National Lottery Heritage Fund and the National Lottery Community Fund