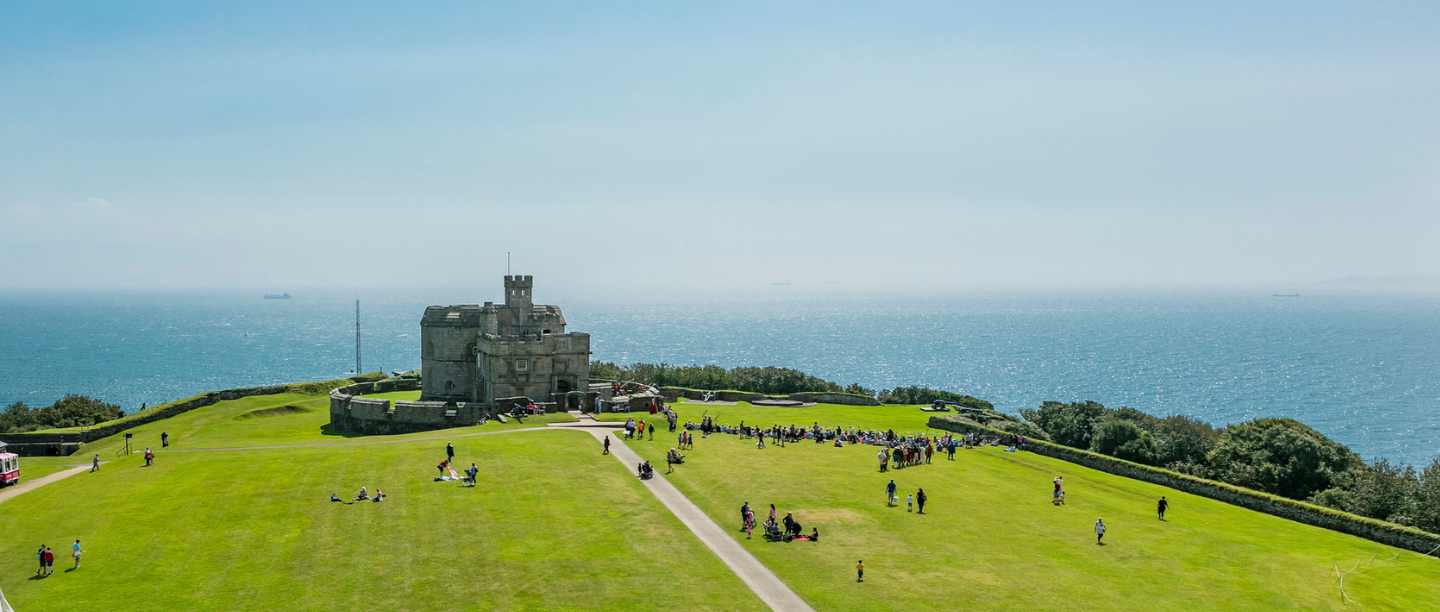 Things To See and Do
There's so much to see and do during a day out at Pendennis Castle.
Against such a strikingly beautiful setting, the castle offers you exciting first-hand experiences of history. Discover historic guns, look out for enemies on the horizon and meet characters from its dramatic past.
Our 'Plan your visit' page includes information about getting to the castle, the facilities available and access information.
Coastal Views
Dominating a high, rocky headland thrust out into the open sea, the great fortress of Pendennis has protected the entrance to the River Fal and its deep estuary, Carrick Roads, for nearly 500 years.
Pendennis offers breath-taking views over the town of Falmouth, nearby beaches and out to sea. Look out for sea-faring vessels of many kinds and a huge range of wildlife, birds and coastal creatures. With so many vantage points to choose from you can always find a spot to admire the view, soak up the sun or sit and watch the world go by.
Family fun
Discover Pendennis Castle through our interactive exhibitions and Castle Explorers family trail. We've put together a Family Guide to help you plan your visit.
The castle grounds with its acres of space makes the perfect spot for a picnic with a view so don't forget to pack your picnic blanket!
View our Family Guide
The Tudor Keep
Climb the spiral stairs to the roof to experience its unparalleled views out to sea, and, with 360° panoramas, see why the castle's headland location was so strategically significant.
Historic Weaponry
Marvel at the display of big guns in the Field Train Shed and learn about the awesome power of these coast defence weapons. The collection includes Tudor, Napoleonic, Victorian and 20th-century guns, each with information on how it would have been used.
Continue around to One Gun Battery – once home to a 'disappearing gun', then descend through the rock cut tunnel to the Half Moon Battery.
Soft Play
Located next to the cafe is our new castle-themed soft play, allowing you to enjoy a tea and cake whilst the kids are kept entertained. Suitable for children under 5, our indoor play area offers a fun and safe environment for the children - perfect during wet weather!
Scanning the Horizon
During the Second World War, the Battery Observation Post provided a round the clock watch to help keep Falmouth safe.
As you travel back to wartime Cornwall, discover how enemy ships were pinpointed on the horizon and the guns of Half Moon Battery controlled.
Be on the look out for approaching ships and listen in to conversations between the commander and his gun crews.
A Bite to Eat
Our bright and airy cafe boasts a wide selection of meals freshly prepared here Pendennis Castle.
The menu includes both local and seasonal Cornish dishes and those with a historical Tudor twist, inspired by the castle's history as one of Henry VIII's finest coastal fortresses.