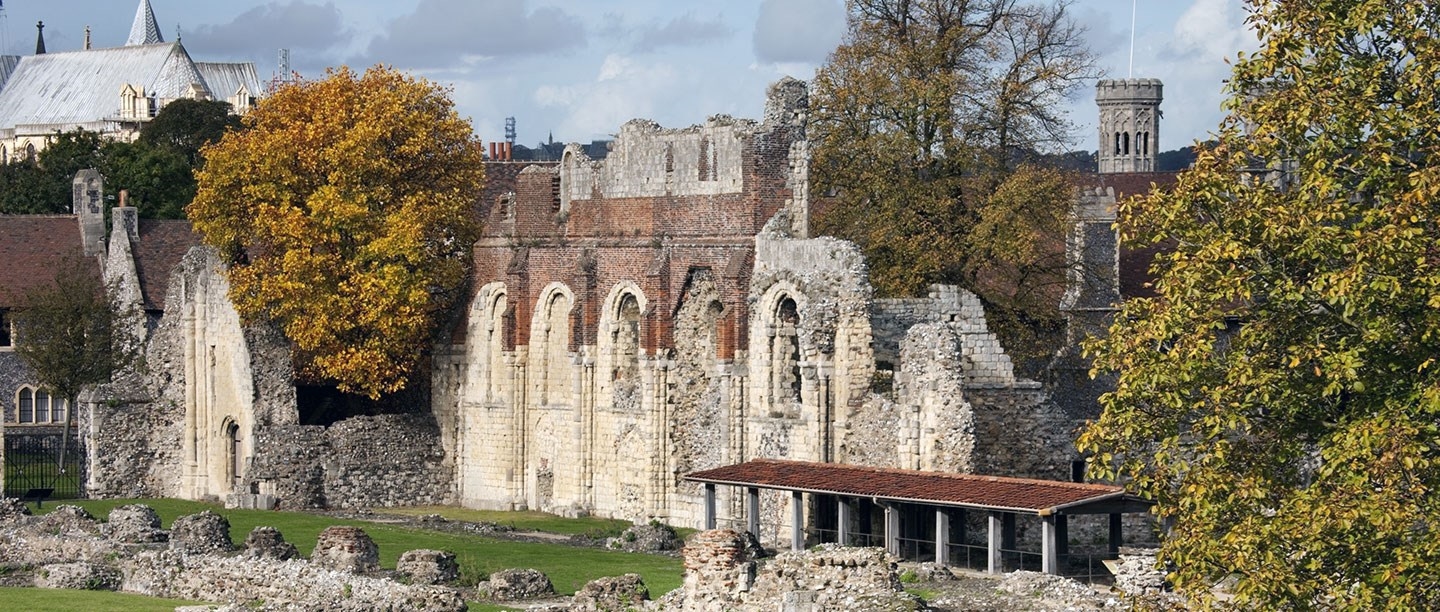 St Augustine's Abbey: History and Stories
Little remains of St Augustine's today, but at its height, the abbey was one of the most significant religious sites in medieval England. The 6th-century home of a mission to convert the Anglo-Saxons would grow to become an important centre of learning and spirituality that lasted for centuries. It may even have been the birthplace of the Bayeux Tapestry.
Delve into the history of St Augustine's Abbey and uncover the stories of the key people associated with the site over the years, including the abbey's namesake, St Augustine.
St Augustine's Abbey was was one of the most important monasteries in medieval England. For almost 1,000 years it was a centre of learning and spirituality.
The abbey was founded in 598, after St Augustine arrived in Kent on a mission to convert the pagan Anglo-Saxons to Christianity. Within 100 years, the work begun by Augustine had converted the whole of England, and the abbey that bore his name was at the heart of English Christianity.
St Augustine's developed over the centuries into a great Romanesque abbey, one of the grandest and most influential in Europe. However, this power and prominence was not to last. The Suppression of the Monasteries under Henry VIII saw much of the once great abbey destroyed.
In later years, St Augustine's became the site of a royal palace, a poorhouse, a gaol and a school.
The abbey now forms part of a UNESCO World Heritage Site, recognised for its great importance to the history of Christianity in England.
Read the full history of St Augustine's Abbey
St Augustine's Through Time
Watch this short film and see how St Augustine's developed from a small group of Anglo-Saxon buildings into a grand Romanesque abbey.
Monasteries and Abbeys

Learn more about England's medieval monasteries and abbeys and uncover the stories of those who lived and prayed in them.

A mini guide to Medieval Monks

Do you know the difference between the Benedictines, Cluniacs, Carthusians and Cistercians? This short animation will guide you through the different religious communities in medieval Britain.

Early Medieval Religion

Learn how Christianity survived in small pockets of post-Roman England before the mission of St Augustine finally kickstarted the conversion of the whole country.
ENJOY A FULL YEAR OF ADVENTURE
Become an English Heritage member and take full advantage of free entry to over 400 sites plus free or discounted access to our exciting events programme throughout the year.


Join now from £4.42 per month