History of St Olave's Priory
This small Augustinian priory was founded by Roger FitzOsbert in about 1216. It is dedicated to Olaf, the 11th-century king and patron saint of Norway whose stark Christian message was 'baptism or death'.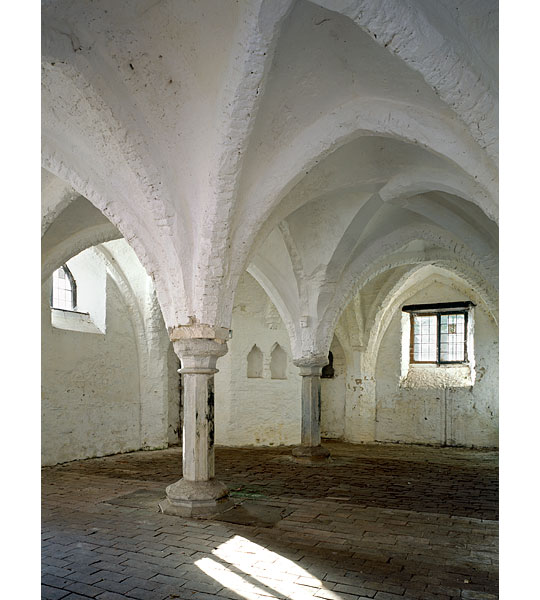 An inventory taken in 1536 records little of value and the priory was probably already in decline when it was suppressed a year later. In 1547 Sir Henry Jerningham converted the buildings to the north of the cloister into a private house, but little of this survived when the priory was dismantled in 1784.
Around 1825 the floor of the refectory undercroft was raised and the building was converted into a cottage which was occupied until 1902.
Description
The hidden gem in this unassuming ruin is its 14th-century refectory undercroft. Its vaulted brick ceiling is an important early example of the use of brick in England. Supported on Purbeck marble columns, it is still almost complete and retains much of its original plasterwork.
The only parts of the church to survive are a stretch of the south aisle, the west wall and parts of the north wall. The foundations of some of the brick-faced piers that supported the cloister arcade are visible, but nothing remains of the west range except the flintwork cloister wall, which is pierced near the north end by a 14th-century doorway.
At the back of the refectory is a fragment of Jerningham's 16th-century house that escaped destruction, which includes a reused 14th-century doorway.
Further Reading
Davis, KR, St Olave's Priory, Herringfleet, Suffolk (HMSO guidebook, London, 1975)