History of Thetford Warren Lodge
This isolated lodge was probably built about 1400 by the prior of Our Lady's Priory, Thetford.The prior had the right of free warren – a licence from the king to hunt small game – and the area would have been an obvious target for armed poachers. The many defensive features incorporated into his lodge show that the prior took this threat seriously.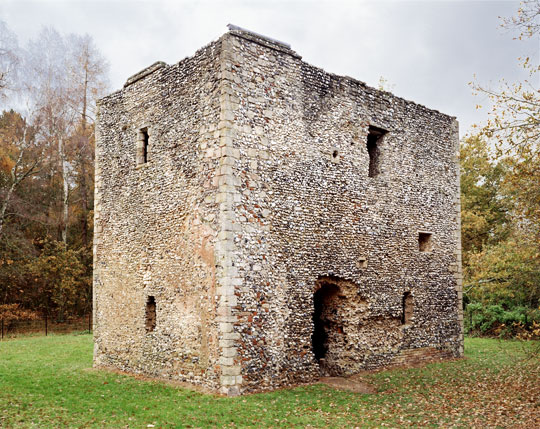 This is a substantial stone building and, in an area where stone and brick were costly materials, clearly demonstrates the wealth and social standing of its owner. The quality of the building work inside and out also indicates that the lodge was intended to accommodate hunting parties as well as the prior's gamekeeper.
After the final dissolution of Thetford Priory in 1540 the monastic lands were granted to the Duke of Norfolk, who had been its patron. Until the early years of the 20th century the area surrounding the lodge was one of the most productive rabbit warrens in the Breckland region of Norfolk.
It is known that the warreners who managed and culled the stock occupied Thetford Warren Lodge from at least the 18th century onwards. They made alterations to the building and used the rooms on the ground floor for drying rabbit skins and storing their traps, nets and lanterns.
The lodge was later incorporated into a farmhouse, which was abandoned after a fire.
Description
Thetford Warren Lodge retains many original features and is a rare example of its kind. It is a rectangular tower-house built of mortared flint rubble and reused stones, some of which are reddened and were probably removed from the nearby priory after a fire.
The walls were substantial – up to 1 metre thick at floor level – and stand for the most part to almost their original height. The limestone dressings also include many reused 12th-century architectural fragments.The level of the upper storey is marked by an offset on the interior face of the walls.
The lodge had numerous defensive features, including a parapet from which the gamekeeper could look out over what was then open country. The lower windows are narrow loops and the single entrance has a hole over the porch, which allowed the warrener to lower a board through it from the floor above to secure the closed door against unwelcome visitors.
Inside the house the remains of an internal staircase and two fireplaces can be seen. There is also a partial intermediate floor at a lower level with sluices in the wall, possibly a suspended game larder.
The south-eastern angle of the building has been rebuilt and the repair is clearly marked by the inclusion of random ashlar and brick in the fabric. The roof is modern.