History of Wayland's Smithy
Wayland's Smithy is a two-phase Neolithic tomb, built along the Ridgeway close to a north scarp of the Downs above the Vale of the White Horse in south Oxfordshire. The first monument here, built between 3590 and 3555 BC, was a mortuary structure of stone and wood. After a short period of disuse, this was encased within a second, larger, barrow double its height, which remained in use for about 100 years.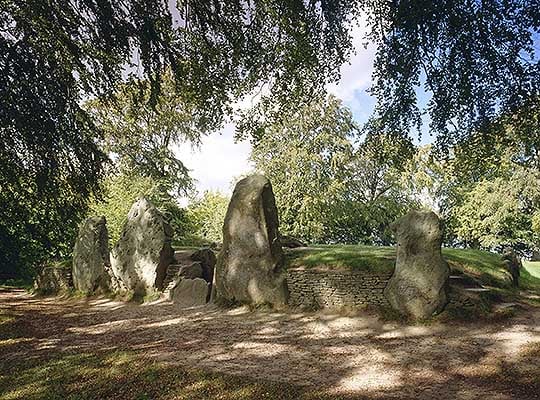 Construction and Use
The first structure here (known as Wayland's Smithy I) was a mortuary structure of stone and wood. On a pavement of sarsen stone slabs lay a narrow wooden box, in which people were successively buried Two split tree-trunks were placed upright at each end.
The remains of 14 people – 11 men, two women and a child – were discovered in this first structure when it was excavated in 1963. Radiocarbon dating has shown that the first burials were probably placed there in 3590–3555 BC, and the last in 3580–3550 BC.
The barrow was therefore used for no more than 15 years, less than a single generation. It is possible that the barrow was used for an even shorter period, perhaps just a year.
Closure of the First Barrow
We don't know what circumstances caused this group of people to be interred over such a short period. They may have suffered some illness or injury during conflict. There are potentially three or more people who suffered lethal arrowhead strikes, and two individuals whose remains were subject to scavenging by animals before burial.
After a period of between 40 and 100 years, the structure was covered by an oval mound of chalk and earth, derived from two flanking ditches. This act signalled the closure of the barrow, but its significance was not forgotten.
The Second Barrow
After a period of disuse, a second, larger barrow (now known as Wayland's Smithy II), with a monumental façade, was built over the top. Built between about 3460 and 3400 BC, this absorbed the older mound altogether. The barrow is thought to have remained in used for burials for less than 100 years.
Radiocarbon dating at Wayland's Smithy II has shown this monument to be a strikingly late phenomenon compared to other long barrows. The tomb was built in the style of older monuments such as the West Kennet Long Barrow, built 200 years earlier. The builders might have felt the need to create a sense of history and to claim a long ancestral connection to this place.
Later History
Wayland's Smithy has been a recognised feature of the historic landscape since at least the 10th century AD. The name of Wayland's Smithy has been linked to the long barrow since at least AD 955, when it was referred to as 'Weland's Smithy' in a Saxon charter. It appears to be a name handed down from a time when metalworking was remembered as a potent, even magical practice.
Recorded by John Aubrey in the 17th century and by later antiquaries, it continued to be of interest in the 19th century. It was one of the first monuments to be protected by scheduling in 1882.
Associated with the name is a local tradition. It is said that if you were to leave your horse tethered at the long barrow, together with a small coin, then Wayland the invisible elvin smith would magically reshoe your horse while you were away.
READ MORE ABOUT WAYLAND'S SMITHY