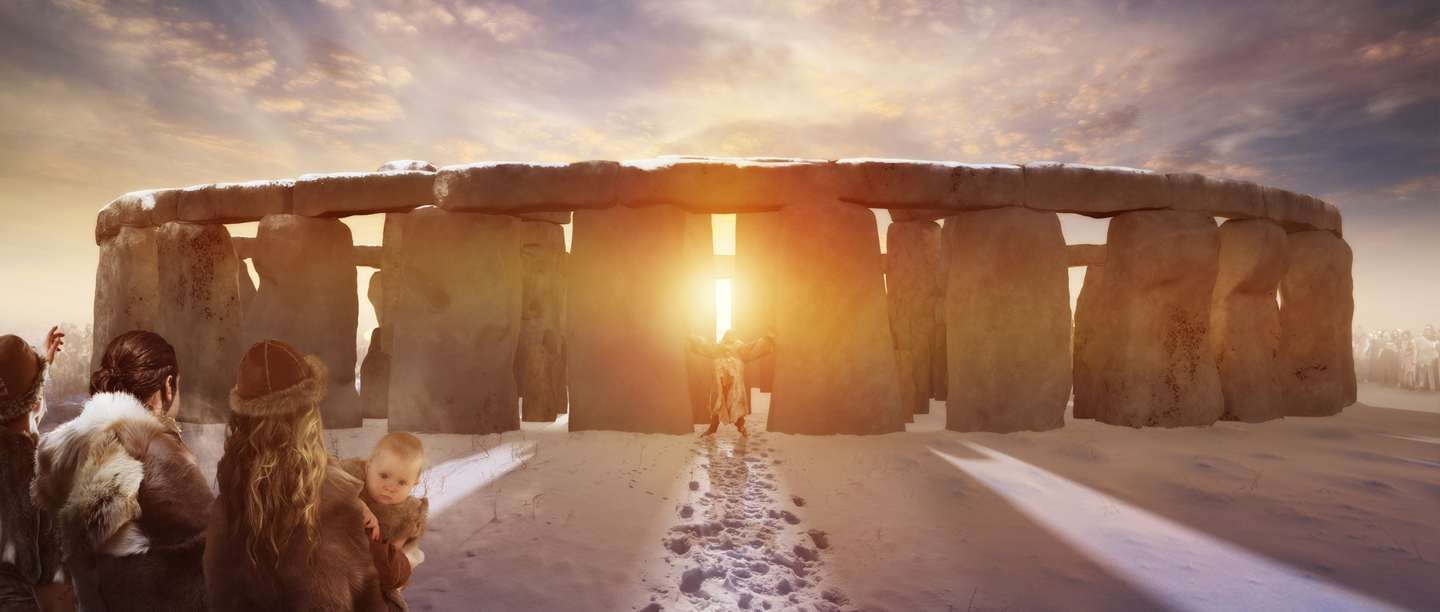 The History of Christmas
The origins of Christmas stretch back thousands of years to prehistoric celebrations around the midwinter solstice. And many of the traditions we cherish today have been shaped by centuries of changing beliefs, politics, technology, taste and commerce.
Scroll down to discover the history of Christmas through the ages, starting around 5,000 years ago in the Neolithic.
Make sure you also take our quiz to discover which historical era's festive celebrations best match your own Christmas style.
Neolithic
The shortest day of the year is the 'midwinter solstice' on 21 December. It was very important to the people who built and used Stonehenge, with its tallest stone lining up with sunrise on that day. Archaeologists working at nearby Durrington Walls have discovered that 'Neolithic' (New Stone Age) people held great feasts there at around this time of year. They ate huge quantities of pork and beef, some of it from animals driven hundreds of miles. They also enjoyed dairy products like fermented milk and cheese, and probably drank barley beer or mead (made from honey) from decorated pottery beakers, a late Neolithic 'must-have' accessory.
Pictured: A snowy scene at Stonehenge
The most valued midwinter presents would have included daggers made of bronze, the new material which had just begun to replace flint and stone for tools and weapons. Bronze weapons were probably imported from Europe, where metal-working technology had got off to a head start. The richest people's party outfits included gold necklaces, and maybe gold hair decorations and gold buttons to fasten their clothes. They might have sung songs, played bone flutes and jumped over bonfires in honour of the sun, encouraging him to return and make the days longer again.
Pictured: A reconstruction drawing of Durrington Walls © Historic England Photo Library
Visit Stonehenge
Roman
The Romans celebrated midwinter with at least five days of feasting and partying called the Saturnalia, which began on 17 December. Honouring Saturn, chief of the Roman gods, it was a time when all the usual rules about rank and etiquette were overturned. Slaves were served at meals by their masters, and everyone wore a pileus, the conical 'cap of liberty' presented to slaves when they were freed. Gambling with dice, usually forbidden, was allowed, and instead of white togas or dresses everyone wore bright party clothes. Public feasts were followed by celebrations at home, and people exchanged small gifts, especially sigillaria (little figures made of wax or pottery), or jokily satirical presents, songs or poems. Slaves could even criticise their masters, and (just this once in the year) got time off.
Pictured: A winters day at Housesteads Roman Fort
During Saturnalia at Housesteads Roman Fort, soldiers might have been served by their officers. They'd have varied their everyday diet of bread and beef with some of the luxury foods the Romans introduced to Britain, such as figs, dates, pine nuts, snails, fattened-up dormice and garum, a strong-tasting sauce made from fermented fish. Instead of the usual Hadrian's Wall beer, they'd have drunk imported wine, perhaps mulsum blended with honey and spices.
Pictured: Dice players depicted in a Roman fresco from Pompeii
Visit Housesteads Roman Fort
Medieval
After fasting right up until 24 December, medieval people really let rip with twelve full days of Christmas festivities, reaching a crescendo on 6 January, 'Twelfth Night', when presents were given. These celebrations commemorated Christ's birth and the name Christmas (Christ's Mass) is first recorded in England in 1038. Medieval celebrations also combined the servants-as-masters antics and gift-giving of Roman Saturnalia with customs left over from the pagan Saxon Midwinter feast of Yule. These included the Yule Log (kept burning throughout the season), decorating houses with evergreens and eating richly decorated boar's heads, sometimes washed down with mulled 'braggot', extra-strong ale with honey and cinnamon, spiked with brandy.
Pictured: Medieval merrymakers at Pendennis Castle
Boisterous medieval festivities were directed by a Lord of Misrule, whose word was law. The Christmas games he ordered could be rough; among the tamest was 'Hot Cockles', where blindfolded victims had to guess who'd slapped them from behind. If the guess was right, slapper became victim. Carols, originally dances accompanied by sung choruses, were also increasingly popular at Christmas; their words might be religious, worldly, or even rude. Blending devotion with drunken partying, medieval Christmases were also important state occasions, when kings ceremonially wore their crowns at feasts and lawgivings. Henry II, who built the Great Tower at Dover Castle, held Christmas 'crown-wearings' at 24 different places during his 34-year reign.
Pictured: Arthur and Guinevere at a banquet, courtesy of The British Library
Visit Dover Castle
Tudor
Tudor Christmases were even more full-on than medieval, but were a tad less boisterous, at least at Court. On Twelfth Night (6 January) a bean was baked into a cake. The person who got it in their slice became 'King of the Bean', or if it was a woman, she chose her 'King', and everyone had to imitate him. When he drank, they drank; if he coughed, they coughed. This was also a time for plays (like Shakespeare's 'Twelfth Night') and 'disguisings'. Henry VIII (a talented musician who wrote the Christmas song 'Green Groweth the Holly') and his friends liked to dress up as Robin Hood's Men or Moors, and you had to pretend not to recognise them.
Pictured: A frosty morning at Kenilworth Castle and Elizabethan Garden
Queen Elizabeth preferred energetic dancing, and had her own 'Dancing Chamber' at Kenilworth Castle. In the popular Christmas 'Cushion Dance', a man laid a cushion before his wished-for partner; she knelt on it, kissed him, and joined the dance. Then she chose her partner in the same way, until everyone was dancing. Perhaps the dancers got their energy from sugar, which richer Tudor people loved. They tipped it into already sweet wine, and held Christmas 'sugar banquets', with elaborate sugar models of castles, dragons, holly and even sugar goblets, all edible. The Queen (whose teeth went black from sugar-eating) also expected lavish presents, then customarily given on New Year's Day, and carefully listed their exact value.
Pictured: Queen Elizabeth I dancing at court c1575 © Alamy Images
Visit Kenilworth Castle
Victorian
The Christmas we know today took shape in Victorian times, when the rowdier celebrations of earlier periods were toned down into a quieter family-focused festival. Queen Victoria and her beloved Albert, with their nine children, played a big part in these changes. The Christmas trees Albert introduced from his native Germany in 1840 rapidly caught on, as did decking them with lights and presents, by now given on Christmas Day itself. Victorian children's presents were usually quite modest, such as sweets, nuts or oranges, although wealthier kids might hope for a gift echoing the latest technology, such as a toy train. 'Christmas Box' tips to servants and tradesmen were left until 26 December, hence called 'Boxing Day'.
Pictured: Father Christmas delivering presents to Osborne
Many other now-familiar elements of Christmas also originated in this period, including printed Christmas cards, Christmas crackers, and eating turkey (instead of the traditional goose) and Christmas pudding. Even 'Santa Claus' and his reindeer sleigh first came here from America in the 1870s.
Most Victorian families went to church at Christmas, and the words (if not always the tunes) of many popular carols (including 'Good King Wenceslas', 'Once in Royal David's City' and 'O Come All Ye Faithful') are Victorian. Better-off people also provided gifts or Christmas feasts for poorer neighbours (a tradition promoted by Charles Dickens' 1843 'Christmas Carol' Scrooge story), and parties for tenants' children were an annual Christmas event at mansions like Brodsworth Hall.
Pictured: Queen Victoria and Prince Albert gather round a Christmas tree with the Royal Children © Alamy Images
Visit Brodsworth Hall
Festive Treats for Christmas