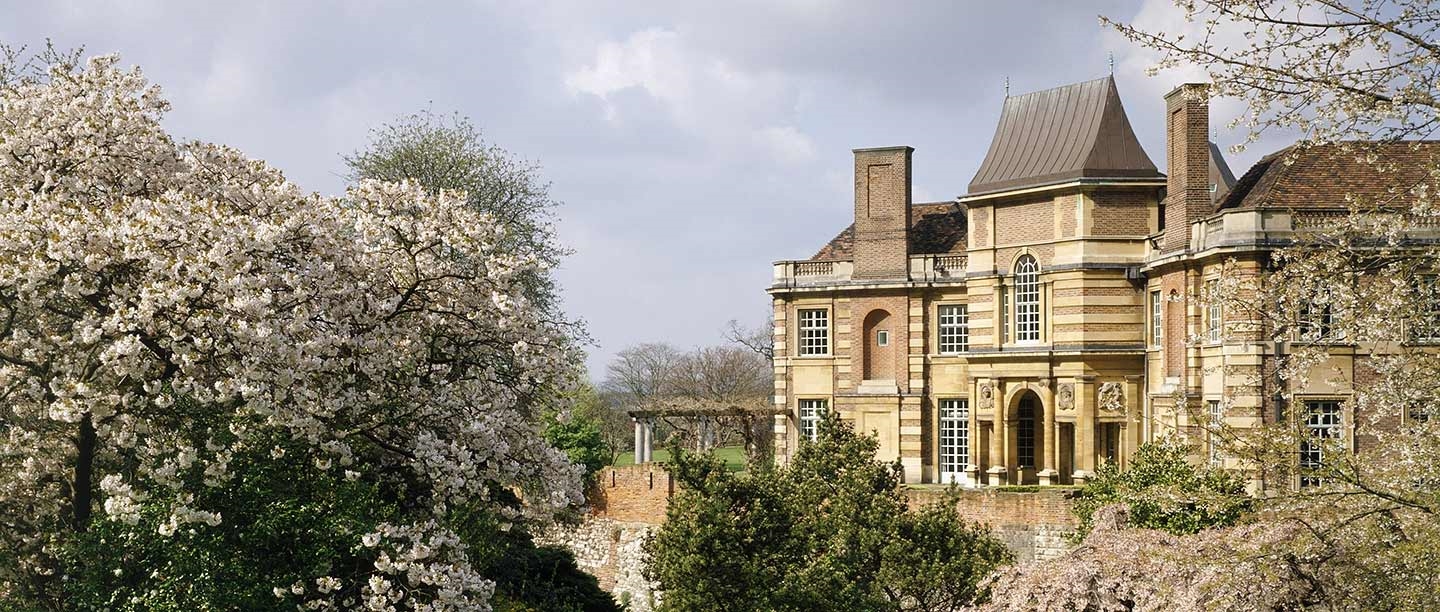 The Partners: Seely and Paget
John Seely and Paul Paget were partners both in life and in one of the most noteworthy architectural firms of the interwar years. Having met at university, they went into business together in their early twenties and lived and worked together until Seely's death. Each referred to the other simply as 'the partner', and their friends and families used 'the partners' when speaking of them too.
Their architectural masterpiece was their transformation of Eltham Palace, a medieval palace on the outskirts of London, into an art deco mansion, completed in 1936.
Meeting as students
(Henry) John Seely was the eldest surviving son of the 1st Baron Mottistone. Born in 1899, he studied architecture at Trinity College, Cambridge, where he met Paul Edward Paget, who was two years younger. The son of a bishop, Paget was an extrovert and entertainer. The pair became inseparable. In Paget's words, 'it was just the marriage of two minds … we became virtually one person'.
PROFESSIONAL PARTNERSHIP
It was in 1922, after Paget had moved back to London to take up what he considered a dull profession in banking, that Seely announced to him that they would be starting an architectural firm together.
Paget was not an architect, but made up for this with his charm and personality. He was the face of the company, securing business and cultivating good relationships with clients. Seely was the designer. As in their personal life, the two were inseparable in business.
Their first domestic job was the restoration of Mottistone Manor on the Isle of Wight for Seely's father. But they soon became more widely known. Both came from rich families and were well connected. In Paget's words, 'You were just introduced to the right people, behaved in the right way, and so commission followed commission'. Their early work included domestic alterations for the actress and theatre manager Gladys Cooper, and for the playwright JB Priestley.
Private Life
Although the exact nature of Seely and Paget's relationship was known only to them, it clearly went much deeper than that of professional partners.
From 1930 they lived and worked together at 41 Cloth Fair in Smithfield, London. The business became so successful that they were later able to buy most of the buildings on the street.
They installed two separate baths in the bathroom, where they would soak together. They blocked up the window in the house opposite that overlooked their kitchen and commissioned the church artist Brian Thomas to paint over it. The mural of a sailor returning home to his family was, in Paget's words, 'a delightful thing to look at'. This may have resonated strongly with the partners, both having lost older brothers in the First World War.
At weekends they would get away from the pace of London life at 'The Shack' in the grounds of Mottistone Manor, on the Isle of Wight. They built this together and would often entertain guests there, sleeping in The Shack's bunk beds while guest retired to the main house. The Shack can still be seen today at Mottistone.
The Courtaulds
Seely and Paget's most important and ambitious project was Eltham Palace. On the outskirts of London, Eltham was a medieval moated palace which had been the childhood home of Henry VIII, but had fallen into decline in the 18th century.
Eltham was transformed in the 1930s when Stephen and Virginia Courtauld took a 99-year lease on it from the Crown. The Courtaulds were extremely wealthy, and had been looking for a semi-rural property within easy reach of central London for a weekend getaway to entertain visitors. Eltham met their requirements perfectly.
Find out more about Eltham Palace
Design Controversy
Paget's cousin recommended the partners to the Courtaulds, who commissioned them to design a modern home that incorporated the medieval palace remains. Seely and Paget drew up plans for a new, modern house that adjoined and blended in with the medieval.
Their design caused some controversy, as there was much debate about the propriety of building onto an ancient monument. Although Seely and Paget worked with Sir Charles Peers, formerly Chief Inspector of Ancient Monuments, on the restoration of the palace's great hall, their design was far from universally popular. The historian GM Young wrote to The Times complaining that the architects had
united their talents and intelligence to destroy one of the most beautiful things remaining in the neighbourhood of London ... the other day I found myself confronted with what at first I took to be an admirably designed but unfortunately sited cigarette factory.
But the design was eventually approved, and the house was completed in 1936.
AN ART DECO MASTERPIECE
Eltham is now widely regarded as an art deco masterpiece. The exterior was inspired by Christopher Wren's work at Hampton Court Palace and the library at Trinity College, Cambridge.
Inside the palace, Seely and Paget designed all 14 bedrooms and all but one of the bathrooms – Virginia had stipulated that the Mayfair designer Peter Malacrida should design hers. Paget later said, 'We slightly resented that and thought we would have done something much better.' Despite this, they built up a close relationship with the Courtaulds, picnicking with them in the grounds during the building of the new house, and staying with them afterwards several times.
Seely and Paget also made extensive alterations to the magnificent great hall, built during the reign of Edward IV, designed to make it look as 'medieval' as possible. They created a minstrels' gallery at its east end, providing a superb view over the room, and added a timber screen at the other end.
Later Life
The damage caused to London and the surrounding area by bombing during the Second World War created many opportunities for Seely and Paget. They worked on a variety of secular and church buildings, including designing the church of St Andrew and St George in Stevenage – the largest parish church built in England after 1945. They were also responsible for restoring the Westminster Abbey precinct and parts of Eton College, Berkshire. In 1947 Seely (now 2nd Baron Mottistone) was appointed surveyor to the fabric of St Paul's Cathedral.
John Seely died in 1963 and was buried in St Catherine's chapel garden at Westminster Abbey. The Latin inscription on his memorial there translates as 'John Mottistone. This is a sign of love and sadness. P.E.P. 1966 A.C.D.' (Alan Campbell Don was the Dean of Westminster.)
Although Paul Paget succeeded Seely as surveyor to St Paul's, without his partner and with no architectural training he felt unable to continue alone. In 1971, aged 70, he married the children's writer Verily Anderson. He retired with her and her children to Templewood in north Norfolk, a house the partners had built for Paget's uncle, and lived there until his death in 1985.