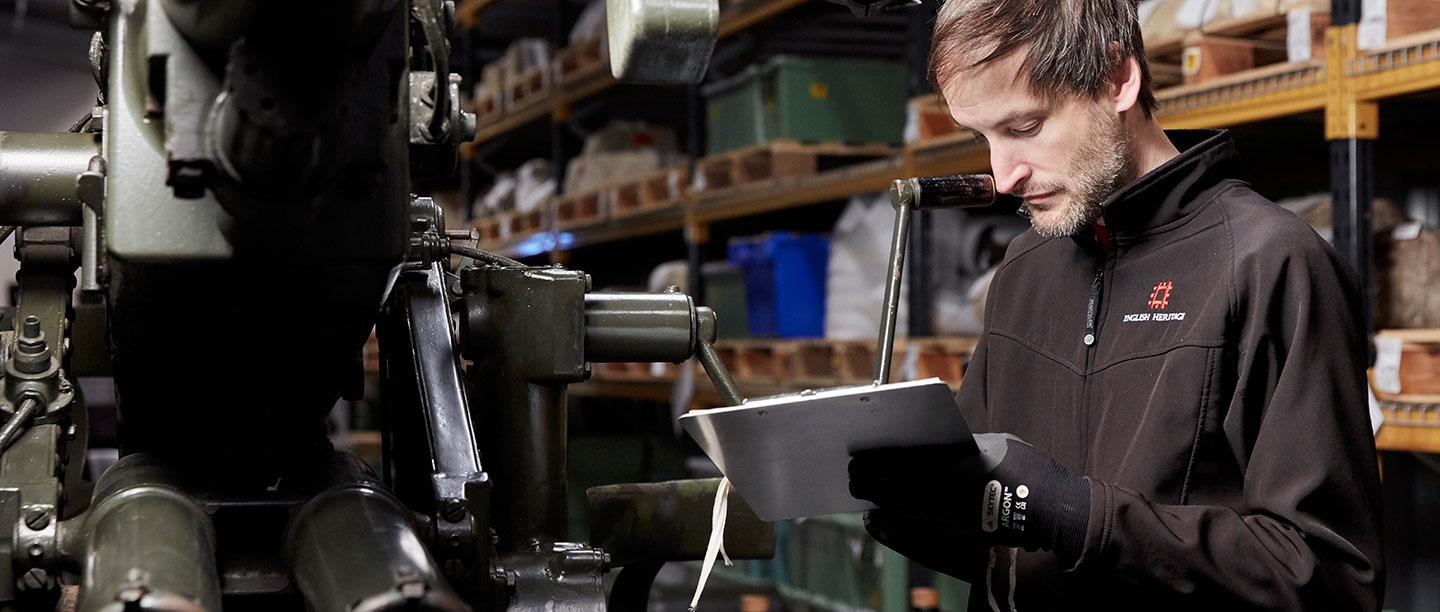 Research at English Heritage
Research is at the heart of everything we do. Knowledge of our sites, properties, gardens and objects is essential so that we can care for them, interpret them and make them meaningful to the public.

English Heritage is an Independent Research Organisation and welcomes collaboration with other research bodies. We also co-supervise a number of PhD studentships every year, giving the experts of the future unrivalled access to English Heritage's sites, collections and in-house expertise.
Our research Priorities
English Heritage has a strong tradition of archaeological, conservation and historical research. This is used to unlock the potential of our places and objects, so we can tell the story of England in a more representative and nuanced manner. We also explore wider issues around the management and presentation of heritage sites and collections.
As an Independent Research Organisation (IRO) we welcome enquiries about collaboration from higher education institutions, heritage bodies and other organisations from the cultural sector.
We are currently developing our Research Agenda. This will outline our interests and priorities, and will be a guide for potential partners.
PhD Studentships
Every year we host a number of PhD students from affiliated Doctoral Training Partnerships. We also hold a Collaborative Doctoral Partnership (CDP) with Historic England and the Arts and Humanities Research Council.

CDP studentships match our research areas and support the work of our organisations. Students are co-supervised by members of English Heritage or Historic England staff and benefit from access to English Heritage sites, collections and expertise.
Read more about collaborative PhDs
Our Researchers
Research at English Heritage is carried out by staff with many different specialisms including historians, curators, landscape advisors and conservation scientists.
Many of our specialists are world experts in their fields, conducting historical and scientific research, advising on interpretation and learning programmes, authoring guidebooks, co-supervising PhD candidates and ensuring that our sites and collections are properly cared for.
Read more about our experts and their research areas
Case Studies
Richmond Castle Cell Block Graffiti
Inscribed onto the walls of Richmond Castle's 19th-century cell block are thousands of pieces of graffiti, spanning several decades and two world wars.
New volunteer-led research has shed light on the people behind the graffiti, including the absolutist conscientious objectors known as the Richmond Sixteen.
Read more
Operation Clothes Moth
At English Heritage, we've been monitoring clothes moths at our properties for many years, and this has shown us that their numbers are rising. We wanted to learn more about how these moths were spreading.
In spring 2017 we launched a citizen science research project, Operation Clothes Moth. Hundreds of members of the public helped us by trapping moths at home and sharing their findings.
Read more
Slavery Connections of English Heritage sites
2007 saw the bicentenary of the abolition of the slave trade in the British Empire. To mark the anniversary English Heritage (now separately English Heritage and Historic England) commissioned research into the links between the properties in its care and slavery.
Four more in-depth reports were subsequently commissioned into Bolsover Castle, Brodsworth Hall, Marble Hill House and the Grange at Northington.
Read more