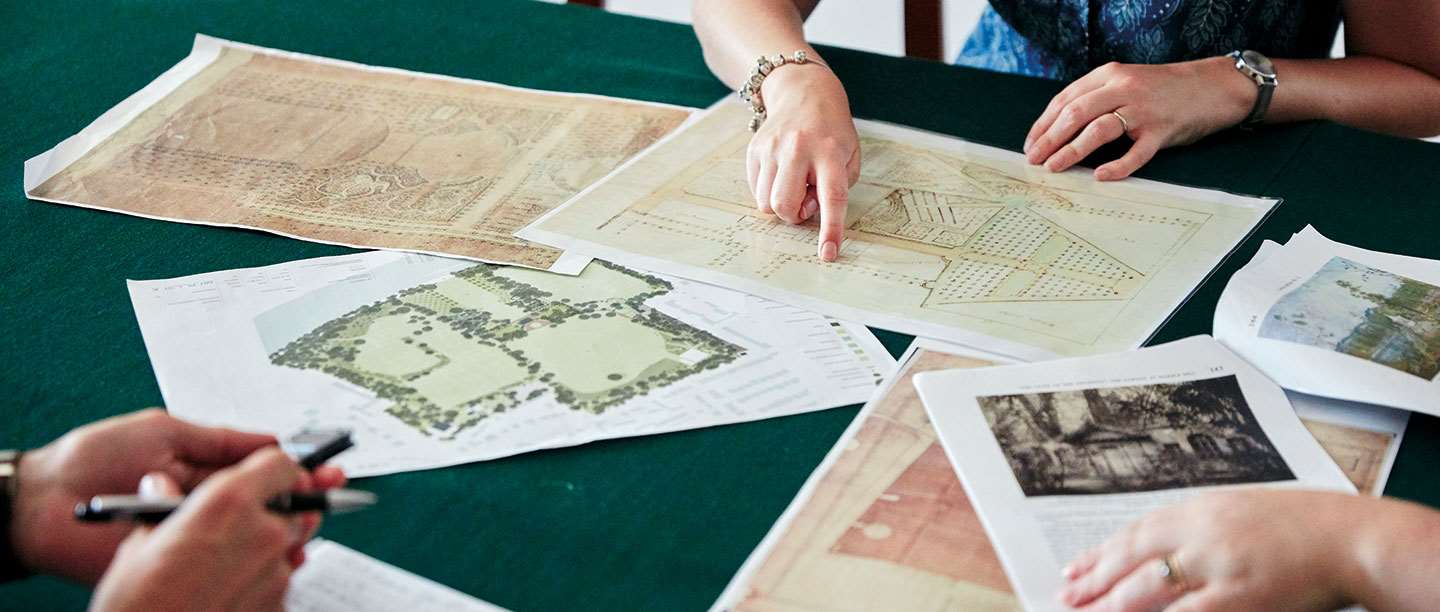 PHD Studentships
English Heritage and Historic England hold a Collaborative Doctoral Partnership (CDP) with the Arts and Humanities Research Council (AHRC). Every year, we offer AHRC-funded PhD studentships, co-supervised by English Heritage and Historic England experts.
The programme provides the opportunity to align practical research with heritage protection outcomes and helps to address the skills shortages in the heritage profession.
We also run a number of PhD placements through Doctoral Training Partnerships.
Collaborative Doctoral Partnership
Every year, English Heritage and Historic England offer a number of funded PhD studentships which support the work of our organisations. These studentships are focused on priority areas of our reseach agendas, and are based on proposals from academics based at UK universities.
The successful student candidates are jointly supervised by their university and experts from either English Heritage or Historic England. They spend a significant period of time researching at or with the organisations.
The studentships last for four years, including up to 6 months work placement.
2021 Call for Proposals
The 2021 CDP Programme call for proposals is now open.
Proposals for studentships must be made by a university-based researcher who will act as co-supervisor for the PhD. Each submission should be made in collaboration with a named member of staff from Historic England or English Heritage.
Please note, we do not accept CDP proposals from potential students.
Proposals must match one of our published CDP Priority Research Areas 2021 (below) and we encourage a range of proposals across these areas that can demonstrate academic originality, are appropriate for collaborative study at doctoral level, and fall within the AHRC subject remit.
Proposals must also demonstrate that they can provide career development opportunities for the student outside of their main research within the funded four year period.
Completed Proposal Forms should be emailed, as an attached document in .docx or .doc format, to cdp@historicengland.org.uk by 5.00pm on Friday 26th November 2021.
A panel consisting of internal and external experts will judge the proposals and those that are successful will be advertised as PhD studentships to find suitably qualified candidates to commence their research in October 2022.
Download the CPD Proposal Form and Guidance
English Heritage's Priority Research Areas
Conservation of Ruined Masonry: A Holistic Approach to the Management of Water in Ruined Structures to Reduce Deterioration
The increasing prevalence of extreme weather events, unsympathetic materials used in the Ministry of Works era, inappropriate repair nowadays; these and other factors are all contributing to decay of ruinous structures. But how extensive is the problem, and is it accelerating? Can digital survey techniques be used to identify and anticipate deterioration? And how can we slow down deterioration and extend the life span of these vital parts of our heritage?
Managing Armageddon: Responding to the Threat of the Bomb
English Heritage holds significant assemblages of artefacts and archive relating to the detection and analysis of nuclear conflict, communication of real time information and ongoing logistical and administrative co-ordination of a post-strike environment. These collections relate to a variety of sites at different levels of, and with different functions within, the country's civil defence strategy as well as reflecting wider civil defence planning.
We are interested in research projects that would use this unexplored body of material, alongside the assemblage of related material within the broader museum sector, to look at the national response to the threat of nuclear war.
Female Creative Practice in the English Country House c.1750–1900
Country houses have long been recognised as important sites of amateur artistic production – particularly among the women who lived in them. Such production flourished in the later Georgian and Victorian periods, and the commercial sector developed to support it, providing instruction manuals, materials, and tutors.
The properties managed by English Heritage are no exception, and works of art produced particularly by wives and daughters can be found at many of our houses with existing collections. Non-professional female creative practice is a major part of our cultural heritage and national story, however it is rarely addressed by research into English Heritage properties and collections.
Download full details of the Priority Research Areas
PhD Placements from Doctoral Training Partnerships
Doctoral Training Partnerships are consortia of higher education bodies which receive funding from UK Research and Innovation's Research Councils to provide PhD studentships. These partnerships work alongside organisations in the heritage sector to present students with opportunities for research.
English Heritage welcomes proposals for placements for DTP students from the following affiliated consortia:
AHRC Doctoral Programme Scotland
Cambridge Doctoral Training Partnership
London Arts and Humanities Partnership
North West Consortium
Northern Bridge Doctoral Partnership
South West and Wales Consortium
The London and South-East Doctoral Research Consortium (TECHNE)
The Midlands Three Cities Consortium
The White Rose College of the Arts and Humanities
University of Oxford AHRC
English Heritage provided a hugely supportive environment within which to undertake my PhD research. I could not have asked for a better supervisor, nor more support from fellow English Heritage colleagues. The research was significantly aided by the privileged access to the property, in-house research, and the knowledge and expertise of colleagues. I thoroughly recommend English Heritage to prospective PhD candidates.
Dr Lee Butcher, former CDP student