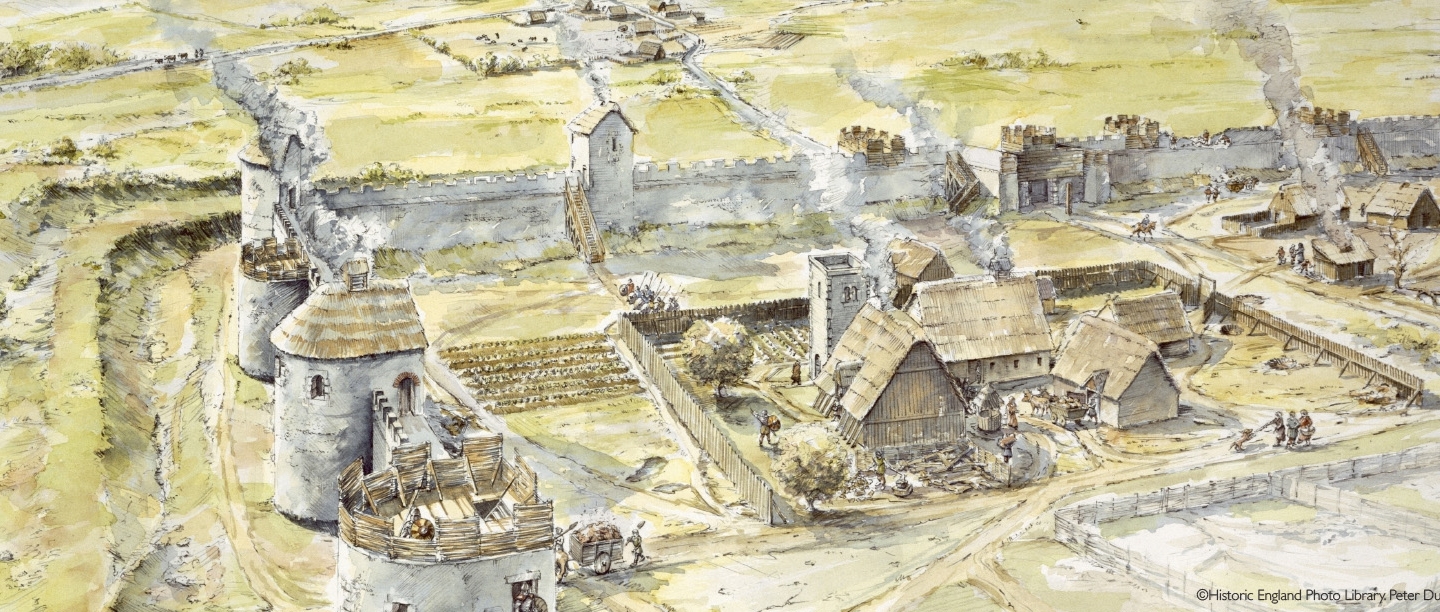 MAKE A MODEL OF THE SAXON THEGN'S HOUSE AT PORTCHESTER CASTLE
Built by the Romans during the third century, Portchester Castle in Hampshire is one of the best-preserved Roman forts in northern Europe. The Saxons also used the site to provide defence against Viking attacks. Find out more about the Saxons at Portchester, then make a model of a Saxon lord's house
HOW DID THE SAXONS USE PORTCHESTER CASTLE?
When the Romans left Britain in the early fifth century, their fort at Portchester continued to be used by a small Saxon community. Within the sturdy outer walls, estimated to have been built between AD 285 and 290, there was a secure and productive settlement.
The people who lived here kept sheep, pigs and cows, as well as chicken and geese. They grew vegetables, too, which would have been prepared in the kitchens, and there was a well for fresh water. On-site workshops produced bone tools and other essentials, and wool from the sheep would have been turned into clothing.
Viking threat
In the 10th century, the Bishop of Winchester gave the fort to the English king Edward the Elder (who reigned from 899 to 924) and it became a burgh – a defensive site to protect against Viking invasion.
A large hall and masonry tower were built within the walls, and this would have been where the thegn, or lord, lived. The thegn was the most important man in the burgh, and his fine house, protected by a fence or stockade, reflected his status.
MAKE YOUR OWN MODEL OF A SAXON HOUSE AT PORTCHESTER
Why not try making your own version of the thegn's house from Portchester Castle? Ask an adult to download the template and print it out for you, then you can follow the instructions below to finish the house.
Once you've completed it, put your model on show so that your friends can learn about Saxon life too!
DOWNLOAD THE TEMPLATE HERE
HOW TO MAKE YOUR SAXON THEGN'S HOUSE
YOU WILL NEED:
Your exclusive templates
Scissors
Adhesive (Pritt Stick or double-sided sticky tape)
STEP 1

Carefully cut out the two walls and the thatched roof. Ask a grown-up to help if you need to.

STEP 2

Using Pritt Stick, join the two walls together to make one long piece. Fold along the dotted lines, and fold round to create a rectangle. Secure together by sticking along the tab at the side.

STEP 3

Take the roof you cut out in step 1 and fold in half. Stick on to the tabs at either end of your Saxon hall. You've finished the hall!

STEP 4

Next, carefully cut out the tower.

STEP 5

Fold the top of the tower down to create a lookout area. Put glue on the tabs and then fold the lookout floor down so that it 'sits' on these tabs. Top tip: glue the top of the tower together first so that you can get your fingers in to position the lookout floor, before glueing the side of the tower.

STEP 6

Finally, glue the edge of your tower together. You've finished the tower!