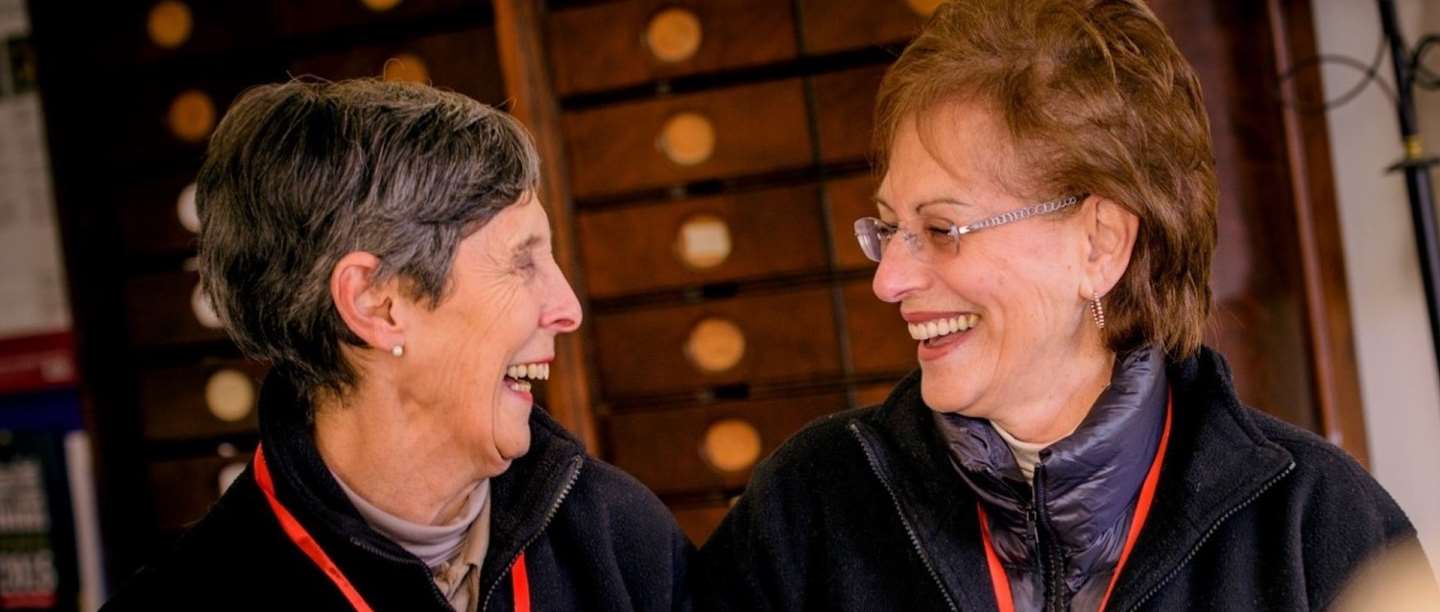 Meet our volunteers
From gardeners to greeters and from explainers to educators, meet the people making a difference and find out what it's like to volunteer for English Heritage.
Mike Ganderton, Wrest Park Volunteer
'I oversee all the rotas and expense claims for volunteers across the whole site. With 192 volunteers, that's quite a task! I also work very closely with the Gardens Team, supporting some of their professional and administrative workload. This includes records for fuel, servicing, and training, as well as handiwork.
I worked in banking for 43 years, including the old 'Bank Manager' role before this ceased, so attention to detail is very important to me. However, it's equally important to balance this with outdoor work, which volunteering allows me to do. Gardening has always been my relaxation, keeping me fit and active - and from under my wife's feet!
The whole team of staff and volunteers make the time fly by. The interaction between them and with the visitors is fantastic. Visitors particularly appreciate the visible results of our Garden Volunteers' hard work. I feel that I am giving back to my community, while gaining something valuable for myself.'
Tim Rubidge, Knowlton Church and Earthworks Monitor Volunteer
'Doubly fortunate, I am retired and live in the midst of a historic landscape. I have often visited Knowlton Church and Henge, driving past Roman roads, barrows and Iron Age farm enclosures. Knowlton is a quiet, tucked away place where the continuity of England's heritage is manifest in the ancient henges, several barrows, including the largest in Dorset, and a Saxon grave site. The ruined church, nestling within the largest henge, was first built in stone by the Normans on a Saxon floorplan for the villagers of Knowlton until they abandoned their homes at the time of the Black Death.
Volunteering as a site monitor for English Heritage gives me a weekly excuse to visit this magical place and play a small part in maintaining it for future generations......and Pedro, the spaniel, gets to chase up and down the ridges and ditches, too.'
JANICE BALLARD, VISITOR VOLUNTEER AT STONEHENGE
'Every time I'm on duty I get such a buzz driving in past the Stones, and the sight of the beautiful visitor centre lifts me even more.
I elected to be a visitor volunteer, based outside. I love the way the day starts with just a few early arrivals, then half an hour and a couple of coaches later the place is buzzing. I so enjoy being able to point someone in the right direction, retrieve their ticket that's blown away or persuade a family to take an audio guide. One guy told me he had always wanted to visit, never thought he would, and was overwhelmed finally to be there. Another wanted to talk through his thoughts on the Stones with someone. I was privileged to be able to be that person and listen while he crystallised his feelings.
Part of the enjoyment is that no two days are the same. Every visitor is individual so each interaction is different, and the weather changes on an hourly basis! I really didn't expect to be so bowled over by the whole experience.'
ALICE HUNTER, EXPLAINER VOLUNTEER AT AUDLEY END
'I've always loved visiting Audley End, so when I heard about the opportunity to become a Volunteer Explainer in the newly opened coal gallery and nursery, I couldn't pass it up! Being a sixth form student, it is sometimes tricky to fit volunteering into my week, but it is always well worth giving up my time. We have such a lovely group of volunteers here. Our knowledge of the rooms is constantly growing, and I pick up new stories on every shift.
As I want to work in the heritage sector in the future, this is also a brilliant way for me to gain experience of daily life in a historic property. Without doubt, the highlight for me is seeing the faces of the children light up as they walk into the nursery, ride the rocking horse, try on the clothes etc – it feels as though we are helping to inspire a love of history in them from a very young age.'
AERON TAYLOR, GARDEN VOLUNTEER AT AUDLEY END
'I've been volunteering at Audley End now for just over four years. Most of the work I do is in the ornamental gardens, though I do enjoy working in the Kitchen Garden too. In my time at Audley End I've done everything from planting to dead heading and weeding to mending wheelbarrows. I also enjoy sharing my knowledge of insects with the garden team and visitors. The people I work with are great and I enjoy working with all of them. This is from the Head Gardener to the trainees who spend a year at Audley End. We all have great fun working together.
I think one of my favourite jobs to do is weeding because it gets you close to the plants you work with. It is immensely satisfying to look back at the end of the day and say "I did that".'
COLLECTIONS TEAM PLACEMENT
'The work placement with English Heritage was extremely beneficial to us, particularly as our backgrounds consisted of archaeology and art history, enabling us to put into practice what we had been theoretically taught at University.
The first week of the placement consisted of housekeeping: cleaning, preparing and arranging displays within Lyddington Bede House and Kirby Hall ready for the new season. We balanced on ladders with hip hoovers, swept, mopped and scrubbed the historic houses, much like they would have been cleaned hundreds of years ago when they were occupied within their heyday. It was wonderful to feel a connection with the houses' past and to imagine what they would have looked like furnished, and full of life. The finished results were truly satisfying, and it was a good insight into the responsibilities of conservators and the upkeep of English Heritage properties.
The second week involved collection management at Wrest Park, focusing on: object movement, collections packing, creating micro environments and salvage/ disaster planning. We learnt how collections should be packed, stored and moved after they arrive at a storeroom post- excavation, and what sort of conditions they should be kept in; for example the correct temperature and relative humidity. The placement was brilliantly supervised by Dr Charlie Newman and Sally Johnson, who kept the fortnight fun and interesting throughout.
There were further benefits of undertaking a placement with English Heritage as we met lots of lovely members of staff along the way who gave us insights into their job roles, giving us a flavour for areas of work that we may like to apply for in the future. We were also able to take a glimpse into collections and rooms that may be currently closed to the public.'
NINI ALDRIDGE, KENWOOD VOLUNTEER EXPLAINER
'We had been to a few Kenwood concerts in the past, but only been inside the house once! After living next door to the RSA for 15 years, another Adam building, we moved to Belsize Park a year ago and began weekly walks on Hampstead Heath, ending up for hot chocolate in the Brew House Cafe ... Bill and I thought, "I wonder if they need volunteers?" And they did!
So here we now are, we have been trained and uniformed by a highly professional English Heritage team, we are meeting many interesting people, and it is a delight to be in such glorious surroundings.'
TRACEY HOWEY, DISCOVERY VISIT VOLUNTEER AT CONISBROUGH CASTLE
'I have really loved helping with the Discovery Visits. They have been so interesting and fun to do. It's been really exciting sharing my enthusiasm for a fantastic heritage site which I'm lucky enough to have on my doorstep. The interaction with the children has been great, and they have gained so much from their visits; I have really enjoyed being a part of that. Thank you to the staff for making us feel part of the team and valued.'
See below for a video about Discovery Visits at Stonehenge.
ANNIE LAWTON, WREST PARK MEET AND GREET VOLUNTEER
'From day one I was hooked – I love meeting new people and no two days are ever the same. Coach parties, school trips, a quiet drizzly day when just our "regulars" turn up or all the excitement of hundreds of people turning up when "Flog It" was filmed at Wrest. The morning briefing tells you what's ahead but it's the people who turn up and the stories you go home with that make it interesting. I soon realised that you don't have to remember everything – just get to grips with the radio and you can always ask for help!'
Get in touch

Email or call the volunteer team with any questions you want to ask.

01793 414752

Twitter

Keep up to date with our latest news by following @EHVolunteering on Twitter

More About Volunteering

Meet the Volunteers