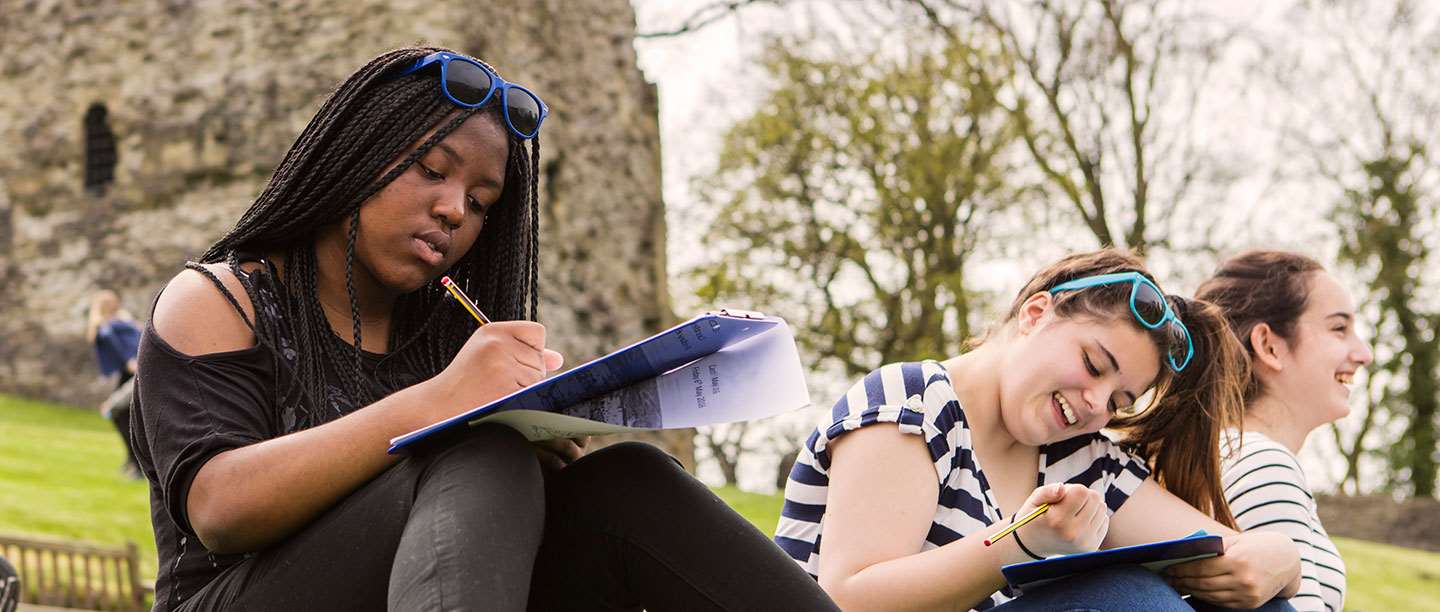 Untold Stories – Poetry at English Heritage
Untold Stories – Poetry at English Heritage took place in the autumn of 2020. Through new commissions, a poetry exchange and a public competition the programme allowed us to experience English Heritage sites in new ways and offered opportunities for everyone to explore our past through poetry.
The programme was co-curated by Jacob Sam-La Rose, English Heritage's Poet in Residence.
The Programme
Untold Stories explored the hidden histories and contemporary resonances of English Heritage sites. The programme ran throughout Black History Month and beyond, and highlighted the voices and vision of Black poets.
Some of England's best poets, both established and emerging were commissioned as part of the programme. They were asked to reflect on the history, fabric and atmosphere of our sites, using their creativity to explore what lies beneath the surface of history's prevailing narratives – stories that have gone untold or people who have been forgotten.
The programme also featured opportunities for young poets from Beatfreeks, Barbican Young Poets, The Writing Squad and ArtfulScribe responded to sites and historical narratives through a series of online workshops led by Malika Booker. The groups explored beyond the historic record to reclaim space for histories that have been silenced or forgotten.
New Poems for English Heritage
Poets Esme Allman, Nii Ayikwei Parkes, Jay Bernard, Malika Booker, Safiya Kamaria Kinshasa and Jacob Sam-La Rose have been invited to write new poetry inspired by English Heritage Sites.
They were asked to reflect on the history, fabric and atmosphere of our sites, using poetry to look beyond the surface of our heritage for stories and people that may have been untold, forgotten or unseen.
The new poems, alongside others, will be published in Untold Stories – Poetry at English Heritage – a digital anthology to be released later this spring.
Read more
Untold Stories Podcast episode
Listen to this episode of the English Heritage Podcast where we're joined by English Heritage's poet-in-residence Jacob Sam-La Rose, emerging Poet Esme Allman and creative programme manager Caroline Moore to discuss Untold Stories – the month-long poetry programme taking place throughout Black History Month in October.

Listen to the podcast
Poetry Competition
This autumn we invited you to write your own poem as part of our Untold Stories Poetry Competition. We received nearly 250 submissions which took us from Cornwall to Berwick and everywhere in between.
We are delighted to announce the competition winners, whose work will be included in Untold Stories Poetry, a digital anthology to be published later in the Winter.
5 – 8 age group, The Wise Tree by Eden
9 – 12 age group, Evelyn Dove by Emily
13 – 16 age group, A Boring Village by Natasha
17+ age group, Handmade by Kess Tamblyn
Thanks to all those who submitted their poems and congratulations to the winners!
Jacob's Tips for Writing Poetry
To write poetry, you need to read it
When I started to take poetry seriously, I went to the Poetry Library on the South Bank in London and read everything I could put my hands on. There was a lot there that I didn't appreciate or even understand, but making the effort to engage with that work helped me to appreciate the relations between what I wanted to do with my writing and what I didn't want to do with my writing. It also helped me to appreciate that there are so many different ways of writing poems.
Find a way to get someone else's thoughts on your writing
Feedback can be really useful, even if you ultimately reject it. It helps if you avoid asking someone if they like your poem but instead ask what a particular line or image meant to them.
Don't just think of the poem as something you're trying to show someone else
Listen out for what the poem is trying to tell you. Every poem is an opportunity to discover something.
Be true to your own voice
There's value in emulating the poems you might admire but there's a lot of power in the language you use every day.
Try on a different perspective for size
What happens when you try to write the poem from the perspective of someone (or even something) else in the scene or the moment you're writing about?