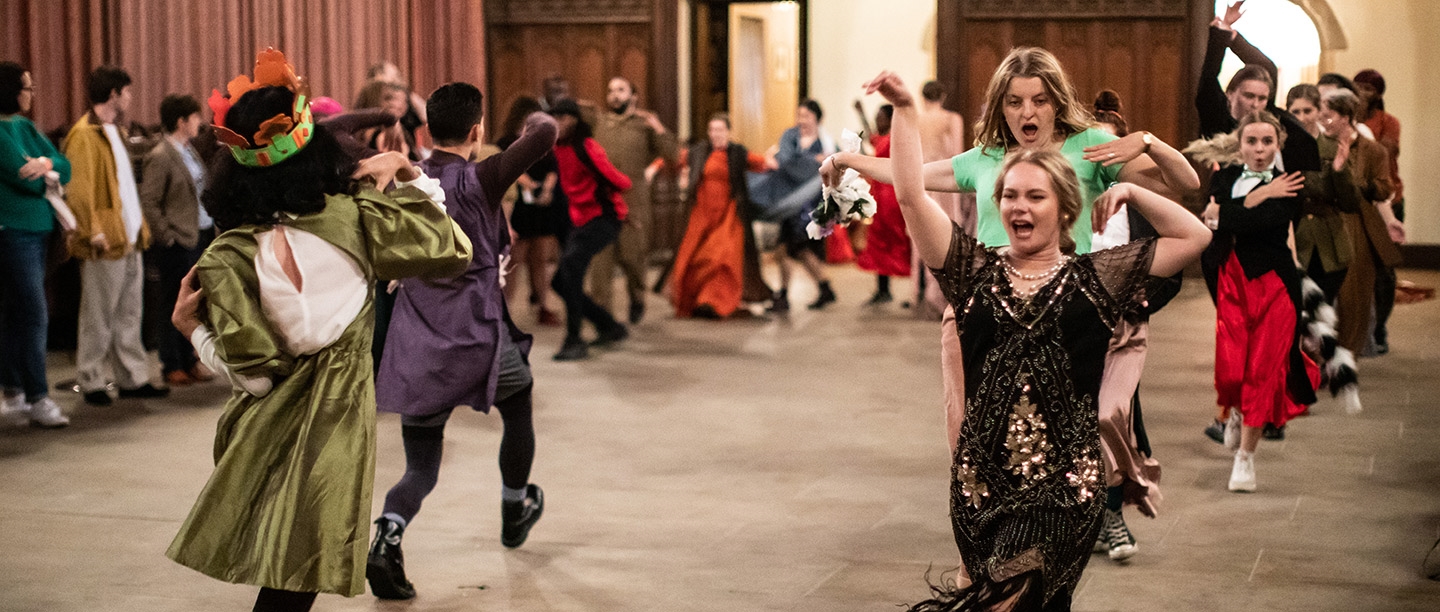 Shout Out Loud
Shout Out Loud is English Heritage's national youth engagement programme for young people, by young people.
Shout Out Loud is supported by the National Lottery Heritage Fund #KicktheDust programme.
What is Shout Out Loud?
Shout Out Loud is a programme for 11-25 year olds across England that supports them in exploring heritage sites and collections that are important to them. It invites young people to lead new projects and uncover untold stories from our past, and it puts young people's ideas and voices at the heart of English Heritage.
Shout Out Loud aims to give young people a voice in the stories of England and in the future of English Heritage. We are developing and delivering the programme in partnership with the National Youth Theatre, the Council for British Archaeology's Young Archaeologists' Club, BBC Children's, and Sound Connections.
Shout Out Loud is one of 12 Kick the Dust projects funded by the National Lottery Heritage Fund.
What we've been doing
Shout Out Loud projects create new ways for people of all ages to learn more about some of the most important heritage sites in England. From The Cenotaph in London to Berwick Barracks in Northumberland, young people are making art, developing new plays, films, soundscapes, and exhibitions all inspired by England's rich heritage. Shout Out Loud is transforming how we tell England's stories, with young people at the forefront.
'Our House': a new theatre piece devised entirely by young people under 25 from LGBTQ+ Charity METRO and the National Youth Theatre. It explores the history of Eltham Palace and LGBTQ+ heritage. 'Our House' has been shortlisted for a UK Heritage Award 2020 for Best Event, Festival or Exhibition.
Stonehenge 3019: a film that shows an otherworldly future for our World Heritage Site was produced by a group of local young people. It has recently been accepted for presentation as part of an international conference on digital heritage and the environment in Lofoten, Norway entitled, 'See the Past, Imagine the Future'.
In 2020 the programme includes a number of initiatives to connect young people with poetry, the stories connected to Windrush heritages as well as our England's New Lenses Photography project.
How can I get involved?
There are lots of ways you can get involved with Shout Out Loud if you are between the ages of 11 – 25, from joining in with one of our events to helping us shape the future of the programme.
If you are aged between 11 and 16 and part of a youth group you may be able to take part in our creative projects. Tell your group leader about the Shout Out Loud project and ask them to contact the Shout Out Loud team.
If you aren't a member of a youth group, you can still get involved, keep an eye on Twitter, Instagram and our dedicated website.
We also have exciting paid internship opportunities to work on the project itself. These will be advertised on our Jobs page, so keep an eye out for anything that might be of interest to you there!
What is a young producer?
Young Producers have a critical role in steering the work of Shout Out Loud. They are the voice of young people in English Heritage and sit at the highest level of youth participation within the project. The Young Producers have already had the opportunity to sit on the recruitment panels for the Shout Out Loud delivery team, influence digital strategy of the project and will be invited to Judge the England's New Lenses entries.
The Young Producers program is tailored to the interests and needs of each youth participant to ensure that everyone involved gets the most out of their experience. We will be launching a new call out for Young Producers soon, in the meantime if Young Producers sounds like something you or someone you know would be interested in, we would still like to hear from you!
If you're interested in getting involved, please get in touch.
Contact us
How can I become a supporting partner?
If you are an organisation that works with young people and would like to get involved in a project, we would love to hear from you.
Contact Us