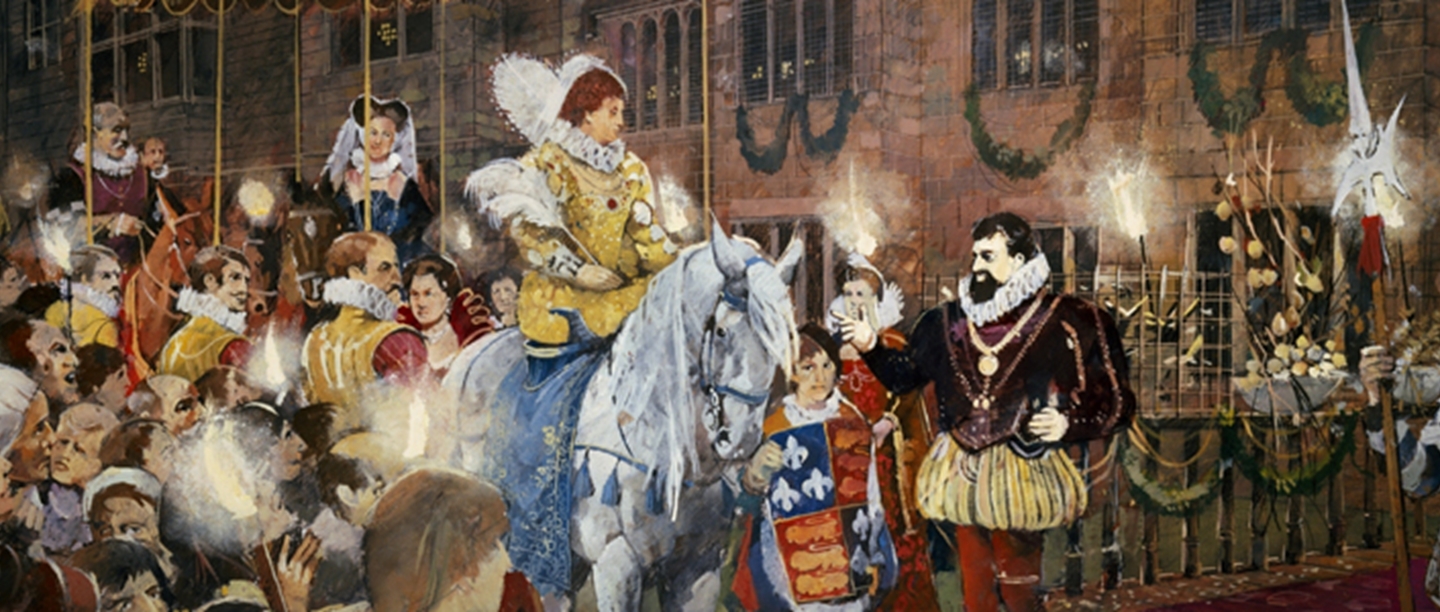 Published: 02 February 2022
Category: Historic How Tos
Do you dream of holding history's greatest get-together? Or being the host with the most? Take some tips for how to throw the perfect party from Robert Dudley, Earl of Leicester, who produced the 'Princely Pleasures' at Kenilworth Castle: a nineteen-day celebration in 1575 put on for the delight of Queen Elizabeth I.
1. Do... remember that size matters
Forget a small, intimate soiree with close friends – for the party of the century you need to think big.
The 1575 progress was one of the most extravagant and costly entertainments of Elizabeth's reign. No expense was spared as Dudley used the lavish celebrations as a very public display of his wealth, status and devotion to the Queen. On this count it was a huge success – the Kenilworth visit was a spectacle on an unprecedented scale, and the talk of Elizabethan England.
Having enticed Elizabeth to Kenilworth all the way from London, Dudley needed to make the most of his chance to impress the monarch: and the revels went on day, after day, for nineteen days on end.
2. Do... build your own party pad if you can't find a suitable venue
If you want to entertain the queen, only the most fashionable of venues will do.
Following Elizabeth's visit to Kenilworth in 1572, Robert Dudley set to on ambitious improvements to the Queen's private lodgings. By the time of her visit in 1575 'Leicester's Building' was one of the most splendid works of architecture in the country.
With sumptuous chambers, enormous fire places, and perhaps even room to indulge Elizabeth's passion for dancing, it was an impressive party palace. The large airy windows were the perfect vantage point from which to enjoy breath-taking views over the estate and the entertainments Dudley laid on, as Robert Langham, a minor official in Leicester's household, wrote:
"In daytime on every side so glittering by glass; at nights, by continual brightness of candle, fire and torchlight, transparent through the lightsome windows"
The interiors would have been just as flashy - decorated with dazzling plasterwork, hung with rich tapestries and furnished sumptuously, this would have been the summit of Elizabethan luxury.
3. Don't... skimp on the entertainment
Whether it's a spirited game of charades, lively music to get toes-tapping, or an enchanting show from a magician, ensure your guests are kept in the party-mood with a packed programme of entertainments.
The 'Princely Pleasures' of Elizabeth's 1575 visit to Kenilworth featured non-stop entertainments to delight the queen. Robert Dudley put on a programme of hunting, fine banquets and spectacular fireworks – but the theatrical amusements were perhaps on the most impressive scale.
Playwright George Gascoigne was commissioned by Dudley to write the speeches and entertainments through the festivities. A company of players from Coventry was hired to perform a number of plays; and on one evening a water pageant involved a figure of Triton riding a mermaid 18 feet long, and the Lady of the Lake with her nymphs on a moving island.
4. Don't... let the weather ruin your plans
If you're planning entertainment outside, make sure you have a back-up plan. Or improvise a quick poem to keep everyone happy.
Gascoigne's masque 'Zabeta', a play on the name 'Elizabeth', was to be the grand finale to Kenilworth's theatrical delights. It included only lightly veiled suggestions that the queen should marry. Even when cancelled due to bad weather, Gascoigne was not to be outdone – and presented a hastily improvised farewell to the queen, where she was intercepted by 'deep desire' (an actor dressed as a holly bush), who urged:
"Live here, good Queen, live here;

You are amongst your friends.

Their comfort comes when you approach,

And when you part it ends."
But it wasn't all rained off – the queen was able to enjoy plenty of outdoor pursuits too. In preparation for the queen's visit, Robert Dudley embellished his park with bowers, arbours, seats and walks, and made sure that Elizabeth's privy garden was as magnificent as the interiors he had created for her. The garden was just part of a larger setting for the queen's entertainments, which spread over the park, the chase and the mere.
5. Don't... Miss an opportunity for a spot of social networking
Parties aren't all about pleasure, you know: any party-goer worth his freshly pressed ruff should see a get-together as the prime place to set about some serious social climbing – Elizabethan style.
Putting on an impressive 'do' was par for the course for ambitious courtiers of the Queen. The lords and ladies of the Elizabethan court longed for the glory and prestige a visit from the Queen would bestow on them, and would decorate new residences in her honour. Elizabeth's visit to Kenilworth was a very public confirmation of Dudley's prestigious position, and raised the bar for entertainments throughout the rest of the Queen's reign.
And it wasn't all fun and games for the queen herself, the 'royal visit' was something of a bus-man's holiday - throughout her stay at Kenilworth she held no less than nine council meetings, and knighted five gentlemen.
Elizabeth I and Robert Dudley

Queen Elizabeth I and Robert Dudley were certainly emotionally dependent on each other throughout their lives, but were they ever really lovers?

Elizabeth I in cinema

Historian, author and broadcaster Kate Williams looks at the different portrayals of Elizabeth I on screen to separate fact from fiction.

Why was Elizabeth I important?

Best-selling author and historian Dr Tracy Borman explains what the accession of Elizabeth I in November 1558 meant for women in power.