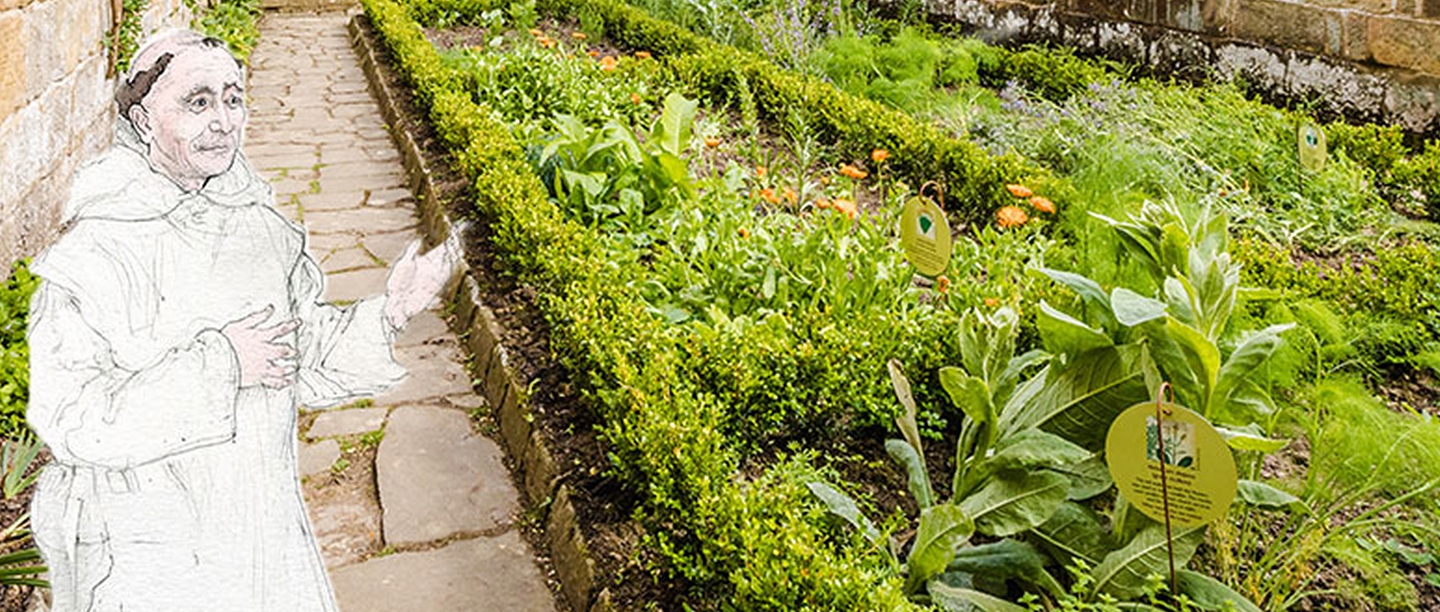 Published: 26 October 2021
Category: History In-depth
Step aside Harry Potter – our monks' garden at Mount Grace Priory is like a real-life version of a Hogwarts herbology classroom.
Our gardeners plant herbs and flowers that the Carthusian monks could have grown here in the 15th century. You can't buy these herbs in the supermarket – we're growing plants inspired by medieval monks across Europe with aphrodisiac, narcotic and hallucinogenic qualities and names like mandrake and deadly nightshade. Today these might sound like the stuff of storybook spells, but for medieval monks they were ingredients in everyday remedies to treat all kinds of complaints.
We asked our Senior Gardens Advisor for the North and Midlands, Dr Michael Klemperer, to help us uncover the stories behind seven of the stranger things you'll find in our garden.
–– Never consume any of the plants referenced without medical advice. ––
1.The plant that looks like a human – Mandragora officinarum (mandrake)
There's little wonder mandrake has been associated with superstitious practices over the years – the roots of the plants often have a resemblance to humans. Mandrake has long been associated with 'magic rituals' and continues to be used in contemporary pagan traditions such as Wicca and Odinism. Some believe that mandrake plants scream as they're pulled from the ground, and anyone who hears the scream will die instantly. In Harry Potter, Pomona Sprout insists that students wear earmuffs to protect themselves from the mandrakes' cries.
This herbaceous plant has played a starring role in medicine too. Its root is a hallucinogenic and narcotic and, in sufficient quantities, it has been known to induce a state of unconsciousness. It was also used as a form of anaesthesia in ancient times and was used by monks to treat ulcers, asthma, and arthritis pain among other ailments. Some people believed that mandrake could treat melancholy, convulsions and mania, although in large doses it can actually cause, rather than stop, delirium.
These days mandrake is rarely used in mainstream medicine, though it does contain hyoscine which is the standard pre-operative medication given to sedate patients. It should not be consumed without advice from a medical practitioner.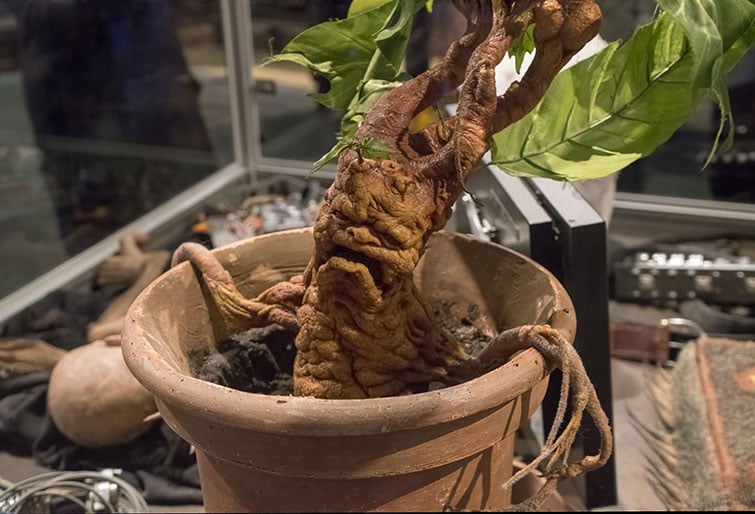 Mandrake as featured in Harry Potter. © Alamy Images.
2. The aphrodisiac – Eryngium maritimum (sea holly)
If your love life needed a boost in the days before dating apps, you might have turned to sea holly. In Elizabethan England, these flowering plants were believed to be a strong aphrodisiac. Growing to a height of 20–60 cm, they resemble a plume thistle with flowers that are metallic blue rather than mauve.
The use of sea holly by monks is speculative, but the root is said to be an aphrodisiac, aromatic, diaphoretic, diuretic, expectorant, stimulant and tonic. It has also been known to be used in the treatment of cystitis, urethritis, and as a means to alleviate kidney stones. Used externally as a poultice, the dried powdered root aids tissue regeneration.
We've planted them at Mount Grace Priory because they are both beautiful and useful, and were considered an ideal companion to a monks' cell. The plant is still used in modern herbalism where it is valued especially for its diuretic action.
3. The cocktail flower – Artemisia absinthium (absinthe, absinthium, absinthe wormwood)
You may have already tasted our next plant at your favourite cocktail bar. Unsurprisingly, absinthe (the spirit) uses the plant as one of its key ingredients. Traditionally green in colour, the plant is also referred to as 'the green fairy' thanks to its widespread consumption and hallucinogenic effect. It was particularly popular in the bohemian sub-culture in Europe during the late 19th and early 20th centuries. Traditionally, absinthe was used to stimulate the appetite and relieve problems with digestion.
The monks at Mount Grace Priory might have used it to flavour beverages such as absinthe and green chartreuse, which is still brewed by monks in France today. They might have also used it to treat intestinal parasites such as worms. Look out for the plant in the central bed of the monks' cell – it has distinctive grey feathery foliage, but it's also labelled for convenience.
4. The psychoactive plant – Hyoscyamus niger (henbane)
Medieval monks had a number of uses for henbane – they used it to treat things like rheumatism, toothache and stomach pain. It was (and still is) used as an additive to beer, as an incense and as a powerful narcotic.
Historically it was often combined with other plants like mandrake, deadly nightshade and datura as an anaesthetic potion to induce sleep or hallucinations for meditation. It's also said to give users a sensation of flying.
When visiting Mount Grace Priory you can see – but don't touch – henbane in the monks' cell.
5. The love potion – Rosmarinus officinalis, (rosemary)
You may have seasoned Sunday's lamb with this popular supermarket herb, but its historic uses are far more mythological.
Rosemary was considered sacred to the ancient Egyptians, Romans and Greeks who believed the Virgin Mary spread her blue cloak over a white-blossomed rosemary bush while resting, turning the flowers blue. The shrub then became known as the 'Rose of Mary'.
During the Middle Ages the flower was considered a love charm, and it was worn during weddings. The monks used the herb as a digestive aid, and applied it externally for rheumatic pain, skin soreness and as a cure for baldness. Rosemary is also used for liver and gallbladder issues and to increase the appetite – perhaps that's why it's known today as a seasoning!
Recent research has apparently shown that rosemary oil can boost powers of memory and students are said to have caused a bump in sales. Perhaps the medieval monks were onto something!
6. The protective charm – Paeonia officinalis (common peony)
The peony is one of the most popular flowers today, admired for its beauty and used decoratively around the home and in bridal bouquets. But attractive as it may be, there are several superstitions attached to the peony. In ancient times the flower was considered to be of divine origin with connections to the moon and was thought to keep evil spirits at bay. Sometimes peony seeds were even strung as a necklace to ward off evil spirits.
16th-century botanist John Gerard noted: 'The black grains (the seed) to the number of fifteen taken in wine or mead is a special remedie for those that are troubled in the night with the disease called the Nightmare.'
The peony is not only a beautiful flower but also endowed with medical and spiritual affiliations, which the monks appreciated.
7. The feline fancy – Nepeta cataria (catnip, catswort)
Cat lovers today will be familiar with this feline favourite. Cultivated as an ornamental plant for use in gardens, catnip is also grown to attract house cats and pollinators.
It can also be used in cooking or in herbal teas. Some even smoke the herb to enjoy its relaxing effects.
The monks would have used this herb widely for fevers, colds and influenza, colic, and as a relaxant. The antispasmodic qualities of this herb help to relieve many gastrointestinal disorders, cramping and swelling from rheumatism. It's also beautiful, providing scent for the monks and a source of pollen and nectar for the bees.
VISIT MOUNT GRACE PRIORY
Discover these unusual plants and many more in the monks' cell garden at Mount Grace Priory, House and Gardens.
Wander through the ruins of the best preserved Carthusian priory in England, discover the Arts and Crafts house and explore the gardens. There's also a cafe in the orchard serving locally sourced food and drink (rest assured, none of the plants mentioned above from the monks' cell garden!).
For the latest information on opening times and prices, visit the property page on our website.
Plan a visit