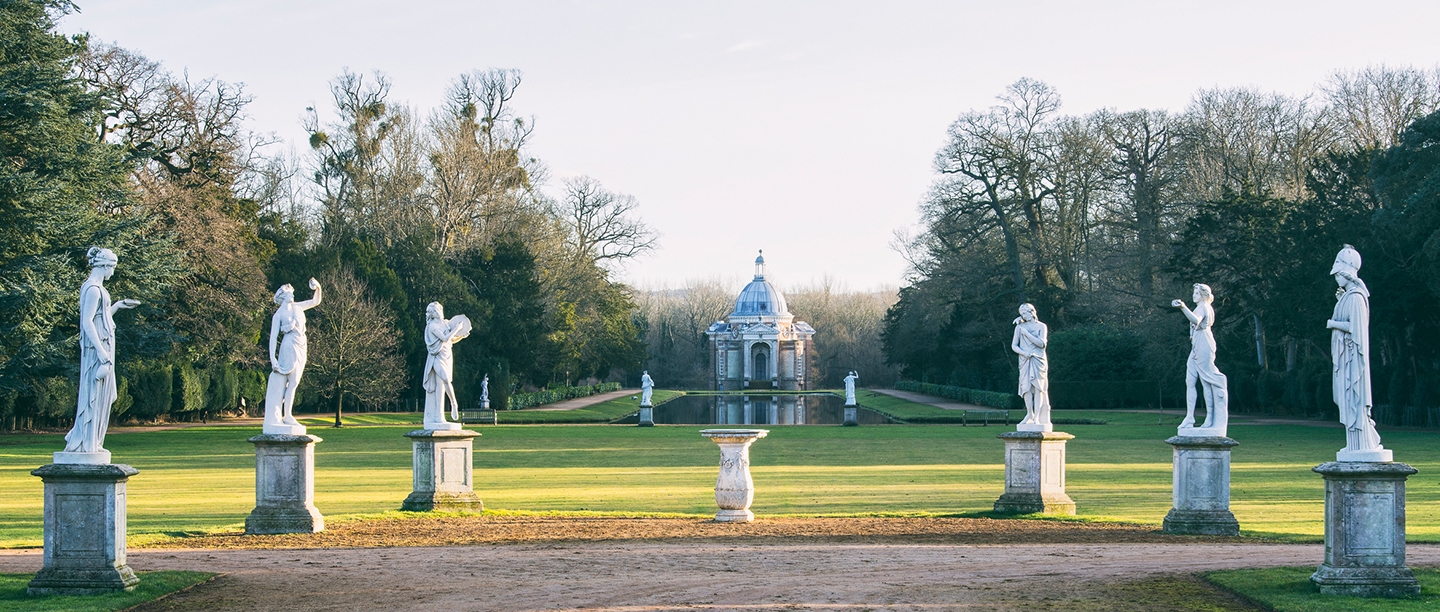 Published: 01 July 2019
Category: History In-depth
Myths, legends and folklore are intricately linked with the stories of England's past. But while a lot of these are carried through generational stories and historical literature, tangible associations live on at the historic places we care for. Through the statues at our sites, we can see representations of divine beings and legendary characters in acts of heroism, love and victory. Whether they're based on fact or fiction, they reveal much about England's love of a good story.
In this article, our curators explore eight statues linked to myths and legends, and explain why they feature in our historic homes and gardens.
Walmer Castle and Gardens - Mercury
Mercury was the Roman god of merchants, travellers, thieves and tricksters, but it's unlikely that there's anything mischevious about his presence at Walmer Castle and Gardens. This lead statue stands at the transition between the formal gardens and the woodland wilderness among the picturesque grounds of this Tudor fortress. With his connection to travel and transport it is possible that Mercury was chosen to represent the role that the castle's occupier, the Lord Warden of the Cinque Ports, plays in protecting travel within the English Channel. However, it's more likely that the statue was selected for its artistic style than its subject matter.
This statue is based on a sculpture by Giambolognia (circa 1580, now in the Bargello Museum, Florence) and was purchased as part of a redevelopment of the garden that drew heavily on the 19th-century fashion for Italianate design.
Osborne – Andromeda
Queen Victoria and Prince Albert's holiday home, Osborne, is renowned for its blooming gardens, elegant parterres and vast woodlands. Beneath their palatial home on the Isle of Wight, and with views stretching across to the Solent, this statue of Andromeda stands as the centrepiece of the fountain on the Lower Terrace. It was made by the English sculptor John Bell (1811-95) from cast bronze at the Coalbrookdale Company, known for its connection to the Iron Bridge, which is considered the symbol of the Industrial Revolution.
This statue was shown at the Great Exhibition of 1851, where it was noticed and acquired by Queen Victoria. The Latin poet Ovid wrote that, Andromeda, the daughter of an Ethiopian King, was chained to a rock as a sacrifice to a sea-monster but was saved by Perseus. At Osborne, Andromeda is shown full length still chained to the rock in a grief-stricken pose in a retelling of the Greek mythological tale. The elaborate base on which the statue stands is decorated with the head of the Gorgon, Medusa, an attribute of Perseus and a symbol of his bravery and his heroic rescue of Andromeda.
Wrest Park – Venus and Adonis, with Cupid holding a dove
The classical story of Venus' unrequited love for Adonis has been re-told many times in the history of art, often through the medium of sculpture. Its appeal in the 18th century can be partly attributed to the enduring popularity of Shakespeare's poetic version of the tale, published in 1593.
In this late 18th-century statue, artist John Cheere uses lead to portray a poignant scene from the tragic tale. In this sculptural group at Wrest Park we see the young god, Adonis, leaves his lover, Venus, to go hunting. Tragically, he is later attacked by a wild boar and dies. As the blood seeps from his body and his flesh becomes pale, the plants around him miraculously gain new colour, and a flower emerges from the soil. This poignant reflection on natural growth and rebirth seems particularly fitting for a sculpture situated among the flowers in the parterre garden at Wrest Park.
Audley End House and Gardens – An oak relief depicting an exorcism
This intricately carved group of figures, made from a single piece of oak, was once part of a much larger altarpiece. It dates from around 1515 but has been on display in the Great Hall at Audley End House and Gardens since 1826, when it was purchased at auction by Richard Neville, 3rd Baron Braybrooke. It was produced by a highly skilled but mysterious woodcarver known simply as the 'Master of Elsloo', who worked in the Limburg province of the Netherlands.
The subject appears to be an exorcism, performed on a young man by a bishop and a canon working in partnership. A number of curious onlookers are depicted surveying the scene, apparently intrigued by the event taking place before them. Representations of exorcisms such as this are extremely rare, and highly unusual to encounter in the context of an English country house. Audley End was a busy family home during the 19th century; we wonder what the 3rd Lord Braybrooke's eight children made of this eerie scene?
Rievaulx Abbey – Christ in Majesty
The ruins of one of England's most powerful Cistercian medieval monastaries are an appropriate home for the remains of this statue. The statue, made circa 1260-1290, represents Christ in Majesty, and is made of local limestone. Once standing in a prominent position in the church at Rievaulx Abbey, the original statue was painted and showed the figure's right arm raised in blessing.
Found in the Abbot's Lodging during clearance excavations in 1931, it's thought to be one of the 'imagys and tables gylded' removed for safekeeping following the Suppression of Rievaulx Abbey in 1538. It must have been damaged after it was placed in the Abbot's lodging for it was never recovered and no trace of a head found. It can be seen in Rievaulx Abbey Museum along with a collection of artefacts, stone carvings and coins.
Corbridge Roman Town – Arecurius
Corbridge Roman Town, along Hadrian's Wall, was a bustling, vibrant township until the end of Roman Britain in the 5th century. Today it's home to the largest of the Wall's archaeological collections, with more than 34,000 finds including this 2nd or 3rd century sandstone sculpture of the god Arecurius.
Although almost 2000 years old, we can see Arecurius is naked apart from a cloak across his chest. On his right there is an urn on an altar, and in his left hand he holds a beaker or a cup. But very little is known about Arecurius, and we don't know what area of life this god had control over. What we do know has been learnt only from the inscription of this sculpture, which was found at Corbridge in the 20th century.
Roman religion was contractual – you asked the gods for something, perhaps help in a trade deal, and in return you would dedicate an altar, or sacrifice an animal. This statue was commissioned by Apollinaris, who had asked Arecurius for something (unknown) and was keeping his side of the bargain by fulfilling his vow.
Inscription:
DEO / ARECURIO / APOLLINARIS / CASSI V S L M
TO THE GOD ARECURIUS, APOLLINARIS, SON OF CASSIUS, WILLINGLY AND DESERVEDLY FULFILLED HIS VOW.
Brodsworth Hall and Gardens – Venus
Of the many sculptures at Brodsworth Hall and Gardens, almost all are female figures. The figures are a physical expression of Charles Sabine Thellusson's vision for the house and of wider Victorian values, and are a remarkable survival. All the interior sculptures (17 large and 8 small), with two exceptions, were bought by Charles from Chevalier Casentini, an Italian who exhibited sculpture at the Dublin International Exhibition of 1865.
This particular sculpture is a white marble copy of the most famous antique statue, the Venus de' Medici, standing naked with two cherubs, riding a dolphin. There are several versions of Venus at Brodsworth. The goddess of love was the symbol of perfect beauty and love, and so is represented in idealised versions of the female form in classical, neoclassical and Victorian sculpture. This meant that nudity, for such idealised forms, was acceptable, even though there were such strict moral codes for women at the time. By populating the house with visions of womanhood, Charles would have hoped to educate, inspire, and inform his family, staff and guests of his taste and values.
Eltham Palace and Gardens – George and the Dragon
Overlooking the sunken rose garden at Eltham Palace and Gardens is a majestic bronze sculpture of St George, the patron saint of England. The statue was originally commissioned by millionaire couple Stephen and Virginia Courtauld for an Italianate garden behind their London home in Grosvenor Square. However, it was moved to Eltham Palace in 1935 when work on their new Art Deco mansion was nearing completion. It was made by Alfred Hardiman who Stephen knew through his support of the British School in Rome, where Hardiman studied.
St George is depicted here holding a sword and a shield aloft behind him with the head of the slayed dragon at his feet. The shield and sword were originally gilded and would have glinted magnificently in sunlight. In most images of St George, he appears dressed as a medieval knight, but here Hardiman unusually chose to depict him naked, in guise of a classical figure from ancient Greece or Rome. It is not known why the figure of St George was chosen but it may have been intended as a celebration of England's place at the heart of the British Commonwealth that had been formed in 1926. The shield held above St George's head is decorated with birds representing those found within the British Commonwealth.
Secrets of our Sites

Join anthropologist and author Mary-Ann Ochota as she uncovers some of the hidden secrets of the world-famous English landmark, Stonehenge.

Playing with the Past

With fascinating stories and worlds so different from our own today, these are just some of the video games to have notably drawn inspiration from England's rich history.

Obscure Medieval Laws

Historian William Eves explores law and order from the 13th century and highlights some of the more obscure rules — at least by modern standards.