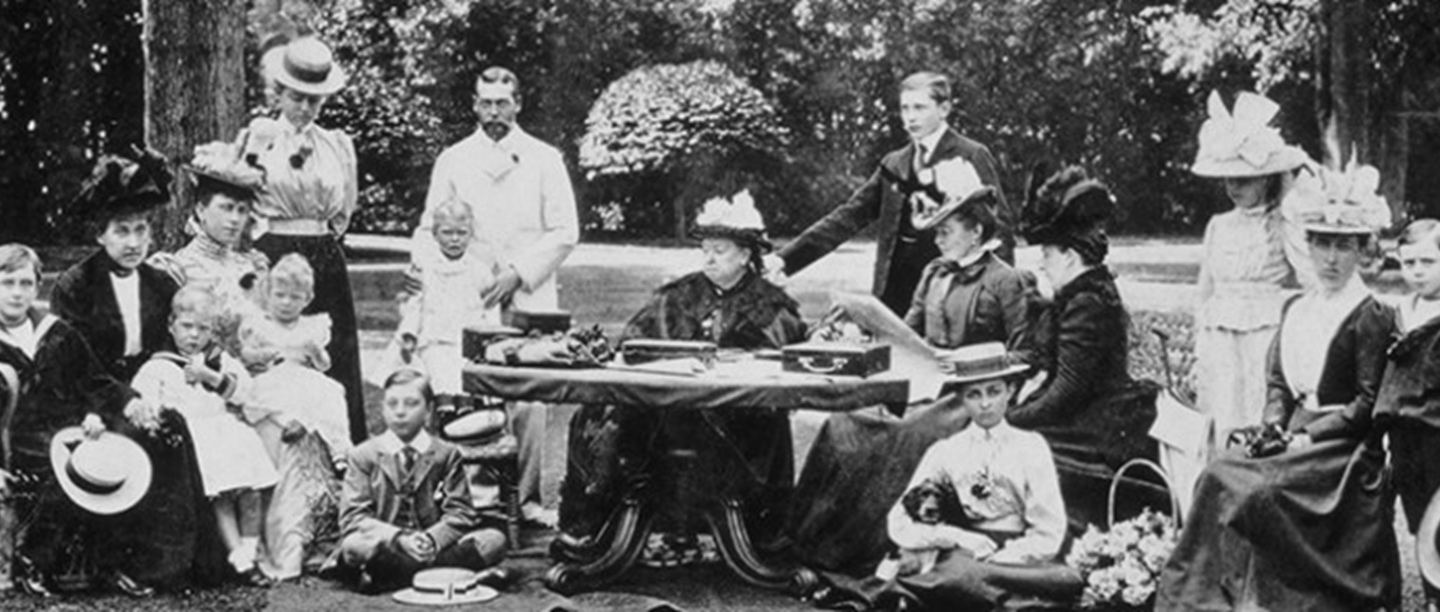 Published: 05 August 2015
Category: Food and drink
In honour of the Great British Bake Off returning to our screens, Curator Michael Hunter gives a brief account of a quintessential British institution, afternoon tea, and gets to the soggy bottom of three cakes closely associated with Queen Victoria: Battenburg Cake, Victoria Sponge and Osborne Pudding.
Queen Victoria had a very "sweet tooth" and the royal kitchens were kept busy catering to this particular aspect of their mistress's appetite.
According to a memoir of the Queen's private life written by an anonymous author in 1897:
"… the confectionary cooks are kept busy all the year round at Windsor, for wherever the Court may be there must follow a large supply of cakes. Among the favourites of the Queen which are carefully packed in small tin boxes, and sent to the Court four times a week, were chocolate sponges, wafers of two or three different shapes, langues de chat, biscuits and drop cakes of all kinds, tablets, petit fours, princess and rice cakes, pralines, almond sweets, and a large quantity of mixed sweets".
The Private Life of the Queen. By One of Her Majesty's Servants. 1897
History of Afternoon Tea
Afternoon tea, as we understand it, only seems to have come about following the circulation of cookery books in the 1870s and 80s, but the idea of taking tea was in existence by the late eighteenth century.
The Victorians made tea drinking very much their own and it soon became an essential part of socialising. Afternoon tea was less troublesome than inviting a guest for dinner, but more inviting than an afternoon visit with no refreshment.
These afternoon teas were essentially a feminine activity associated with the domestic realm. At Osborne House, this suited Queen Victoria's indulgence in creating a domestic idyll.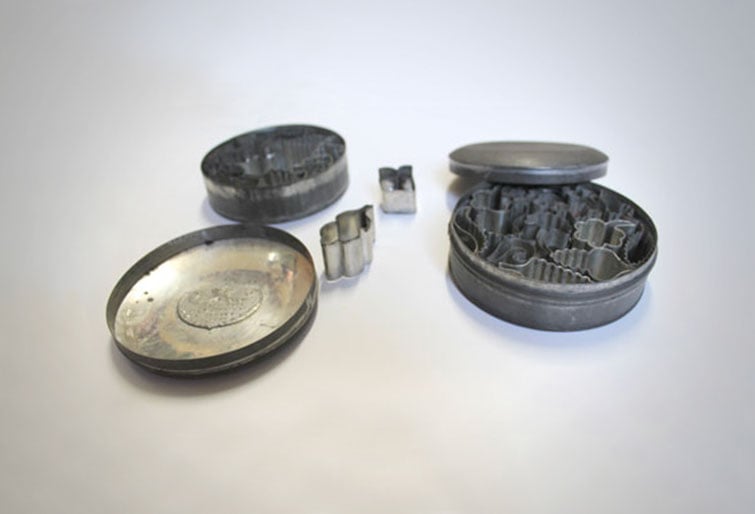 Pastry cutters used by the royal children at Swiss Cottage at Osborne – part of the Royal Collection
Battenburg Cake: Band of Brothers?
Battenburg Cake is said to have been created in 1884 to celebrate the marriage of one of Queen Victoria's granddaughters to Prince Louis of Battenberg, but there is no known evidence to support this theory. A recent variation of the story is that the four sections of the cake referred to Prince Louis of Battenberg and his three brothers.
However it seems that the earliest recipe was published by Frederick Vane in 1898 and was for a cake with nine squares inside. These were reduced to the four we are familiar with today when the cakes began to be mass produced in the years before the Second World War.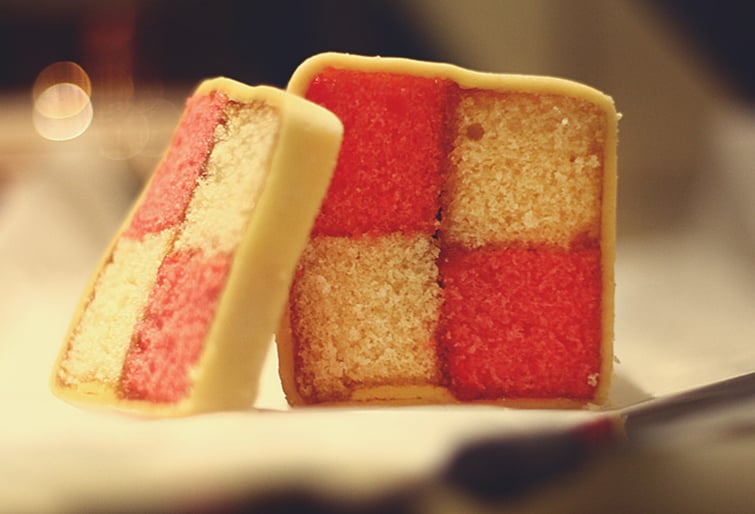 Battenburg Cake. Photographed by Henry Cooksey on Flickr (cropped image) License:
https://creativecommons.org/licenses/by/2.0/legalcode
Victoria Sponge: Health and Safety Gone Mad?
A quintessential English teatime treat, the Victoria Sponge, is another cake associated with Queen Victoria. It is widely thought that this sponge cake sandwiched together with raspberry jam and dusted on the top with caster sugar was the Queen's favourite.
Originally, the Victoria Sponge may have started in the nursery. In the early Victorian period, afternoon tea consisted of seed cake and fruit cake. For safety reasons, it was believed that children should not eat a cake containing pieces of fruit or seeds. The light, harmless Victoria Sponge was prepared as a teatime treat for them instead! Only later on did it make its way to the adult tea table.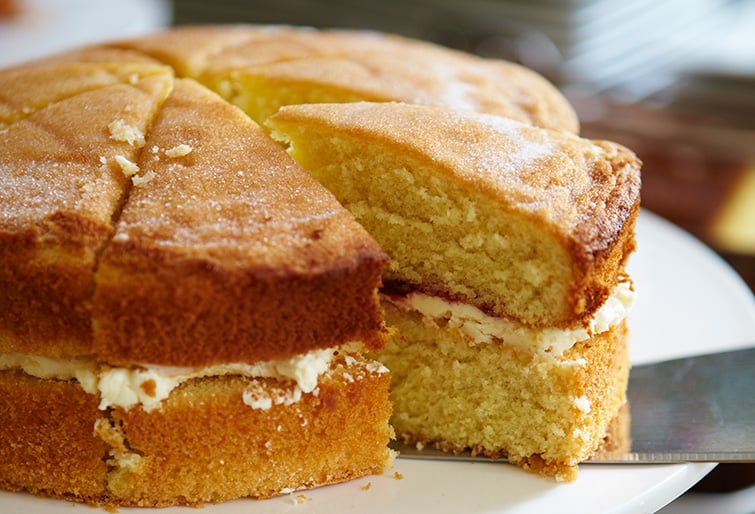 Victoria Sponge, thought to be the Queen's favourite cake
Osborne Pudding: Children's Treat
Another nursery favourite was Osborne Pudding, a variation on the traditional bread and butter pudding that uses brown bread and marmalade.
Baking at Osborne House
Whilst there is no evidence that the three cakes associated with the queen and her family – the Battenburg, the Victoria Sponge and the Osborne Pudding – were eaten at Osborne House, we know that baking was part of the royal family's life.
Swiss Cottage was originally built by Queen Victoria and Prince Albert for their children and this is where they learned how to cook and bake.
The royal children would often prepare afternoon tea for their parents and guests, and Queen Victoria's journal contains many references to taking tea at the Swiss Cottage. On 11th July 1861 the Queen wrote:
"Walked over to the Swiss Cottage … where I met Albert … & all the children & where the results of the morning's cooking were displayed and relished. We all sat down to tea …"
Two tea sets are mentioned in the nineteenth century inventory of the Swiss Cottage and these sets remain on display, including two tea pots with fern designs that are still heavily stained inside with tea. There are also two miniature tea sets that were probably for the younger princesses to use, to get them used to the etiquette of afternoon tea.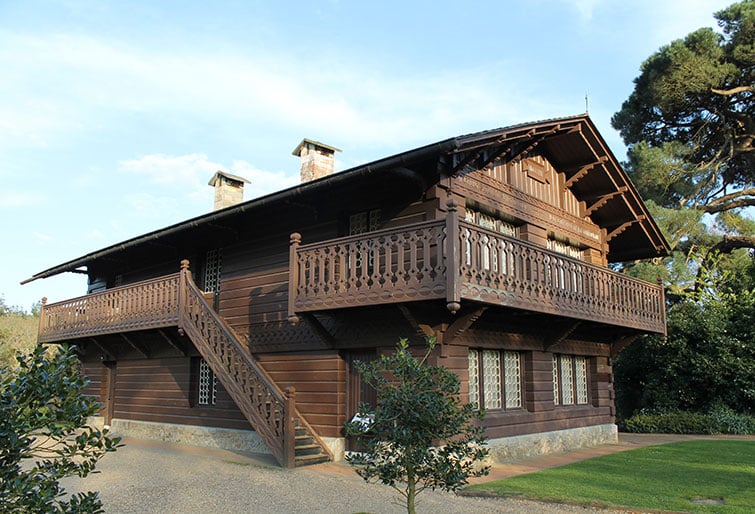 The Swiss Cottage, built to imitate a real Alpine building, was the domain of Victoria and Albert's nine children
The Swiss Cottage at Osborne has recently been re-presented and a recreation of a mouth-watering afternoon tea has been set up in the dining room.