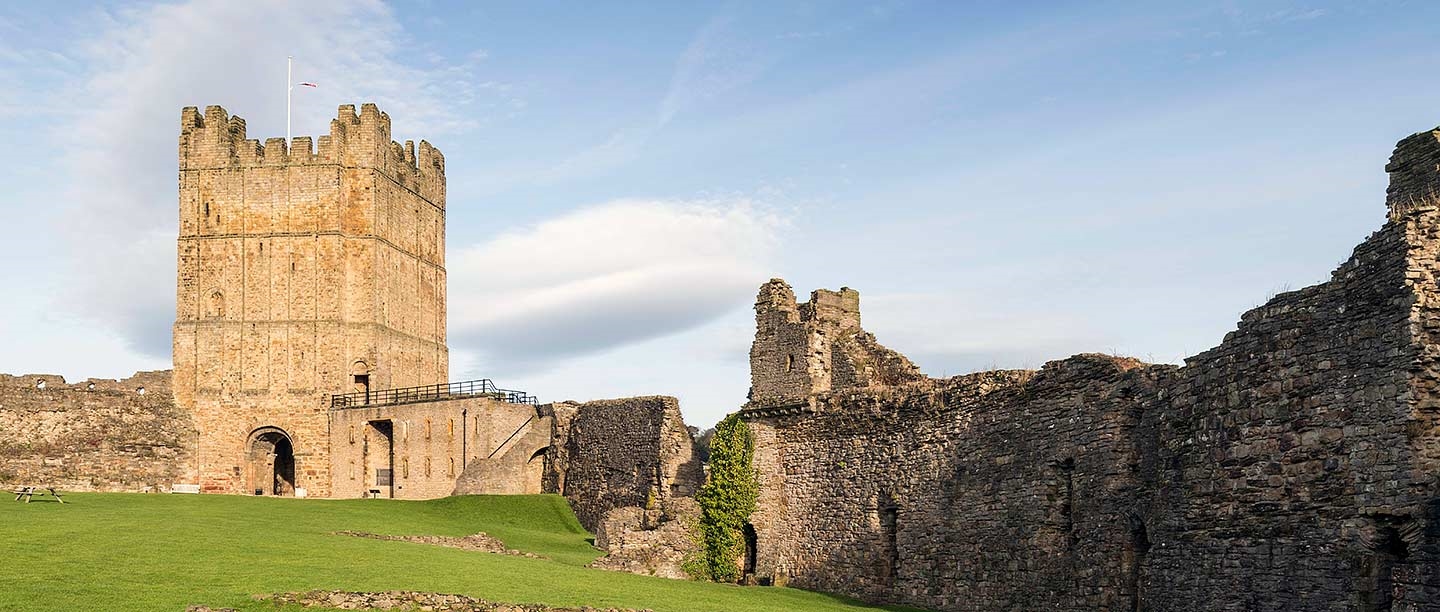 Episode 4: Voices from the Walls – Richmond Castle's Conscientious Objectors
Beside Richmond Castle's imposing Norman keep lies an unassuming military cell block with an extraordinary secret. Its fragile walls are inscribed with thousands of graffiti, many of them left by conscientious objectors imprisoned there during the First World War. These were men from all walks of life, united by one belief: that war was wrong.
Thanks to the very personal graffiti these men left behind, we've been able to piece together the stories of some of their lives. Josie Long walks in their footsteps in episode 4 of Speaking with Shadows – the podcast that listens to the people that history forgot.
Listen
At Richmond Castle, Josie meets historian Megan Leyland and curator Kevin Booth to discover the stories behind the cell block graffiti. Ruth Ecuyer tells Josie about a wedding march written especially for her by John (Bert) Brocklesby, one of the conscientious objectors known as the Richmond Sixteen. And we hear about newly researched letters between conscientious objector James Burchell and his employer, Edith Ellis, from volunteer Carol Chappell and Judith Ellis, Edith's great-niece.
Listen to this episode below, and subscribe to Speaking with Shadows on your favourite podcast app.
Bonus Episode
In this bonus episode Ruth Ecuyer tells the full story of how John Brocklesby, one of the Richmond Sixteen, came to write a wedding march for her. We also hear extended extracts from the march itself.
The Richmond Sixteen
In May 1916 a group of 16 conscientious objectors – who became known as the Richmond Sixteen – were forcibly transported from Richmond Castle to France. They had been held in the cells at the castle for refusing to take part in any war-related work.
Once they were in France, the men were court martialled for refusing to obey orders, and faced a potential death sentence. Their story demonstrates how far conscientious objectors were prepared to go in order to uphold their beliefs.
Read the full story of the Richmond Sixteen
Gallery of Graffiti
The thousands of drawings and inscriptions on the walls of the Richmond Castle cell block provide an extraordinary and unique record of dissent, rebellion, politics, faith, friendship and pride across the 20th century. Each piece of graffiti represents one voice, one story, one moment.
This gallery highlights some of these graffiti, including inscriptions and drawings created by First World War conscientious objectors such as the Richmond Sixteen.
Explore the Graffiti Gallery
Further reading
Ellsworth-Jones, W, We Will Not Fight: The Untold Story of World War One's Conscientious Objectors (London, 2008) [about John (Bert) Brocklesby and his brothers]
Pearce, C, Comrades in Conscience: The Story of an English Community's Opposition to the Great War (London, 2014)
Barrett, C, Subversive Peacemakers: War Resistance 1914–1918: An Anglican Perspective (Cambridge, 2014)
Perkins, G, Bible Student Conscientious Objectors in World War I – Britain (Charleston, SC, 2016)

Download a transcript of episode 4
Episode credits
Presenter: Josie Long
Producer: Katharine Kerr for Fresh Air
Contributors:
Megan Leyland, English Heritage historian
Kevin Booth, English Heritage collections curator
Ruth Ecuyer, daughter of a conscientious objector
Judith Ellis, great-niece of Edith Ellis of Wrea Head
Carol Chappell, English Heritage volunteer on the Richmond Castle Cell Block Project