History of Binham Market Cross
Binham Market Cross is one of the best surviving examples of a medieval standing cross in Norfolk.
It stands on the green in the centre of the village and could have been erected by the monks of nearby Binham Priory.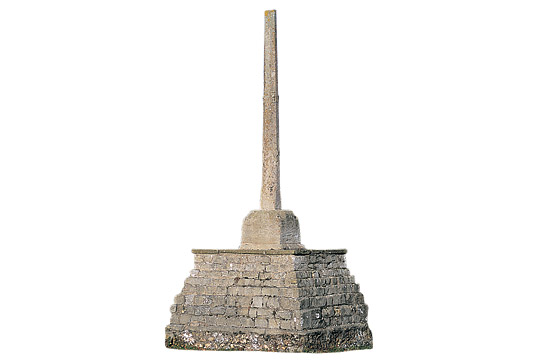 Crosses
Over 12,000 standing crosses are thought to have been erected throughout England between the mid-10th and the mid-16th centuries.
In churchyards they served as stations for outdoor processions; within settlements as places for preaching, public proclamation and penance, and for defining rights of sanctuary. They were also employed to mark parish, property or settlement boundaries, and sometimes to commemorate battles.
Some crosses were linked to particular saints whose support and protection their presence would help to invoke. Many cross-heads were destroyed by iconoclasts during the 16th and 17th centuries and now fewer than 2,000 examples, with or without cross-heads, are thought to survive.
Following the grant of a charter by Henry I, an annual fair and a weekly market were held here from the early 1100s, and fairs continued to be held on the green until the early 1950s.
Description
The 15th century cross is built of Barnack limestone and has a socket stone and separate shaft. The 2-meter tall base on which these stand is of mortared flint rubble with stepped courses of stone blocks, capped by a platform of thin slabs. You can see that some of the stone blocks have been reused.
The weathered remains of an ornamental moulding can still be seen partway up the shaft, but the stone cross that originally topped the shaft is missing.
Further Reading
Anon, Binham Priory: a guide to the Priory Church of St Mary and the Holy Cross, Binham, Norfolk (Binham, 1991)
Note
The text on this page is derived from the Heritage Unlocked series of guidebooks, published in 2002–6. We intend to update and enhance the content as soon as possible to provide more information on the property and its history.