History of Cundy House, Bolsover
The Cundy House was built in the early 17th century to provide a water supply for Bolsover Castle, about 300 metres (328 yards) away.
The name 'Cundy' is a corruption of the French word 'conduit', or water pipe.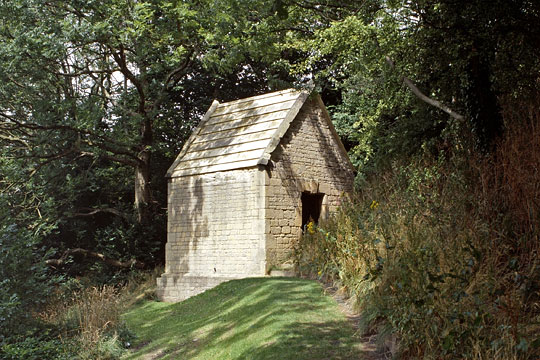 Conduit houses were built for a number of country houses in this period. Usually unmanned and remote from the building they served, they had to be strong and secure, to protect the water supply from pollution by animals or from other interference. Four other smaller conduit houses were constructed about the same time along the ridge line on the far side of the castle.
Built into the slope at the line of the natural spring, the structure housed a lead water tank. A water pipe from the Cundy House leads downwards to the main road and then up to the castle's cistern house, relying on the siphon effect to deliver water across the valley – a sophisticated use of technology.
From the cistern house, water was pumped up to a higher level and then fed the early 17th-century Venus Fountain in the castle garden, which works today with an electric pump.
In 1885, the lead water tank was removed and taken to Welbeck Abbey, Nottinghamshire, and replaced by a brick-built tank.
The Cundy House continued to supply water to the castle until the 1920s, when the pipe was cut during works on the main road in the valley. The Cundy House became a roofless ruin until its restoration in 2003.
Description
Despite its remote location and functional purpose, the Cundy House was carefully built.
It is a rectangular structure with walls of neatly cut stone blocks. The path leads up a few steps to the single doorway, which has a projecting keystone, a feature found in Classical architecture.
The little building is clearly intended to be viewed as a piece of architecture and not just as a functional structure.
The original door would have been of thick oak boards and securely bolted. On the opposite gable there was a single window at high level, preventing unwanted access. It was probably sealed with iron bars but has since been blocked up.

Stone vaulted roof
The most extraordinary feature of the building is the roof, recently fully restored following careful research.
It is formed not of timber and slates, but a solid stone vault, on top of which are thick roofing slabs, all rebuilt in the local magnesian limestone.
Solid stone-vaulted roofs were often used on conduit houses, as they were secure and impervious to decay, unlike timber. The original coping stones at the gable ends were carefully cut to fit over the roof slabs, a vital clue for the recent restoration. Visible through the door grille are the closely fitting stones of the restored barrel-vaulted roof interior.
In the centre of the building is the brick water tank, which still collects water.