History of Bow Bridge
Situated near Furness Abbey, Bow Bridge provides a convenient point at which to cross Mill Beck beside the sluice of a former mill race.
Although not breathtaking in scale (being just 10 feet [3 metres] wide), Bow is still a fine example of a three-arched medieval bridge.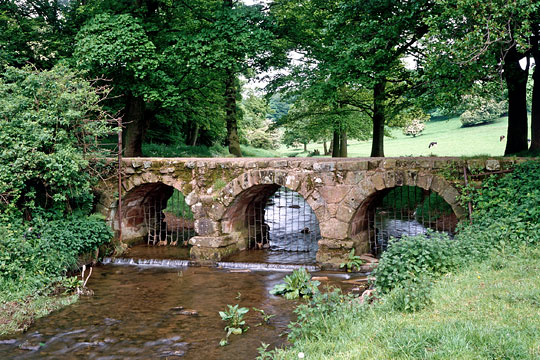 The stone parapets that probably ran along either side of the central footpath and gave the structure extra strength have now disappeared.
Bow Bridge was built in the 15th century from the same plentiful supply of red sandstone and grey limestone as Furness Abbey, which dates back to the 1120s.
In its heyday Furness was the most powerful abbey in the North West and, at the time of the Dissolution of the Monasteries in the 1530s, the second richest Cistercian monastery in England. The surviving richly embellished arcades and the magnificently carved details bear witness to its wealth and importance.
Such a prosperous abbey cannot fail to have attracted merchants, traders and salesmen, as well as Scottish raiders.
During the medieval period, the traffic to and from Furness must have been fast and furious, with Bow Bridge carrying a steady stream of pedestrians and pack-horses laden with corn, malt, salt and other goods.
The bridge may have been constructed specifically to link the abbey with the nearby New Mill, but its position on one of the most important medieval trading routes in north-west England must surely be of even greater significance.