History of Boxgrove Priory
The remains of Boxgrove Priory stand at the end of a gravel track in a beautiful setting in the village of Boxgrove, at the foot of the South Downs.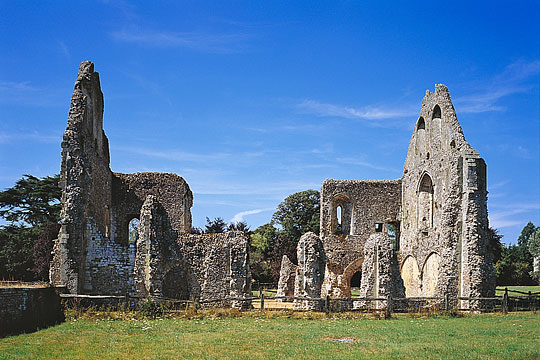 The Benedictine priory of St Mary the Virgin and St Blaise was founded in about 1117 by Robert de la Haye, Lord of Halnaker. It was a cell of the abbey at Lessay in Normandy in France and, when founded, had a community of only three monks.
In 1149 Roger St John increased the number of monks but the priory remained a cell of the French abbey.
In 1339, when other alien monastic properties were seized by Edward III, Boxgrove became independent.
Following the Dissolution of the Monasteries the buildings and land were granted to Sir Thomas West, Baron de la Warr.
Description
Of the monastic buildings only the lodging house and part of the church and chapter house remain. They are grouped around a small field, which is the site of the cloister of the monastery.
At the northern edge of the site the ruin of the 14th-century lodging house stands alone. It is roofless, but the north and south gable ends still stand to their full height. The building originally had two storeys, with an undercroft, or vaulted cellar, used for storage. The support for the vault of the undercroft can be seen clearly at the north end of the building.
The west part of the monastic church was demolished in the 18th century but the chancel, central tower, transepts and easternmost bay of the nave survive as the impressive present-day parish church. (This building is not in the guardianship of English Heritage.) There is a model of the monastic buildings inside the church, as an aid to understanding the layout of the monastery.
The north wall of the nave forms part of the wall of the churchyard, and the footings of the south wall and one bay of the south arcade from the interior of the church can also be seen in the churchyard.
One wall of the chapter house, where the monks would have gathered daily to have a chapter of the rule of St Benedict read to them and to discuss business, is attached to the north transept of the church. It has a central doorway with a window to either side.
The remaining monastery buildings lay to the north of the church, surrounding the cloister, but do not survive above ground.