History of Bratton Camp and White Horse
The earthwork defences of an Iron Age fort were built at Bratton Camp over 2,000 years ago. The White Horse is a famous landmark that was probably cut into the chalk about 400 years ago, but its appearance has changed over time.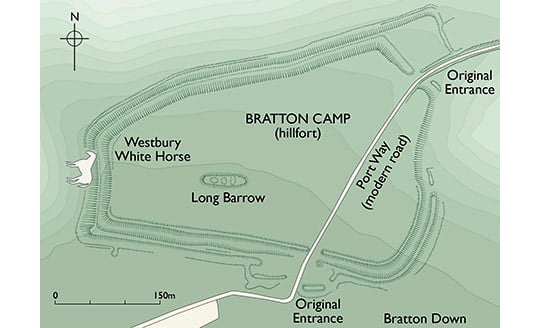 The earthworks protected a settlement, containing round houses, granaries, stores and workshops. The double banks and ditches may have symbolised the dominance and power of the hillfort community and would have been formidable obstacles to enemies.
Excavations within the fort in the 18th century by Jeffrey Whitaker, a local schoolmaster, uncovered quern stones, pottery, and Roman and Saxon coins. Also found were 'nearly a cartload' of large pebbles, probably sling stones kept ready on the ramparts to throw at any attackers.
Three thousand years before, a Neolithic long barrow had been built on this hill. The hillfort was preserved by the later occupants and excavations into the barrow in the 19th century revealed human skeletons and cremations.
Bratton Down is designated a Site of Special Scientific Interest (SSSI). The extensive area of chalk grassland supports herb and grass species that provide a habitat for a diverse assemblage of insects, including the rare Adonis Blue butterfly and the scarce forester moth.
The White Horse
Local records from 1742 suggest that the horse was originally cut in the late 17th century, probably to commemorate the supposed Battle of Ethandun, thought to have taken place at Bratton Camp in AD 878.
In the 17th century it had become popular to commemorate these supposed Saxon battle victories over the pagan Danes with white horses, in celebration of the belief that the Saxons had brought Christianity to Britain.
The tradition probably derived from the mistaken belief that the Uffington White Horse in Oxfordshire had been created in Saxon times to celebrate such a victory.
Cut into the chalk, the horse originally had to be scoured regularly to keep it white. The last recorded scouring took place in 1853. In the late 1950s, the horse was preserved by covering it in white-painted concrete.
Further Reading
Woolner, D, 'New light on the White Horse [Uffington, Berkshire]', Folklore: Transactions of the Folkore Society, 78 (1967), 90–112