History of Cantlop Bridge
The cast-iron Cantlop bridge, built in 1813, was part of an expanding network of bridges built to improve communication and trade in Shropshire.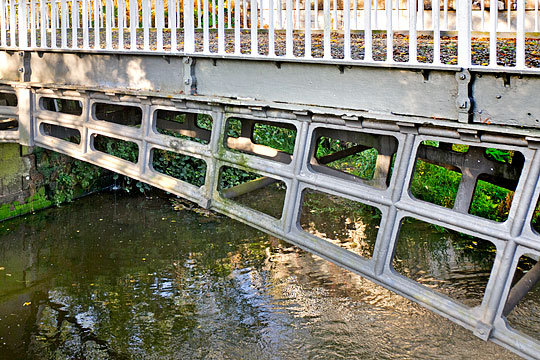 The single span bridge was built to an innovative design approved by the Scottish civil engineer Thomas Telford. Unlike the bridge at Iron Bridge, built by Abraham Darby, Cantlop Bridge does not follow the design of a wooden bridge.
Telford recognised the strength of iron and engineered lighter frames that required less of this material. The structure was strong enough to support a flat deck without a central pier that could hinder navigation along the river.
Cantlop Bridge is the only Telford-approved cast-iron bridge remaining in situ in Shropshire. Cast-iron is a very durable material, but it is relatively weak in tension and is no longer considered suitable for road bridges.
The bridge has not been used by traffic since the 1970s when the adjacent concrete bridge was built.
Further Reading
Blackwall, A, Historic Bridges of Shropshire (Shrewsbury, 1985)
Burton, A, Thomas Telford (London, 1999)
Sutherland, RJM, Structural Iron, 1750–1850 (Aldershot, 1997)
Note
The text on this page is derived from the Heritage Unlocked series of guidebooks, published in 2002–6. We intend to update and enhance the content as soon as possible to provide more information on the property and its history.