History of Carn Euny
Carn Euny is one of the best preserved ancient villages in south-west England. The village was inhabited from the Iron Age until about the end of the Roman occupation of Britain (about 400 BC – AD 400) and has an excellent example of an underground stone-walled passage, known as a 'fogou', a type of monument only found in the far west of Cornwall.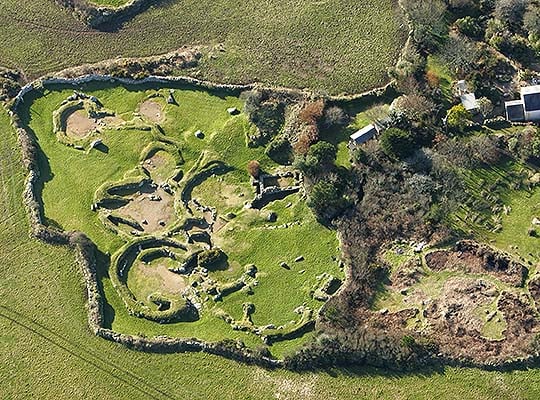 Development of the Village
The earliest houses on the site were Iron Age 'round houses', probably built of timber and turf sometime between 500 and 400 BC. These were replaced with stone houses probably between about 50 BC and AD 100.
The last phase of settlement, between the 2nd and 4th centuries AD, saw several earlier buildings replaced with larger, stone 'courtyard' houses. The visible ruins above ground mark the remains of these later houses.
Old field boundaries nearby show that the inhabitants farmed some 40 acres of land around the village. They grew oats, barley and rye and kept animals such as sheep or goats and probably cattle. The villagers are likely to have been traders, perhaps dealing in local tin.
The village appears to have been abandoned in about AD 400, although we do not know why.
Later History and Excavation
Carn Euny remained uninhabited for more than a thousand years. In the post-medieval period, the ruins were used as pigsties and garden plots. A small cottage was built here in about 1750, but by the mid-19th century this had fallen into disuse.
In the 1840s, miners prospecting for tin discovered a 'fogou', or underground passage, on the site. This was excavated in the 1860s by the Cornish antiquary WC Borlase (1848–99).
No excavation of the wider settlement took place until the 1960s. The archaeologists excavated the stone houses and fogou, and also found the circular drainage gullies and postholes of the early Iron Age turf and timber round houses, which had otherwise completely disappeared.
Further Reading
Christie, PML, Chysauster and Carn Euny Ancient Villages (English Heritage guidebook, London, 1993) [buy the guidebook]
Cooke, I, Guide to Carn Euny Iron Age Village and Fogou and Other Nearby Ancient Sites (Penzance, 1991)