Description of Carn Euny
Carn Euny was extensively excavated between 1964 and 1972. It has suffered damage over the years from stone-robbing and farming, meaning the overall layout is not easy to make out. There seem to have been at least ten houses belonging to several different periods of occupation from the Iron Age onwards. The houses cluster together in a haphazard interlocking pattern, often sharing walls.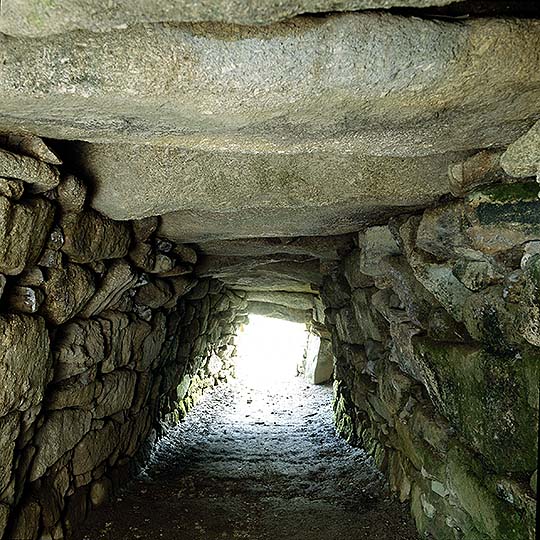 Fogou
Fogous are a distinct type of monument found only in the far west of Cornwall. The term derives from the Cornish word 'ogo', meaning cave. Most fogous were built during the later Iron Age (about 400 BC – AD 43).
The fogou at Carn Euny comprises a remarkable underground stone chamber with a slightly serpentine entrance passage. Its original function is unclear. It may have been used as a place of refuge, or perhaps as a cellar for cold storage. Alternatively, the presence of certain features, such as the niche at the back of the chamber, may point to some kind of ritual significance.
Houses
Nothing now remains above ground of the early Iron Age timber and turf houses. The visible remains of houses at Carn Euny all date from between the 2nd and 4th centuries AD.
The houses are of two types. Seven are simple, single-roomed round or oval houses, the standard house type across Cornwall at this time. Some of these were built directly over the earlier structures.
Three of the remaining houses are of the type known as 'courtyard houses', found only in west Cornwall. Courtyard houses were usually oval in plan, with thick interlinking walls surrounding a large central courtyard. Smaller round and long rooms were located within the thickness of the outer walls.
The courtyards were drained by stone-lined gullies, and may have been used for stabling livestock, crop processing and outdoor cooking.