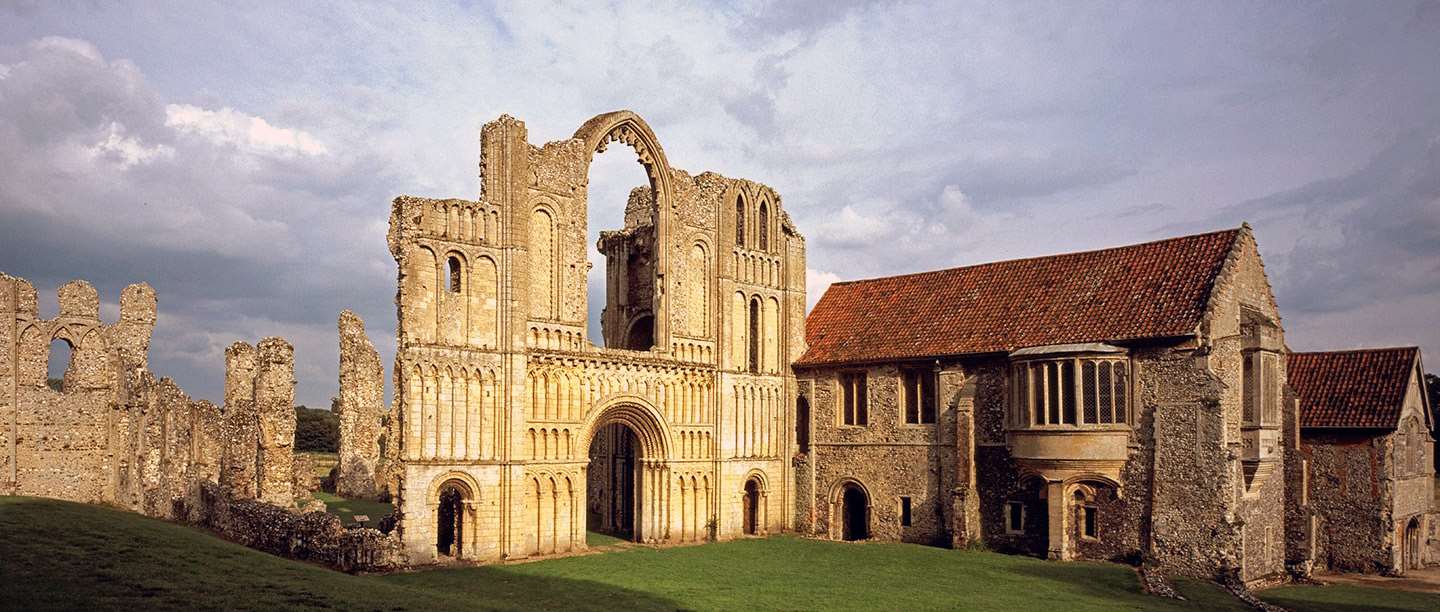 Schools
A stunning and inspiring location for a cross-curricular school trip. Make the most of your day at Castle Acre Priory by visiting the on-site exhibition, recreated herb garden, and new stonework display in the Prior's lodgings. Download the free resources for schools below.
Curriculum Links
Once the beautiful home of a working community of Cluniac monks with a great love for art and decoration, Castle Acre Priory is a fascinating site to explore for its historical signifcance and visual decadence.
KS1-3 History: A local history study
KS1 History: Significant historical events, people and places in their own locality
KS2 History: Study of an aspect or theme in British history that extends pupils' chronological knowledge beyond 1066
KS3 History: The development of Church, state and society in Britain 1066-1509 and 1509-1745
KS3 Geography: Local knowledge, geographical skills and fieldwork, human and physical geography
KS3 Art & Design: The history of art, craft, design and architecture
Free Self-Led Visits
The Priory has a huge amount to see and explore. From the extremely well preserved west front of the great 12th-century church to the remains of the cloister and monks' living quarters, which includes a two-storey, 24-seater toilet block. See below to download our Learning Resources to support your teaching before, during and after your visit. Use our Tour and Explore teachers' guide and student booklet for students to take part in a self-led tour around Castle Acre Priory. Make a full day of your visit by walking through the village to the nearby Castle and Bailey Gate using our illustrated map.
Find out more
PLAN YOUR TRIP
We have a wide range of materials to support your visit and make school trip planning easy. Download our free resources to help you make the most out of your visit and create unique learning experiences before, during and after your trip.
We also offer free planning visits for group leaders once you have made a booking. Our Education Booking Team is on hand to advise and help you create the best possible school trip to suit your needs and area of study.
Facilities

EDUCATION ROOM: Free to book with benches and tables, suitable as a lunch room
PARKING: Space for up to 4 coaches, please specify when booking
TOILETS: Male and female toilets available 50 metres from entrance (not accessible for wheelchairs)
ACCESS: Parts of the site are limited to those who cannot climb the spiral staircase
Learning Resources

The Tour and Explore resource contains a range of activities and interactive challenges for students to complete as they move around Castle Acre Priory. These resources contain everything you need to plan, complete and reflect on the tour.


Use this illustrated map to go on an interactive walk to Castle Acre Castle.


Featuring activity ideas for use during your visit, this resource will help you plan a visit to Castle Acre Priory.


These resources provide all of the background information you need to plan lessons and your visit to Castle Acre Priory.
Find out more

03703330606

School visits from September 2020

Education bookings for learners of all ages and abilities will be open from 31 August, and you'll be able to book for visits from September 2020 to March 2021. If you already have a booking with us in that time, we'll be in touch over the next few weeks.

In the meantime if you have a query related to an existing booking or would like more information please email bookeducation@english-heritage.org.uk

We look forward to seeing you again soon.