History of St Augustine's Conduit House
The remains of this medieval conduit house stand in King's Park, Canterbury, on a steep west-facing hillside to the east of St Augustine's Abbey, whose spring water supply it was built to protect.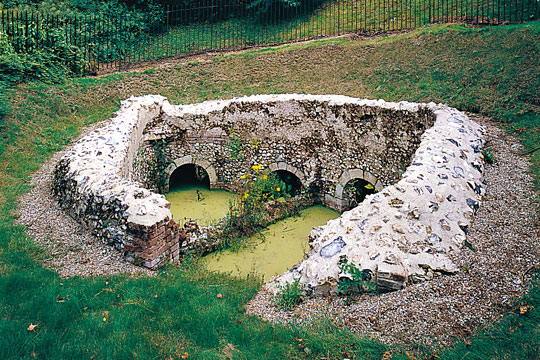 A reliable supply of fresh water was an essential element of the infrastructure of a monastic community. The location of rivers and streams was often a significant factor in deciding the precise site of monastic houses, but within a town local supplies might be polluted.
In such cases clean water had to be piped in from a spring. The water flowed through pipes that were made of lead or hollowed-out tree trunks.
Arrangements such as this were well known in the medieval period. Sources of water on a higher level than the monastery were tapped and small buildings were constructed to cover the collecting and settling tanks at the spring.
Description
The conduit house at St Augustine's Abbey dates from the mid-12th century. A roughly octagonal masonry tank is now divided by an 18th century chalk and brick wall.
Four tunnelled openings and three smaller ducts, which collect water from springs, lead into the tank. Water was delivered from here to the abbey by a lead pipe 75cm (3 inches) in diameter running from the western side of the structure. The pipe may have led to a water tower at the abbey, which would have fed smaller tanks in the kitchen, infirmary and other parts of the monastic complex.
The walls of the tank, which survive to a height of approximately 3 metres (10 feet), are built of flint and chalk blocks on chalk block foundations. The internal wall faces are of coursed flint and were originally rendered. The bed of the tank is of natural earth, with a high clay content.
In the 18th century, when the holding tank was divided, a new roof was constructed, consisting of two shallow barrel vaults. This may have been the work of Sir John Hales, who, in 1773, allowed Canterbury the use of the reservoir which he then owned to supplement its water supply.
In February 1988 the roof of the conduit house collapsed, though the tank and access tunnels can still be seen.
Note
The text on this page is derived from the Heritage Unlocked series of guidebooks, published in 2002–6. We intend to update and enhance the content as soon as possible to provide more information on the property and its history.