History of Deddington Castle
The earthworks forming Deddington Castle lie in a rural location to the south-east of the village of Deddington.
No stonework is visible above ground today, but the site is nevertheless a striking one owing to the scale of the earthworks – the rampart is 15 metres (49 feet) high in places – and the size of the enclosed area.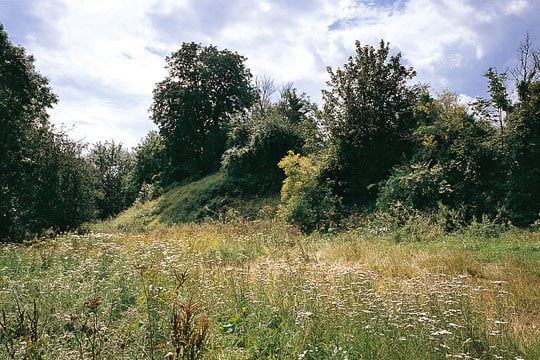 At the time of the Domesday survey in 1087 the site was held by Odo, Bishop of Bayeux (who is thought to have commissioned the famous tapestry). The half-brother of William the Conqueror, Odo held substantial power in England after the Norman Conquest of 1066, where he was ruthless in his suppression of native rebellion.
As Odo's Oxfordshire base, Deddington would have played a significant role in the Norman domination of the region.
Archaeological excavations have revealed that the site was already occupied before the castle was built there. Fragmentary buildings and artefacts from the late Saxon period have been found in the western bailey and beneath the castle ramparts.
Description
The entrance to the site opens onto an enclosure approximately 200 metres (219 yards) wide. This large, flat area was enclosed in the late 11th century by a bank and a ditch, to create a bailey. A motte (or mound) was built up on the eastern edge of this enclosure.
Excavations have revealed that an earlier timber building was replaced in about 1160 by a stone-built structure to the west of the mound.
An inner bailey was then constructed around this building, and by the end of the 12th century the motte had been levelled and a curtain wall erected, with stone towers and a gatehouse that led to the outer bailey.
The remains of a 13th-century chapel have been discovered, with those of a slightly earlier one buried beneath them. From the end of the 13th century the castle fell into disrepair, and became a quarry for local building stone.
A second enclosure to the east of the site contained a complex of four fish ponds.
Further Reading
Ivens, RJ, Deddington Castle, Oxfordshire: a Summary of Excavations 1977–79, Council for British Archaeology Newsletter (Oxford, 1983)
Ivens, RJ, 'Deddington Castle, Oxfordshire, and the English honour of Odo of Bayeux', Oxoniensia, 49 (1984), 101–19