History of Dupath Well
In the medieval period the cult of holy wells was very strong, and during that time about 40 Cornish springs or wells had structures of some kind built over them, usually simple gabled houses. Dupath is an unusually large and late example of such a holy well-house, and it has survived largely unaltered.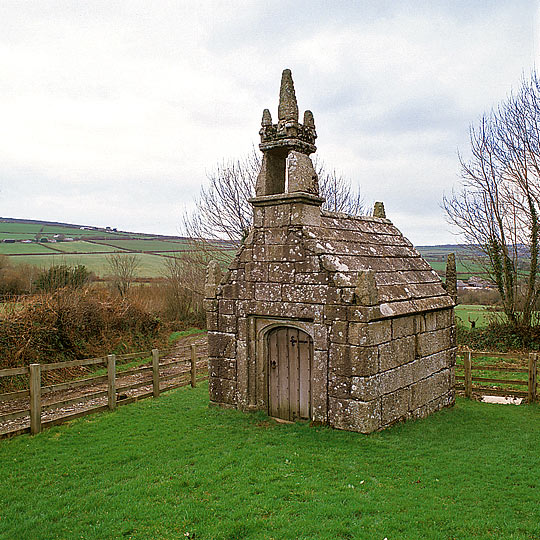 The small chapel-like building was probably built in about 1510 by the Augustinian canons of the nearby priory of St Germans, to whom the site belonged. It was dedicated to St Ethelred.
At one time the spring at Dupath was believed to cure whooping cough, and it has been suggested that, in addition to its role in healing the sick, the spring may have been used on occasion for baptisms.
The little building may have been a worthwhile financial investment for the canons of St Germans, since visitors to the spring would have left offerings, much as they do at wishing wells today. We know from monastic records that such sources of income were jealously guarded by religious houses.
Although the cult of holy wells was condemned at the time of the Reformation in the mid-16th century, local reverence for them and folklore customs continued, in some cases to the present day.
They often attracted local legend. One grim tale associated with Dupath recounts that two Saxons – Colan (Cornish for heart or courage) and Gottlieb – fought a duel there for a lady's hand. But the maiden remained unmarried: Colan was killed outright and Gottlieb fatally wounded, though some versions say he died later of 'impatience'.
Description
The architecture of the well-house is typical of the late 15th and early 16th centuries.
Built entirely of Cornish granite, it has a steeply pitched roof, constructed from courses of granite slabs that run the length of the building. There are badly weathered pinnacles at each corner and a small bell turret, with a highly elaborate canopy, over the entrance.
The interior is lit by one small vertical slit window in each side wall and a larger decorated two-light window in the east wall.
Dupath Spring
The spring rises a little way in front of the building and flows under the entry threshold. Inside, it runs via a restored granite gutter into a sunken stone basin, presumably used for bathing, at the east end.
An overflow leads outside at the back into a medieval circular trough.
Further Reading
Meyrick, JA, Pilgrim's Guide to the Holy Wells of Cornwall (Falmouth, 1982)