Sources for Easby Abbey
The following lists provide a summary of the main sources of our knowledge and understanding of Easby Abbey. Many of the manuscript sources are reproduced in W Farrer and CT Clay (eds), Early Yorkshire Charters, vols 4–5 (Leeds, 1935–6).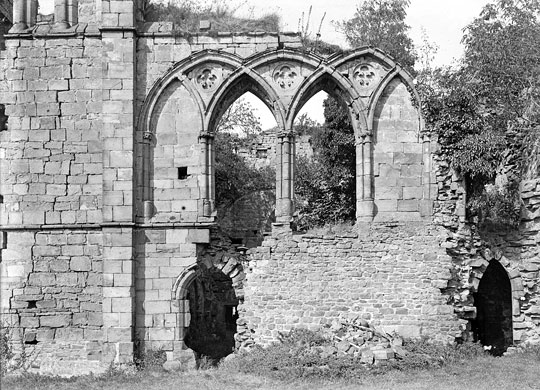 Primary Sources (Unpublished)
British Library
MS Egerton 2827: The Easby Abbey cartulary
Cheshire and Chester Archives and Local Studies Service
MS DCH/X/15/1: cartulary of Richard, 1st Baron Scrope of Wensleydale, 1327–1403, including a section of deeds relating to Easby Abbey
The National Archives, Kew
MS E231/46/30: the final membrane of a deposition concerning the abbey of St Agatha, Easby, in the records of the Court of Augmentations, dating from about 1540
WORK 14/306 Easby Abbey, Office of Works and successors, guardianship, 1926–34
WORK 14/307 Easby Abbey, proposed foreman's hut, 1930–31
WORK 14/308 Easby Abbey, guardianship of gatehouse, 1934
WORK 14/676 Easby Abbey, registered files, 1915–39
WORK 14/677 Easby Abbey, guardianship of tithe barn and cottage, 1936–8
WORK 14/678 Repairs to tithe barn and cottage, 1936–9
WORK 14/1541 Easby Abbey, compensation for grazing rights, rentals, 1935–56
WORK 14/1681 Lease of site for custodian's cottage and tenancy agreement, 1933–58
WORK 14/1682 Easby Abbey, parking facilities, 1938–61
North Yorkshire County Record Office, Northallerton
MS NRA20995 Lawson 4: mid-12th- to mid-13th-century charters relating to Easby
MS MIC 2280: the cartulary of the Scrope family, lords of Bolton
MS ZJU: papers of the Jaques family, owners of the manor of Easby from 1816. The collection has been catalogued, and includes material relating to the manor of Easby and other properties from 1710 onwards
Yorkshire Archaeological Society, Leeds
MS 727: diaries and papers of Leonard Jaques of Easby House, 1861–1916
The most important documentary sources for the Premonstratensian order in the late Middle Ages are two volumes relating to the visitations of Richard Redman, abbot of Shap, bishop of Ely, and principal of the Premonstratensian province of England (d. 1505). These can be found in:
Bodelain Library, Oxford, MS Ashmole 1519: a volume of 149 folios compiled at the time for Redman, probably by Robert Bedale, a canon of Shap who was his chaplain and clerk
Belvoir Castle, Add MS 2: a compilation of documents probably made at Welbeck Abbey, mainly relating to Welbeck and other houses of the order's 'Middle Circary' in England. The documents belong to the duke of Rutland and were discovered in the 1950s by Howard Colvin. They do not seem to have been made available to scholars since
British Library, Add MSS 4934, 4935: two early 18th-century volumes, which represent copies of some of the contents of the Belvoir volume made by the 18th-century antiquary, Francis Peck. They include material from two cartularies of Croxton Abbey in Staffordshire, and a lot of other material relating to Premonstratensian houses, whose source was unknown until Colvin identified it as Belvoir Add MS 2 (see Secondary Sources below).
Primary Sources (Published)
The Abbey Cartulary
Farrer, W and Clay, CT (eds), Early Yorkshire Charters, vols 4 and 5: The Honour of Richmond, Parts 1 and 2 (Leeds, 1935–6) [contains many documents relating to Easby's history, including its cartulary]
Gairdner, J (ed), Letters and Papers, Foreign and Domestic, Henry VIII, vol 11 (London, 1888) [accessed 13 February 2013]
Gairdner, J (ed), Letters and Papers, Foreign and Domestic, Henry VIII, vol 12, part 1 (London, 1890) [accessed 13 February 2013]
Gairdner, J (ed), Letters and Papers, Foreign and Domestic, Henry VIII, vol 12, part 2 (London, 1891) [accessed 13 February 2013]
Nicolas, NH, The Controversy between Sir Richard Scrope and Sir Robert Grosvenor 1385–1390, 2 vols (London, 1832) [includes valuable descriptions of the Scrope monuments in the abbey church]
Raine, J, 'On Easby Abbey, with a description of the site by the Rev'd JF Turner', Associated Architectural Societies Reports and Papers, 2 (Leeds, 1853), 316–30 [includes the wills of the 1st, 2nd, 3rd, 4th and 6th Lords Scrope, although it is not clear where the original documents are, or how they are to be found]
Material Sources
The Easby Cross
The parish church of St Agatha stands next to the ruins of the abbey. In the 19th century the stones of an outstanding piece of Anglian sculpture, the Easby Cross, were found built into the church.. The cross has been dated to about AD 800, the great age of Anglian Christianity. It is one sure sign that a significant church stood here at this early date. It is housed in the Victoria and Albert Museum (the church today contains a fine cast of the cross).

Abbey Church Furnishings
After Easby was suppressed, eight stalls with canopies from the abbey church were moved to St Mary's Church, Richmond. They bear a coded image device indicating that the stalls were installed under Robert Bampton, last Abbot of Easby, 1511–36. An inscription on the south canopy reads:
Decem sunt abusiones claustralium, victus preciosus, cibus exquisitus, rumor in claustro, lis in capitulo, dissolutio in choro, negligens discipulus, inobediens juvenis, ociosus senex, obstinatus monachus, curialis religious.
(There are ten abuses of the cloister: a refined way of life, delicate food, gossip in the cloister, quarrelling in the chapter, discord in the choir, negligent pupils, disobedience of youth, stubbornness of age, obstinacy of the monks.)
Holy Trinity Church, Wensley, contains a fine rood screen, datable by its heraldry to about 1500–33, also believed to have been taken from Easby.
Visual Sources
Tate
Turner, JMW, St Agatha's Abbey, Easby, watercolour, c 1797
Turner, JMW, St Agatha's Abbey, near Richmond, watercolour, c 1821

The National Archives, Kew
WORK 31/1182 Easby Abbey, plan of unroofed portion, 1938
WORK 31/1183 Easby Abbey, cross sections, 1938
WORK 31/1184 Easby Abbey, external side elevation, 1938
WORK 31/1185 Easby Abbey, long section drawing, 1938
CM 16/5 Easby Abbey, custodian's cottage, 1958–80
INF 9/137/2–5 and 7: photographs of Easby Abbey from the Dixon-Scott archive, 1926–42

North Yorkshire County Record Office, Northallerton
MS Z303: anonymous architectural sketch and notebook, of about the 1830s, including sketches of Easby
York City Archives
MS ACC100/SO1/056: sketch of the north transept of Easby Abbey, among a large collection of drawings and poems by Rev. SG Allen, 19th century

Yorkshire Archaeological Society, Leeds
MS 399: plans of religious houses by Sir William St John Hope, including Easby Abbey, late 19th century
MS 199: plan, elevations and sections of St Agatha's Abbey, Easby, by HD Pritchett, 1916
Secondary Sources (Published)
Ardura, B, Abbayes, prieurés et monastères de l'ordre de Prémontré en France des origines à nos jours: dictionnaire, historique et bibliographique (Nancy, 1993)
Bond, J, 'The Premonstratensian order: a preliminary survey of its growth and distribution in medieval Europe', in In Search of Cult: Archaeological investigations in honour of Philip Rahtz, ed M Carver (Woodbridge, 1993), 153–85
Brooke, CNL, 'Monks and canons: some patterns in the religious life of the twelfth century', in Monks, Hermits and the Ascetic Tradition, ed WJ Sheils (Oxford, 1985), 109–29
Burton, J, The Monastic Order in Yorkshire, 1069–1215 (Cambridge, 1999) [accessed 13 Feb 2013]
Bush, ML, 'The Richmondshire uprising of October 1536 and the pilgrimage of grace', Northern History, 29 (1993), 64–98
Clapham, A, 'Architecture of the premonstratensians with special reference to their buildings in England', Archaeologia, 73 (1923), 117–46
Colvin, HM, The White Canons in England (Oxford, 1951)
Colvin, HM, 'The registrum premonstratense: a lost MS rediscovered', Journal of Ecclesiastical History, 8 (1957), 96–7
Clay, JW, 'Yorkshire monasteries suppression papers', Yorkshire Archaeological Society, vol 48 (Leeds, 1912)
Fergusson, P, Architecture of Solitude: Cistercian Abbeys in Twelfth Century England (Princeton, 1984)
Fergusson, P, 'The refectory at Easby Abbey: form and iconography', Art Bulletin, 71(3) (1989), 33–51 [accessed 13 Feb 2013]
Fieldhouse, R and Jennings, P, A History of Richmond and Swaledale (London, 1978)
Gasquet, FA, 'The English Premonstratensians', Transactions of the Royal Historical Society, new series (1908), 1–22
Goodall, J, Richmond Castle, North Yorkshire, and St Agatha's Abbey, Easby, North Yorkshire (English Heritage guidebook, London, 2001) [buy the guidebook]
Gribbin, JA, The Premonstratensian Order in Late Medieval England (Woodbridge, 2001)
Hamilton Thompson, A, Easby Abbey, Yorkshire (Ministry of Works guidebook, London, 1936; 2nd edn 1948)
Hope, W St J, 'On the Praemonstratensian abbey of St Agatha juxta Richmond', Yorkshire Archaeological and Topographical Journal, 10 (1889), 117–58
Knowles, D and Hadcock, RN, Medieval Religious Houses: England and Wales (2nd edn, London, 1971)
Owen, E, 'A contribution to the history of the Premonstratensian abbey of Talley, part 1', Archaeologia Cambrensis, 5th series, 10 (1893), 29–47, 120–28, 226–37, 309–25
Owen, E, 'A contribution to the history of the Premonstratensian abbey of Talley, part 2', Archaeologica Cambrensis, 5th series, 11 (1894), 34–50, 92–107, 196–203
Page, W, A History of the County of York: North Riding, vol 1 (London, 1914) [accessed 13 Feb 2013]
Page, W, A History of the County of York: North Riding, vol 2 (London, 1923) [accessed 13 Feb 2013]
Pevsner, N, The Buildings of England – Yorkshire: The North Riding (London, 1996)
Robinson, D (ed), The Cistercian Abbeys of Britain: Far from the Concourse of Men (London, 1998)
Rowe, G, 'The abbey of St Agatha, for white or Augustine canons, called Praemonstratensians, at Easby', Associated Architectural Societies Reports and Papers, 10 (1869–70), 57–65
Warren, WL, Henry II (London, 1973)
Wenham, LP, 'The dissolution of St Agatha's Abbey, Easby, 1536', North Yorkshire County Record Office Journal, 8 (1981), 33–63
Whitaker, TD, The History of Richmondshire, vol 1 (London, 1823)