History of Edlingham Castle
Edlingham Castle dates mainly from the 14th century, although a manor house of the 13th century is probably concealed beneath the later building. The earliest standing remains are those of the hall house, built about in 1300 by Sir William Felton at a time when Northumberland was relatively peaceful.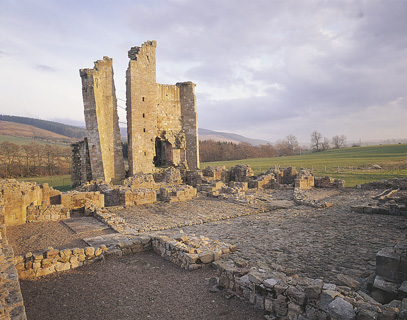 Felton was a member of an important family with estates in Norfolk and Shropshire but he had made his fortune independently through military service, royal favour and marriage to a Northumberland heiress, Constance de Pontrop.
His successors made extensive improvements to the manor house. In about 1340–50 his son, also named William, improved domestic comfort by building a magnificent solar tower, the best preserved part of the castle. As the Anglo-Scottish wars continued, he also strengthened the defences with a gate tower and stone curtain wall. Towards the end of the 14th century William's grandson, John, completed the enclosure walls and enlarged the gatehouse.
Later owners of the estate included the Hastings and Swinburne families. The Feltons had traditionally been royal officials and soldiers but their successors were primarily local gentry, with less need for military display or effective defence.
The castle was abandoned as a dwelling in the mid-17th century and by the 1660s was being quarried for building stone. At the end of the 19th century only the tower was still visible amid grassy mounds. Since 1975 the remains have been in the guardianship and ownership of the state. They were excavated between 1978 and 1982.
Description
The castle is situated at the east end of the small village of Edlingham, on low-lying ground beside the Burn, a tributary of the Aln. The remains of the hall house are now mostly at foundation level. It stood on the south side of the courtyard and was a rectangular building with octagonal corner turrets.
It would have had two storeys, with the undercroft, used for storage, at ground-floor level and, on the first floor, the public and private apartments of the lords of the manor of Edlingham. A curtain wall and gatehouse enclosed the hall and courtyard; only the bases of these structures now remain. The rampart that once surrounded the manor survives as an earthwork.
A variety of service buildings evidently existed within the courtyard, including a kitchen, brewhouse and bakehouse. The foundations of the service buildings that are now visible date from the replanning of the courtyard ranges after 1514.
The best preserved part of the castle is the solar tower. This provided accommodation for the owner and his family. The north and west walls of the tower survive almost to full height; a forebuilding was situated on the north side and on the corners there were stepped buttresses, each originally surmounted by a circular turret with battlements. The tower is three storeys high and each floor contained a single chamber. The first-floor room has a double line of windows and the remains of an elaborate fireplace.
Further Reading
Fairclough, G, 'Edlingham Castle: the military and domestic developments of a Northumbrian manor', Chateau-Gaillard, 9–10 (1982), 373–87
Fairclough, G, 'Edlingham Castle; an interim account of excavations, 1978–82', Transactions of the Ancient Monuments Society, 28 (1984), 40–60
Fairclough, G, 'Meaningful constructions: spatial and functional analysis of medieval buildings', Antiquity, 66 (1992), 348–66