History of Eleanor Cross, Geddington
When Eleanor of Castile, the first wife of Edward I, died at Harby, near Lincoln, in 1290, the grief-stricken king was driven to create the most elaborate series of funerary monuments to any queen of England. He ordered the building of 12 elegant crosses to mark each of the resting places of his wife's funeral procession as it travelled from Lincoln to her burial place at Westminster Abbey, London. The best-preserved of these lies at the centre of the little village of Geddington.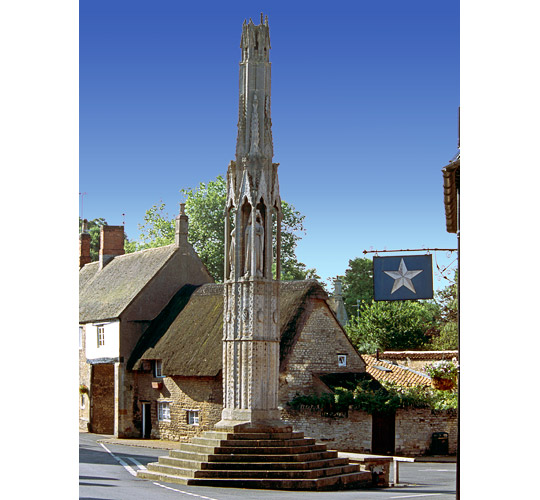 Edward had married Eleanor, daughter of Ferdinand III of Castile, in 1254. Their marriage was politically unpopular, yet notably successful in personal terms, and the couple had 16 children. They were rarely apart, and Eleanor even travelled with Edward on Crusade to the Holy Land. At her death, aged 47, on 28 November 1290, she had been accompanying Edward on his way north to fight the Scots.
The cross at Geddington was erected opposite St Mary Magdalene Church, where the cortège had rested on the night of 6 December 1290, next to a royal hunting lodge. Until the Reformation, prayers were said at all the crosses on the anniversary of Queen Eleanor's death; a mass is still said annually for her at Geddington.
Of the original 12 crosses only two others remain: one at Hardingstone, near Northampton, and another – heavily restored – in Waltham Cross, Hertfordshire. A replica cross was built on the site of a lost original at Charing Cross, London, in 1863. Queen Eleanor's gilded bronze effigy can still be seen in Westminster Abbey.
Description
The Geddington cross is different from the typical stone crosses that once stood in nearly every city, town and village in England. These took various forms and served many social and religious functions. Many were destroyed during or after the Reformation. Spire-shaped crosses, of which the Eleanor Crosses are the most famous, are unusual.
With its subtle geometry and rich decoration, the Eleanor Cross is an outstanding example of late 13th-century stone carving.
It was built in the new, highly ornamental English Decorated style, using local limestone. Intricately carved with floral patterns, the slender cross is triangular in plan and stands nearly 12.8 metres (42 feet) tall. It is built in three tiers. Below the tapering pinnacle at the top are three canopied niches, each containing a Caen stone figure of Eleanor. Beneath these figures are six shields, two on each face, bearing the arms of Castile, Leon, England, and Ponthieu in France, of which Eleanor was countess. Originally, the pinnacle was crowned by a cross.
Further Reading
Cockerill, S, Eleanor of Castile: The Shadow Queen (Stroud, 2014)
Powrie, J, Eleanor of Castile (Studley, 1990)
Note
The text on this page is derived from the Heritage Unlocked series of guidebooks, published in 2002–6. We intend to update and enhance the content as soon as possible to provide more information on the property and its history.