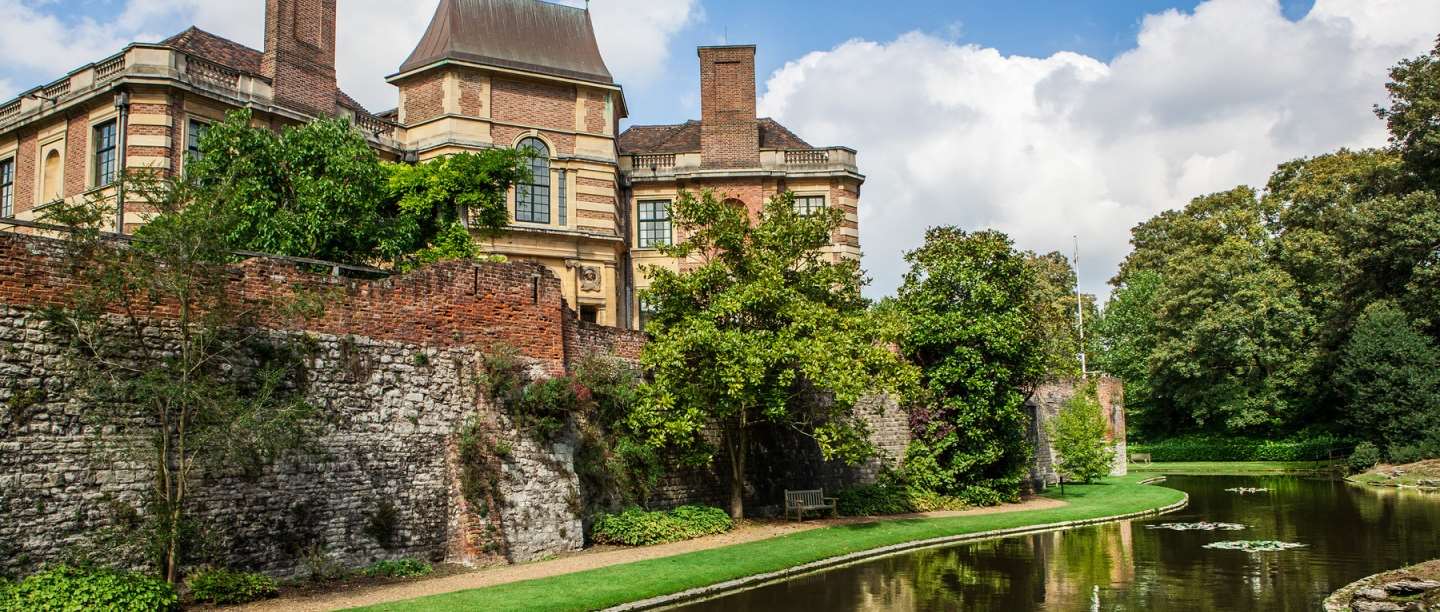 Plans for Eltham Palace
An exciting project is going to be underway at Eltham Palace in 2020, offering so much more for you to enjoy on your visit.
Inspired by the Courtauld's own original swimming pool, we're planning to improve the play facilities in our grounds and create a new play area including a water-based play feature.
Welcome to Eltham Palace and Gardens
We have introduced limits on visitor numbers to help keep everyone safe, and you won't be able to visit without your booking confirmation. If you're a Member, your ticket will be free, but you still need to book in advance. To book your visit, click here.
Although things might be a little different when you visit, you'll still be able to enjoy exploring the places where history really happened. And you'll still be given a warm and safe welcome by our friendly – if socially distant – staff and volunteers.
Please click here for more information about the safety measures you can expect when visiting as well as our FAQs.
Gardens - The beautiful gardens and grounds are open for you to enjoy while keeping to social distancing.
Palace and The Great Hall - The Palace and The Great Hall will remain closed.
Cafe - The cafe will be open for takeaway light refreshments and will have a new one way system.
Shop - The shop will be open with a one-way system in place.
Playground - The playground will remain closed.
Toilets - Our toilets are open as usual. Additional hand sanitising stations will be available on site.
Access - Unfortunately, due to a new one-way system to support social distancing, the gardens are currently not wheelchair accessible.
Book your visit
Discover the life of the Courtaulds
In the 1930s, millionaires Stephen and Virginia Courtauld saved historic Eltham Palace from decline and transformed it into a lavish home, infused with Art Deco architecture and state of the art technology. Discover the lives of this eccentric couple as you visit unusual rooms including the map room where they planned their exotic world travels and the centrally-heated sleeping quarters specially-designed for their pet lemur! Step inside a reconstruction of Virginia's walk-in wardrobe to see beautiful period dresses, hats and accessories, and try on some vintage-inspired replicas yourself.
Art Deco House
Begin your visit in the dazzling circular entrance hall, a mix of Art Deco and cutting-edge Swedish design, and then wonder at the marvellous panelled dining room characterised by geometric and stylised shapes. Visit Virginia Courtauld's luxurious golden bathroom which sits within a lavish gold mosaic niche containing a statue of the goddess Psyche.
Take shelter in the wartime basement bunker which would have provided the household with an extra-ordinary level of comfort during the Blitz. Explore some of the collection highlights that you can see at Eltham Palace.
Medieval Palace
Take just a few steps and travel back in time from Art Deco modernity to a medieval masterpiece. Gaze out from the minstrels' gallery across the magnificent great hall, and admire the glorious hammer-beam roof built for Edward IV five hundred years ago.
First recorded in the Domesday book, Eltham estate was presented to King Edward II in 1305. It developed into one of the most favoured royal palaces with 1,000 acres of deer park on its doorstep. It was also known to have accommodated Henry VIII during his childhood.
Glorious Gardens
Explore 19 acres of beautiful historic gardens which were a gold winner at London in Bloom Awards 2017. Discover the intriguing mix of medieval features woven into the landscape.
Take time to wander around the Rock Garden with its series of pools and cascades running down to the moat. Cross the moat on London's oldest working bridge, and smell the roses in the sunken rose garden.
Find out what you can enjoy in the garden whichever season you visit.
Playground and activities
There is plenty for young explorers to discover in the palace and gardens. Seek out the Courtaulds' pet lemur and his exotic friends in our Eltham animal explorer trail. Try on dresses from Virginia's wardrobe, as well as wartime uniforms in the basement.
Head over to the wooden outdoor play area, inspired by the Courtauld's exotic world travels, where excitable adventurers can burn off excess energy. There are also additional children's activities on special event weekends, check our events page for more information.
Café and shop
Enjoy the feel of alfresco dining in our glasshouse café, located next to the play area, and relax with a tasty lunch or quick afternoon treat. The café offers hot and cold lunches, children's sandwiches, afternoon cakes and hot and cold drinks all using fresh and local produce.
If you prefer to picnic make use of our benches near the play area to tuck into your sandwiches.
Browse a range of fabulous Art Deco inspired gifts in our shop, and take home a souvenir of your visit. Take a look at our online shop here.
Interactive Guide
Take an interactive tour of Eltham Palace and Gardens with our free multimedia guides. Play a touch-screen game or hear about 1930s technology and the medieval feasts hosted at Eltham. There's something for everyone, choose from an adult tour or family tour, we also provide BSL and audio-described versions.