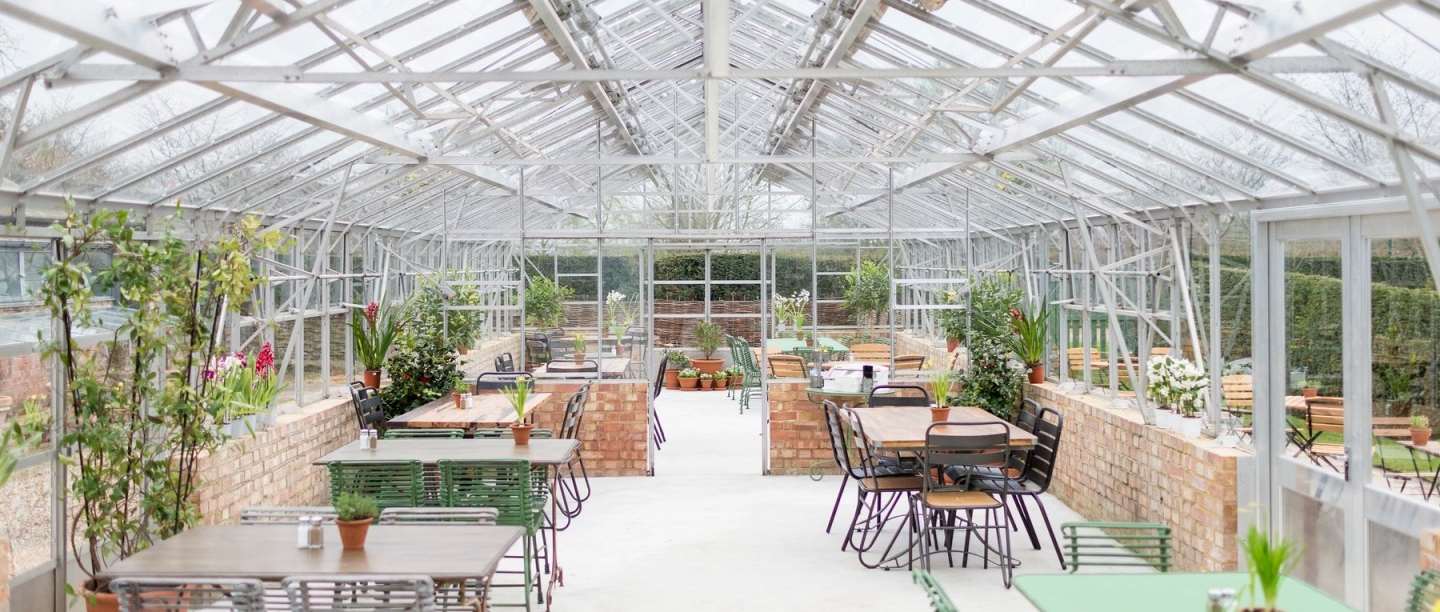 Food and Drink
From royalty to celebrities, Eltham Palace has been host to some illustrious guests. As well as their notorious dinner parties, the Courtaulds entertained Queen Mary several times for tea and champagne.
Experience some of Eltham's hospitality and join us for tea and cake in our café. Or if you are looking for something more substantial, enjoy our hot and cold lunches, light bites, sandwiches and baguettes. Browse our sample menu below.
Glasshouse Café
Enjoy the feel of alfresco dining in our glasshouse café, located next to the play area, and relax with a tasty lunch or quick afternoon treat.
The café offers hot and cold lunches, children's sandwiches, afternoon cakes and hot and cold drinks all using fresh and local produce.
If you prefer to picnic make use of our benches near the play area to tuck into your sandwiches.
Sample Menu
Please note our menu may change due to seasonality and availability of produce.
Light Bites:
Tart of the Day, served with coleslaw & salad garnish (V) £7.25
Soup of the Day, served with bread roll (VE/GF) - can be served with GF Bread £4.95
Mackerel Pate, Served with bread roll & Salad garnish £6.50
Pork Pie Slice, served with salad garnish, pickles & chutney £4.95
Stuffed Peppers, Stuffed with beef mince & topped with cheese, served with salad garnish £6.95
Ratatouille Pasta, served with feta cheese (V) - Can be made vegan £6.95
Three bean salad, served with feta (V) - Can be made vegan £6.95
Mezze Platter, Hummus, pitta bread, tzakziki, olives and seasonal crudités (V) £6.95
Hot Bacon & Brie roll, served with salad garnish £5.50
Sandwiches & baguettes - all sandwiches on a choice of multigrain, white or gf bread. All served with a salad garnish.
Ham, Honey mustard mayo & Salad £5.25
Egg Mayonaise £5.50
Prawn cocktail £5.50
Tuna mayo & cucumber £4.95
Cheese & Chutney £4.95
Chicken & Bacon baguette £6.25
Selection of cakes - wide range of cakes including gluten free & vegan options
Cream tea, fruit scone, clotted cream, jam served with tea or Americano £5.25
Selection of tray bakes £2.30
Selection of round cakes £3.50
Special diets including vegetarian, vegan, gluten and dairy free options can be accommodated for. Please ask the Café staff for advice.
Opening times
1 April - 30 September: Open Sunday - Friday, 10am - 5.30pm
1 October - 31 October: Open Sunday - Friday, 10am - 4.30pm
1 November - 28 March: Open Sundays 10am - 3.30pm