History of Halesowen Abbey
In 1214, King John gave the manor of Hales, Shropshire, to Peter des Roches, Bishop of Winchester, to build there a religious house of 'whatever order he pleased'. The abbey at Halesowen was established four years later, dedicated to the Virgin and St John the Evangelist.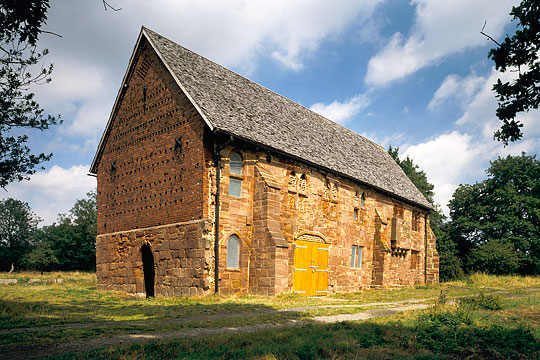 The White Canons
The Abbey was colonised by canons from the existing Premonstratensian monastery at Welbeck, Nottinghamshire.
The Premonstratensians were not monks in the strict sense but rather communities of priests living together under the rule of the order. The order followed that of the Cistercians, valuing an austere and secluded life. They became known as the 'white canons' as they dressed in undyed habits.
For more than 300 years the monks controlled a vast estate around Halesowen, although an uprising by local people against the abbot is recorded after he forced them to pay a series of punitive taxes.
The monastery acted as a resting point for pilgrims to nearby St Kenelm's Church, Romsley, said to have been built near the site where Kenelm, King of Mercia, had been martyred. The waters of St Kenelm's spring there were thought to have healing properties.
Dissolution of Halesowen Abbey
The abbey and all its possessions were surrendered to the Crown by its last abbot, William Taylor, in 1538, and two years later the monastic buildings were partly demolished.
Henry VIII granted the abbey estate to Sir John Dudley, who passed it to his servant George Tuckey. Parts of the monastic buildings were later incorporated into the north barn of Manor Farm.
The abbey came into the guardianship of the state in 1915.
Description
The main abbey buildings lie among the 19th century agricultural buildings and farmhouse of Manor Farm (not in the care of English Heritage).
They were originally situated within a rectangular precinct, defined by man-made fishponds to the north, south and south-west and by water-filled ditches.
The monastic church was built of local red sandstone, and its standing remains – including parts of the presbytery, south transept, east end and south aisle – are thought to date from the early 13th century.
Agricultural Buildings
A range of agricultural buildings overlies the south wall of the church and north part of the cloister.
The north barn, probably dating from the 17th century, follows the same alignment as the church and has been partly built from reused medieval masonry and timbers.
Excavations at the site during the late 19th and early 20th centuries confirmed that the barn incorporates standing fragments of the monastic church.
Of the south range of the cloister, the south wall of the refectory and its undercroft remain standing. To the south-east of the church is a two-storeyed building constructed in the second half of the 13th century, which may have been the abbot's lodging.
Further Reading
Molyneux, NAD, 'A Late Thirteenth-Century Building at Halesowen', Transactions of the Worcestershire Archaeological Society, third series, 9 (1984), 45–53