Research on Heddon-on-the-Wall
Very little research on the Roman remains at Heddon-on-the-Wall has been published. The only published excavation[1] consisted of a series of small trenches dug on either side of the Wall, before its wholesale clearance in 1936–8.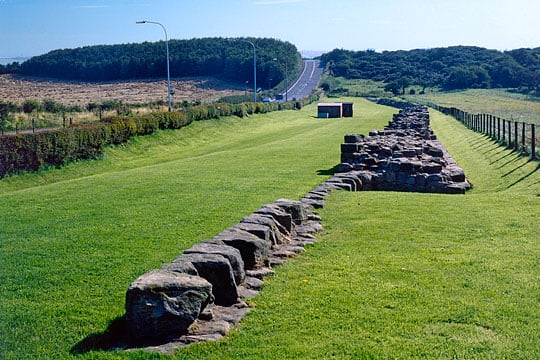 Current Understanding
Research on the Wall is constantly challenging previous interpretations of its history. It has recently been doubted whether much, if any, of the Broad Wall was completed before its specification was changed to narrow gauge.
If this were the case, it would mean that at Heddon the existing masonry would have been carried up to its full intended height of about 4–5 metres by a narrower wall.[2] Yet no trace of this later reduction in the width of the Wall has been seen in any of the surviving elements in the 12 miles west of Newcastle, including Heddon. It still seems more likely that most if not all of this length was completed to broad gauge to its full height.
Research Potential and Priorities
Each excavated length of Hadrian's Wall contributes to our understanding of the building history of the Wall and its meaning. Further study of fragments such as Heddon, which were cleared for consolidation without any form of archaeological recording, can tell us little that is new. Investigation of the surrounding area at Heddon, however, would probably yield important information.
Relevant research priorities connected with the Wall are discussed in Frontiers of Knowledge, vol 2: Agenda and Strategy, sections S4.1.1–4.1.2.
Geophysical survey or excavation should be able to recover the plan of the system of defensive pits which presumably lies in front of the Wall at Heddon as it does further east.
Footnotes
1. P Brewis, 'Notes on the Roman Wall at Denton Bank, Great Hill and Heddon-on-the-Wall – Northumberland', Archaeologia Aeliana, 4th series, 4 (1927), 109–21 (accessed 21 February 2013).
2. PR Hill, The Construction of Hadrian's Wall, BAR British Series 375 (Oxford, 2005), 145–7.