History of Howden Minster
St Peter's Church at Howden was originally an Anglo-Saxon foundation. Following the Norman Conquest it was granted by William I to Durham Priory.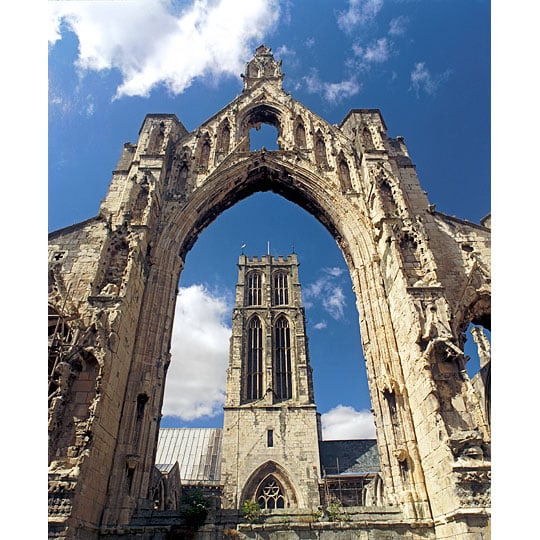 In 1267, after a failed attempt to set up a monastic community, the Bishop of Durham made arrangements for the church to become collegiate, that is, served by a body, or college, of priests known as canons, who did not belong to a religious order. The church was endowed with six nearby parish churches – Howden, Barnby, Thorpe, Skelton, Saltmarsh and Skipwith – to provide income for the community.
In the 1270s the building of the new church began and by 1306–11 the west front was complete. Between 1320 and 1340 a new aisled choir was built. The ornate chapterhouse was constructed in two phases from the 1340s, its completion being funded by Walter Skirlaw, Bishop of Durham (1388–1406).
Parts of Skirlaw's manor house still exist south-east of the church, now fronted by a later elegant Georgian facade, with a large medieval moat and fishpond in the park beyond. In the late 15th century the minster's great landmark tower was completed.
Decline
Although the collegiate church survived Henry VIII's Dissolution of the Monasteries it was suppressed by Edward VI in 1550. The town and church of Howden quickly fell into decline.
The income of the church passed to the Crown and the maintenance of the building became the responsibility of the parishioners, who were obliged to abandon the choir through lack of funds for maintenance.
In 1696 the great vaulted roof of the choir collapsed. The roof of the chapterhouse fell down in 1750. The ruined choir and chapterhouse were taken into guardianship in 1971 and the latter was repaired and reroofed in 1984.
Description
The site can generally be viewed from the outside only.
Through the gate you can see the ruined choir of the church, later used as a graveyard. It had two aisles and the central portion stood three storeys high.
The octagonal chapterhouse has traceried windows with arched canopies, and outer buttresses with decorative shields. Inside are elaborate carved stone panels above the stone benches where the canons sat for meetings.
At the doorway between the choir and the chapterhouse is a tiny chapel, probably the one founded by Bishop Skirlaw in about 1404.
Further Reading
Keeton, B, A Guide Book to Howden Minster (privately published, 1996)
Sharland, JS, The Collegiate Church of St Peter, Howden (Howden, 1967)
Note
The text on this page is derived from the Heritage Unlocked series of guidebooks, published in 2002–6. We intend to update and enhance the content as soon as possible to provide more information on the property and its history.