History of Hurst Castle
Hurst Castle was built between 1541 and 1544 by Henry VIII as part of a chain of artillery fortresses protecting key ports and landing places around southern England. The castle guarded the Needles Passage leading to the Solent, the port of Southampton and the growing naval base at Portsmouth. Hurst was also occasionally used as a prison – most famously when Charles I was held captive here in 1648. It was greatly modernised in the 19th century, when it formed a key fortress protecting one of the world's most heavily defended areas. Unusually for a Tudor castle, it remained in military use until 1956, playing an active role through both world wars.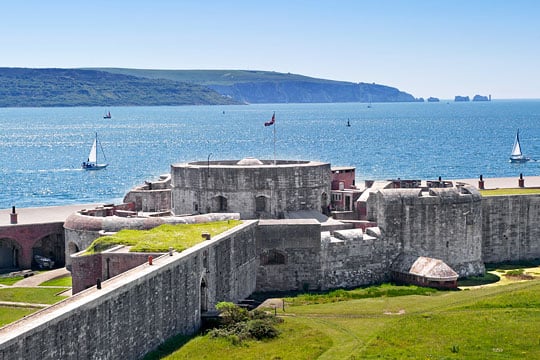 Hurst Spit and the Tudor Castle, 1541–1600
The long shingle spit on which the castle was built was almost certainly uninhabited before construction began in 1541. By then, effective artillery was transforming its strategic importance. A fortress here could control the Needles Passage – only some 1,280 metres wide at this point – that separated the spit from the Isle of Wight.
In 1539, fear of invasion from the united Catholic powers of Europe, stemming from Henry VIII's earlier break with the Roman Catholic Church, led the king to mastermind a series of defensive measures. The most ambitious of these was the building of permanent artillery defences to protect harbours, naval bases, fleet anchorages and likely invasion points.
This chain of fortifications, stretching from Hull in the north-east around to Milford Haven in Pembrokeshire, was the first centrally planned system of coastal defence since a chain of Roman forts more than 1,200 years earlier.
Work to protect Southampton Water began in 1539 with the building of Calshot Castle on its western shore and, soon afterwards, two further defences on the eastern shore – St Andrew's Castle at Hamble and Netley Castle (a map of these defences can be downloaded from the bottom of this page).
On the Isle of Wight small artillery forts were built on the banks of the Medina River at West and East Cowes and at Sconce Point, almost opposite Hurst Castle.
By 1540 the fear of invasion had generally subsided. Nevertheless, Henry pressed on with his building programme, and work began on Hurst Castle in 1541. The following year a permanent garrison was established under the captaincy of Thomas Bertie, who had been master mason at Calshot and the two Cowes forts.[1]
After it was completed in 1544 the castle was armed with about 20 guns of varying calibre under the charge of a master gunner. For the rest of the 16th century life at the castle was largely uneventful.
Hurst in the 17th and 18th Centuries
The castle remained little changed from 1544 until the outbreak of war with Revolutionary France in 1793. Its peacetime garrisons probably numbered about a couple of dozen men, supplemented in wartime by local militia.
Postings could be lengthy. One master gunner served for 37 years from 1625, and in 1800 one of his successors had been here for 17 years. The castle was not always kept in good repair and at times lacked serviceable guns and ammunition.[2] Nevertheless, it retained its strategic importance.
A small community, including an inn, grew up just outside the castle during this time, initially to serve the needs of the garrison. A number of soldiers and their families lodged in houses there.
The spit was a noted area for smugglers, who sometimes included members of the garrison. In 1680 a customs post was located here, and a century later a lighthouse was built.
During the Civil War (1642–51) the castle was held for Parliament. It was never attacked, but achieved fame shortly afterwards when Charles I was imprisoned in the keep from 1 to 19 December 1648 after the Parliamentary army ordered his arrest and transfer from Carisbrooke Castle on the Isle of Wight.
On 19 December he was taken from Hurst Castle on the journey leading to his execution in London six weeks later.[3]
In 1700 Hurst was again selected as a secure prison, this time to hold anyone convicted for spreading the Roman Catholic faith. In the event only one prisoner was sent here, Father Paul Atkinson. Despite several pleas for clemency, he remained in the castle for 30 years until his death at the age of 74.[4]
The Napoleonic Wars, 1793–1815
The outbreak of war with Revolutionary France in 1793 saw a rapid strengthening of Britain's coastal fortresses. Hurst Castle, now more than 250 years old, was seen as one of the weakest.
After hasty repairs to Hurst in 1794, 18 captured French guns (9-pounder weapons, probably the heaviest the Tudor fabric could support) were installed.[5] Two five-gun batteries were also built on the beach on either side of the Tudor fortress, equipped with captured French 36-pounder weapons and furnaces for heating shot (to set fire to enemy ships).
In 1803 the threat of invasion by Napoleon led to redoubled work on coastal defences, particularly those of Dover and in the Solent area. At Hurst the centre of the Tudor castle was transformed.
Early in 1803 the Board of Ordnance authorised the Royal Engineer Colonel John Evelegh to remodel and strengthen the keep. He inserted a substantial brick vault at the old roof level to support six powerful 24-pounder guns on the roof above and a second vault below to protect the basement gunpowder store.
Evelegh also renewed the timber roofs of the Tudor bastions so that they could safely support 8-pounder French guns. A combination of soldiers and contractors' workmen carried out all these works, which were probably completed early in 1807.[6]
Hurst's guns saw no action, however, and in February 1809 all spare space here was turned into a temporary military hospital for survivors of Sir John Moore's army. After their epic 250-mile fighting retreat through northern Spain to the port of Corunna, pursued by the French, these sick and wounded men were rescued by the Royal Navy and brought safely back to Hurst.[7]
Mid-Victorian Modernisation, 1851–74
In the early 1850s, prompted by fear of French military intentions, a number of Britain's most vulnerable coastal fortifications were modernised.
At Hurst the moat was deepened in 1851 and its immediate defences strengthened. Between 1852 and 1854 the bastions and curtain walls were extensively modified so that a second tier of guns could be mounted. Outside the castle two large earthwork batteries were built for 29 heavy weapons.
These works were hardly finished before technological revolutions – the development of rifled guns and quick-firing (QF) guns, and the introduction of steam-powered warships – made such fortifications obsolete. In 1859 a Royal Commission was created to consider the defence of the United Kingdom. Among its recommendations was that a powerful ring of fortresses should be built to protect Portsmouth and its naval base.
As part of this programme, work to strengthen Hurst Castle began in 1861. The earthwork batteries were replaced by huge armoured wing batteries. Largely completed by 1874, these housed 31 of the new guns, which fired shells weighing more than 360kg, in granite casemates (vaulted chambers). Accommodation was provided for a peacetime garrison of 143 officers and men.[8]
The 20th Century and Two World Wars
Occasional alterations and modernisation continued to 1945. In 1893 a battery for three of the new 6-pounder QF guns was built outside the end of the east wing. A little later three 12-pounder QF guns were added to the keep and the west wing, together with searchlights.
Variants of these weapons, together with Bofors guns (rapid-firing anti-aircraft guns) for defence in the Second World War, provided the castle's armament until 1945. In both world wars the castle once again played a key role in protecting the western entrance to the Solent.[9]
Conservation of the Tudor castle began in 1933.[10] In 1956, after the abolition of the British army's coastal artillery, Hurst Castle came into the care of the Ministry of Works, predecessor of English Heritage.
About the Author
Jonathan Coad has researched and written widely on fortifications and naval bases and for many years worked on the conservation of Hurst Castle. He is the author of the English Heritage Red Guide to the castle.
Footnotes
1. AD Saunders, Fortress Britain: Artillery Fortification in the British Isles and Ireland (Liphook, 1989), 37–43. The author provides a good account of these forts in the wider context of national defence.
2. The castle was said to be in poor repair at least twice: Hampshire Archives and Local Studies, 147M98/1 (4 March 1724) and Royal Engineers' Library, Brompton, POR/01/1 (30 September 1777).
3. J James, Hurst Castle: An Illustrated History (Wimborne, 1986), 28–36, has the best recent detailed account of Charles I's time at Hurst.
4. James, op cit, 42–4, for a succinct account of Atkinson's imprisonment here; see also T Cooper, rev PP Bogan, 'Atkinson, Matthew (1656–1729)', Oxford Dictionary of National Biography (Oxford, 2004) (subscription required; accessed 25 April 2014).
5. Smoothbore cannon are described according to the weight in pounds of the iron shot that fitted the bore.
6. For a detailed account of the building works from 1794 to 1807 see JG Coad, 'Hurst Castle: the evolution of a Tudor fortress 1790–1945', Post-Medieval Archaeology, 19 (1985), 66–76 (subscription required; accessed 9 April 2014).
7. Royal Engineers' Library, Brompton, POR/01/2–33 (1 February 1809).
8. For a detailed account of works at the castle between 1850 and 1875 see Coad, op cit, 76–95.
9. Ibid, 95–101, for a brief account of post-1875 modernisations. The National Archives, Kew, WO 33/551 covers 1910 proposals for the wider defence of Portsmouth; WO 192/288 is the Fortress Record Book, which records Hurst's operations in the First World War.
10. The National Archives, Kew, WORK 14/704 is an Office of Works file dealing with conservation work at the castle between 1930 and 1937.