Description of Jewry Wall
The Jewry Wall is one of the most massive survivals of Roman masonry in Britain. It is the only visible survival of Roman Leicester.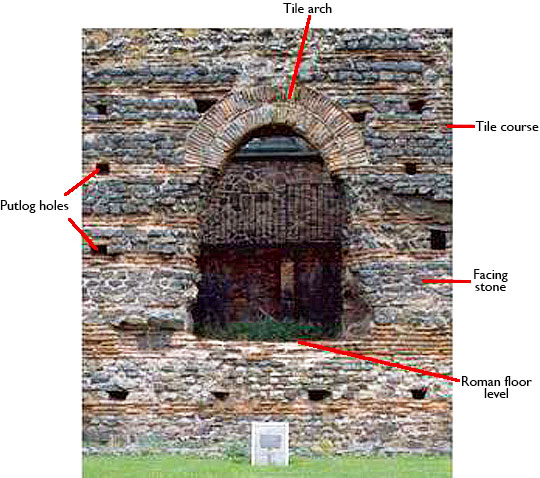 The Jewry Wall stands 9 metres (30 feet) high, making it the largest surviving Roman masonry structure in Britain. It is the only part of Leicester's Roman baths still standing above Roman floor level.
Roman walls were typically constructed within a timber scaffolding framework. The small 'putlog' holes in the walls mark the position of the wooden scaffolding used during construction.
The wall is built from several types of stone, particularly granite and slate from Charnwood forest, and local sandstones. Narrow Roman bricks have been used extensively to level the rough material. The large blocks at Roman ground level are of millstone grit from near Melbourne in Derbyshire.
Excavated Baths
The excavated remains of the baths at Leicester lie on the east side of the Jewry Wall Museum, and take the form of a series of stone foundations.
On the east side of the wall, beside the church of St Nicholas, is a series of brick arches. The base of each arch is at Roman floor level. This was the west side of a large exercise hall (palaestra), which now lies under the churchyard.
After exercising, bathers walked through one of the arched doors into the cold room (frigidarium), which was possibly open air. On either side were changing rooms and latrines.
Beyond were three warm rooms (tepidaria), positioned over a pillared hypocaust which allowed hot air to circulate beneath the floors. The bases of the tiled pillars that once supported the floor can still be seen.
In the hot rooms (caldaria), which were closest to the furnaces, bathers could take a sauna, use the steam room or enjoy a massage with scented oils. They would then use the semicircular hot plunge pools next to the furnaces to rinse off. On the north and south sides there were also semicircular cold plunge pools.
The foundations of the hot plunge pools and furnaces are now hidden beneath the Jewry Wall Museum.
Note
The text on this page is derived from interpretation panels at the site. We intend to update and enhance the content as soon as possible to provide more information on the property and its history.