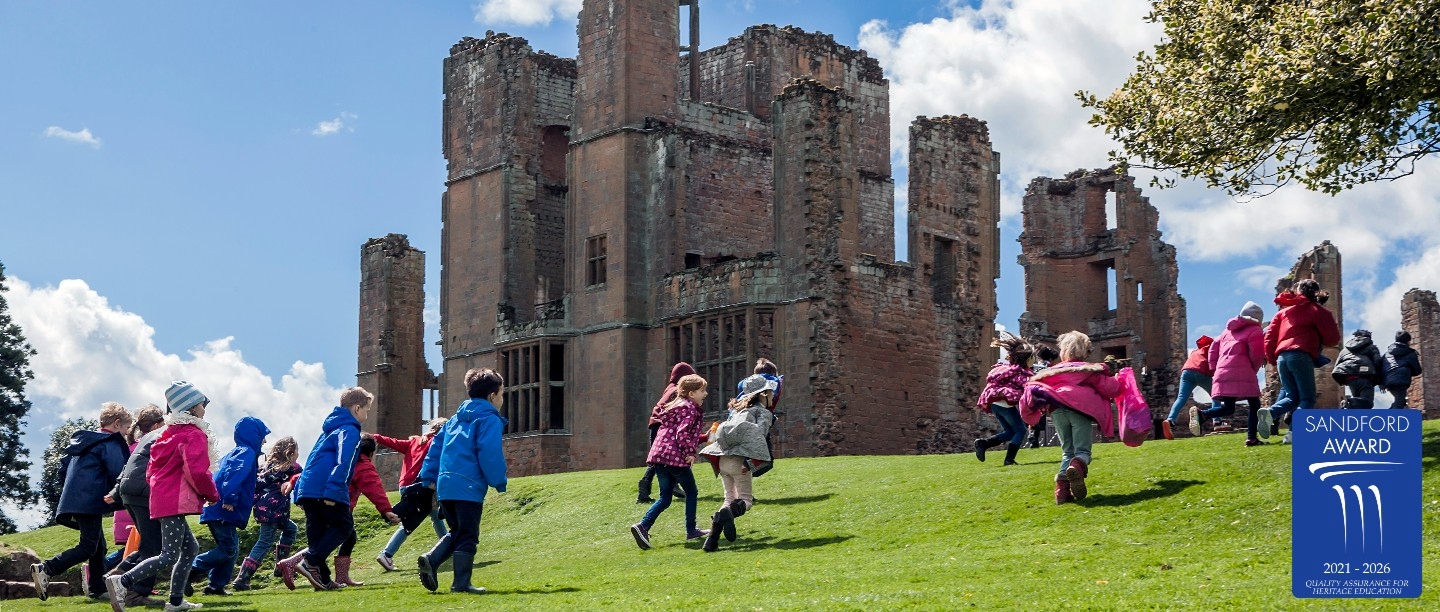 School Visits
Kenilworth Castle has been a major military stronghold, a royal palace, and an inspiration to writers and artists. It's the perfect destination to bring learning outside of the classroom and cover a wide range of curriculum subjects.
Curriculum links
Support your teaching in a fun and engaging way, with a visit to Kenilworth Castle.
KS1-3 History: A local history study
KS1 History: Significant historical events, people and places; study of castles
KS2 History: A study of an aspect or theme in British history that extends pupils' chronological knowledge beyond 1066
KS3 History: Development of Church, state and society in Medieval Britain 1066-1509
GCSE History: Study of the historic environment
Free Self-Led Visits
Book a free education visit and lead your visit in your own way. A visit to Kenilworth Castle can support learning across the curriculum, from a study of the historic environment to stimulus for story writing or art.
Enquire now
Expert-led Discovery Visit
Sandford Award winner 2021!
Let us bring the history of Kenilworth Castle to life for your students with an immersive, award-winning Discovery Visit led by one of our experts. Sessions are available for up to 30 students, to support KS1, KS2, KS3 and GCSE History groups and offer excellent value.
FIND OUT MORE
Plan your trip
We have a wide range of materials to support your visit and make school trip planning easy. You can find all our site-specific information and tools below, and further information on our what to expect page.
Download our free resources to help you make the most out of your visit and create unique learning experiences before, during and after your trip. We also offer free planning visits once you have made a booking, plus a 20% discount on the official English Heritage guidebook for your place of choice.
Once you book your visit you'll be sent a visit permit, which you'll need to bring with you on the day.
Visit our bookings page to start planning your trip!
Kenilworth Castle and Elizabethan Garden Teachers' Kit (KS1-KS4+)

Our Teachers' Kits feature historical information and activity suggestions for group leaders of various subjects and key stages.

Kenilworth Castle and Elizabethan Garden OCR Spec B: History Around Us (GCSE)

We've created a site proposal form to help with your planning in conjunction with OCR.

Teaching Medieval History

Use historical information, learning activities and tips from our historians, curators and educational experts to support your teaching of medieval history.

​Discover how castles developed over time with this short introduction.

How to Take a Medieval Castle

Watch our short animation to learn more about how to take a medieval castle.

Teaching Tudors and Stuarts

Use historical information, learning activities and tips from our historians, curators and educational experts to support your teaching of the Tudors and Stuarts.

Queen Elizabeth I Makeup Tutorial

Find out more about the makeup Queen Elizabeth I wore with Makeup Artist Rebecca Butterworth and Fashion Historian Amber Butchart.

Gardens Through History: Kenilworth Castle

Stroll around the Elizabethan Garden at Kenilworth Castle with this film explaining how the garden was created, destroyed, restored and is cared for today.