History of Kingston Russell Stone Circle
The Kingston Russell circle is believed to date back to the later Neolithic or Early Bronze Age, some 4,000 years ago.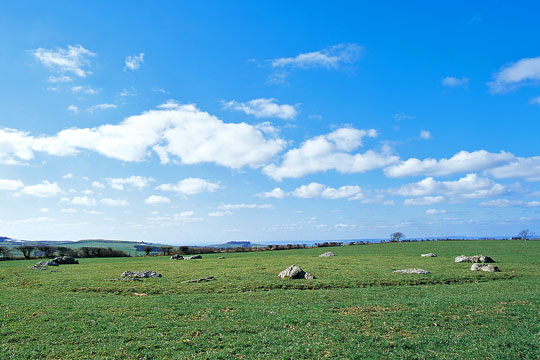 Stone Circles
The building of great monuments, including stone circles, is one of the most fascinating aspects of later Neolithic Britain. The ability to construct such monuments flowed from a communications network that enabled resources from a wide area to be devoted to large scale projects: Avebury and Stonehenge are two of the best-known examples.
Altogether there are about 900 stone circles in the British Isles: of these, between 30 and 40 are found in the South West, mostly in Devon and Cornwall. Kingston Russell is one of only four in south Dorset, although the area is rich in other monuments of Neolithic and Bronze Age date.
Stone circles were originally matched by elaborate circles of timber in parts of the country where this was the natural building material. In some places, stone circles appear to have been the permanent markers of former timber circles.
The Kingston Russell Stones
The 18 visible stones at Kingston Russell have all fallen: they lie flat, in a big irregular oval, the diameter of which varies between 27 metres (90 feet) and 18 metres (60 feet).
Some are broken, and it is impossible to tell which fragments are bases and which were originally upper parts. Ploughing has also disturbed the site. None of the stones has been shaped in any way, but they may have been set up with the tallest to the north.
While we can never expect to know exactly what went on within such circles, the study of more recent primitive societies suggests that structures like this may have been put to a great variety of uses, such as religious ceremonies and calendar setting. They may have served as the setting for community decision-making, dynastic marriages, inter-community trading agreements and the settling of frontier disputes.
Back along the footpath towards the road you pass the remains of a much earlier Neolithic chambered tomb known as the Grey Mare and Her Colts, showing that this area of chalk downland had been a focus for community ceremonies for at least one thousand years before the stone circle was erected.
Today, Kingston Russell Stone Circle lies at the junction of five footpaths, an echo of its ancient significance.
Further Reading
Gale, J, Prehistoric Dorset (London, 2003)