History of Leiston Abbey
Leiston Abbey is one of Suffolk's most impressive monastic ruins and has some spectacular architectural features. It was founded in 1182 by Ranulf de Glanville, Henry II's Chief Justiciar, and was dedicated to St Mary.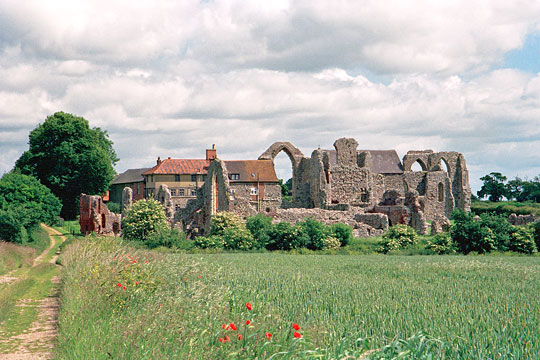 In about 1363 the abbey was moved away from what was evidently a rather unhealthy location on swampy ground, and rebuilt on its present site. The old abbey was dismantled for building materials (though a fragment of it can still be seen) and as a result the 14th century abbey incorporates some Norman features.
Robert de Ufford, Earl of Suffolk, oversaw the rebuilding of the abbey on a much larger scale than the original and included several new chapels.
The outside walls were finished with fine chequerwork, while the windows had delicate Perpendicular-style tracery. The abbey was home to Augustinian canons who followed the Premonstratensian rule. Their domestic buildings were damaged by fire in the 1380s and rebuilt.
After the suppression the king bestowed the abbey on his brother-in-law Charles Brandon, Duke of Suffolk. A farmhouse was built into the corner of the nave and north transept and the abbey ruins were used as farm buildings, the church itself being used as a barn.
A new front was added to the house in the Georgian period and it is currently owned by music school Pro Corda. The Lady Chapel was also restored and furnished in 1918.
Description
Lying in peaceful open fields these striking ruins represent parts of the abbey church and the fairly extensive remains of the buildings around the cloister.
The site is entered through the 16th century gatehouse, with its octagonal brick turret, which incorporates the cellarer's range – used for storage – on its northern side.
The cloister comes next, with traces of the canon's wash-place or lavatory against the wall of the south range. At the east end of this southern range are the remains of the day stairs that led up to the refectory or frater. The modern steps in their place afford a good view across the unusually well-preserved remains of the refectory and its basement, or undercroft, which has an outstanding pointed window.
In the east range are the remains of the warming house (over which was the dormitory or dorter), the chapter house and the sacristy, where books and vestments were kept.
The remains of the abbey church lie to the north of the cloister: a small arch in the sacristy leads into the south transept and the magnificent north transept arch is ahead. This part of the church – the presbytery, crossing and transepts – provides the best idea of its original stature.
The crossing tower remains to a considerable height and the north transept window – one of several that survive – is around 14 metres high. Between the presbytery and the north transept is the Lady Chapel, now thatched and with a wooden doorway.
Further Reading
Leiston Abbey, Suffolk (Department of the Environment guidebook, London, 1971)