History of Lexden Earthworks and Bluebottle Grove
The Colchester earthworks at Lexden and Bluebottle Grove are among the few surviving late Iron Age defences in Britain. They defended the west side of pre-Roman Colchester, Camulodunum, which was occupied by the Iron Age Catuvellauni and their leader Cunobelin from about AD 10, and before that by the Trinovantes.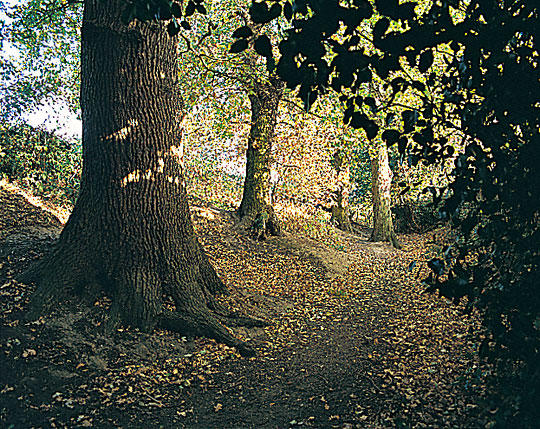 Origins
This great defensive system is thought to have been begun in the last quarter of the 1st century BC. Many pre-Roman graves have been found in the vicinity of Lexden Dyke, the best known of which lies within the ditch itself and is called the Lexden Tumulus.
Excavations in 1924 revealed the burial of an Iron Age nobleman in a pit beneath a barrow 30 metres in diameter. He was surrounded by luxurious objects – some of them Roman imports – which clearly belonged to a man of great importance.
This was once thought to be Cunobelin himself, but the dating of the objects to about 15–10 BC makes this untenable: Cunobelin died about AD 40. It seems likely that the tumulus was the burial place of Addedomarus, ruler of the Trinovantes (whose territory bordered that of the Catevellauni), or his son Dubnovellaunus, who succeeded him about 10–5 BC.
Description
Lexden Earthworks bound the western side of the site and Bluebottle Grove the southern.
The outermost rampart, Gryme's Dyke, is today the most impressive. It ran from the River Colne to the Roman River and can be traced for most of its length. South of the London Road it appears first as a hedge and then as a well-defined bank with a substantial ditch on its west side. This dyke is named after the Devil, 'Gryme', to whom Christians attributed many ancient earthworks whose origins were long forgotten. A footpath follows it for more than a mile.
The large gravel pit known as King Coel's Kitchen probably marks the point where the Roman roads from Cambridge and London once converged to cross this dyke.
East of Gryme's Dyke are the remnants of an earlier system: the Triple Dyke, west of Lexden; and the Lexden Dyke, which extends south to Bluebottle Grove and continues north of the Colne, where it is known as Moat Farm Dyke.
Further Reading
Cunliffe, B, Iron Age Communities in Britain (London, 4th edition, 2005)
Hunter, J, The Essex Landscape: A Study of its Form and History (Chelmsford, 1999), 51–4
Note
The text on this page is derived from the Heritage Unlocked series of guidebooks, published in 2002–6. We intend to update and enhance the content as soon as possible to provide more information on the property and its history.