Research on Longthorpe Tower
In spite of the attention lavished on Longthorpe Tower by art historians and others, a number of aspects of its history and architecture, and the content and meaning of its famous paintings, remain to be fully understood.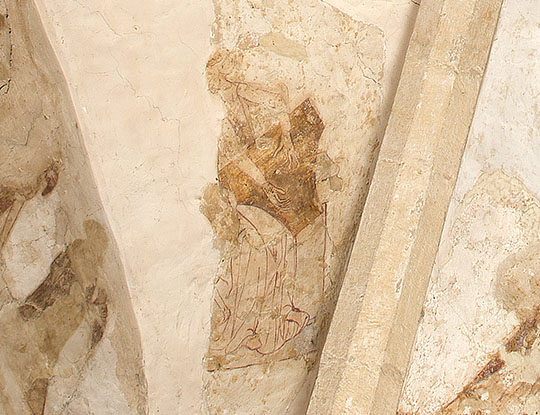 Wall Paintings
A great deal of research has been done on the meaning and iconography of the wall paintings, but much has still to be worked out. Firm conclusions may never be reached. But the remaining questions fall into two broad categories:
Is there a unifying 'programme' or theme behind the choice of subject matter, and if so what was it?

What was the intended meaning of various components (particularly the 'Wheel of the Five Senses'), and what was the subject and meaning of the scene above it?
Inscriptions played a major part in the decoration and explaining its content, but much is deemed 'illegible'. Might it be possible, either by recognition of text, or with the aid of techniques not available to Rouse (such as modern infrared imaging), to read more of them? Rouse did use ultra-violet light to look for fluorescent organic materials associated with the inscriptions, but without useful results.[1]
House and Manor
From the early 14th century Longthorpe was split between two manors – what came to be called the 'Old Manor' (later the site of the 17th-century Thorpe Hall)[2] and the 'New Manor',[3] held by the Thorpe family from at least the late 12th century until 1391. The published history of the 'New Manor' after about 1390 remains inadequate and confused, and would repay detailed primary research.

The hall and cross-wing of the house (privately owned) would repay more detailed, non-intrusive study, with a view to understanding the extent, plan and detailed phasing of the medieval fabric.
Footnotes
1. EC Rouse and A Baker, 'The wall-paintings at Longthorpe Tower near Peterborough, Northants', Archaeologia, 96 (1955), 30.
2. J Bridges, The History and Antiquities of Northamptonshire … compiled by the Rev Peter Whalley, 2 vols (Oxford, 1791), 571.
3. M Bateson, 'Longthorpe', in Victoria County History: Northamptonshire, vol 2, ed RM Serjeantson et al (London, 1906), 458 (accessed 7 July 2015); WT Mellows, Peterborough Local Administration: Parochial Government before the Reformation (Kettering, 1939), xxvii, note 6.