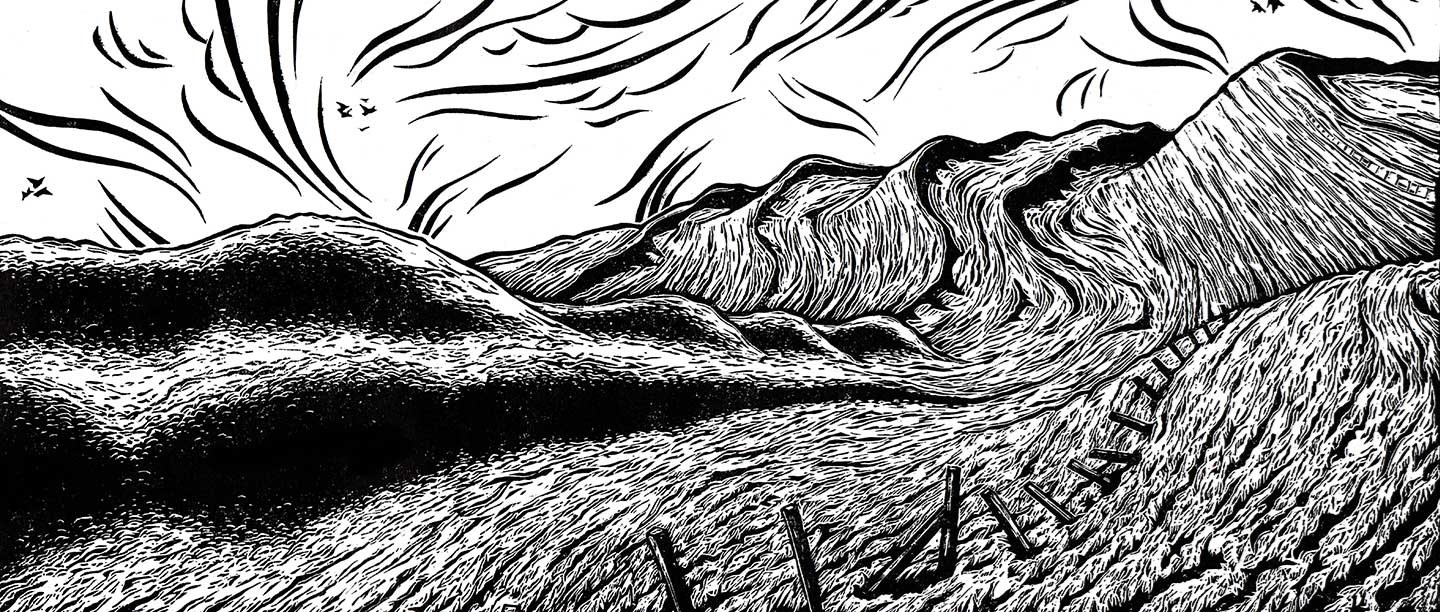 Echoscape: Sounds and Memories of Maiden Castle
Echoscape is an immersive audio experience that connects time, place and imagination.
Maiden Castle has been a focus of imagination for countless people over its history. In this audio experience visitors can listen to the viewpoints of modernist painter Paul Nash, writer Thomas Hardy and Iron Age storyteller Nonna. By exploring their stories within this ancient landscape, Echoscape asks us to consider our own place within Maiden Castle's ongoing history.
Image: Illustration by Luke Carter
Download and listen to Echoscape
Press play below to stream the file through SoundCloud or download the MP3 file (47 MB). Please note Apple devices do not support MP3 downloads and we advise iPhone and iPad users to download the file as a podcast through iTunes.
The audio experience is 40 minutes long and is suitable for ages 7+. There is no set route to follow but the visitor is encouraged to explore the ancient earthwork as they listen. The piece uses 3D sound and requires headphones.
If you are unable to access the audio, you can read the transcript in our PDF document.
Echoscape is a Splash & Ripple production for English Heritage.
The Echoscape Experience
Watch this video to see how other visitors have responded to Echoscape. Listening on site at Maiden Castle, members of the public describe how the audio experience introduced them to new perspectives on the hillfort and its history.
The People of Echoscape
Echoscape recreates the thoughts and imaginations of people who once walked the ramparts Maiden Castle, and invites you to become part of its continued story.
Two of the characters are based on real people we know visited and admired Maiden Castle – Thomas Hardy and Paul Nash – while the third – an Iron Age storyteller called Nonna – is entirely fictional, a voice we've created from scraps of evidence left behind nearly 2,000 years ago.
Nonna
Nonna lived at the time of the Roman invasion of Britain in AD 43. During this period, known as the late Iron Age, the community at Maiden Castle would have tended to crops of wheat and barley and kept livestock of cattle and sheep. Their iron workshop was one of the most important centres for welding, forging and tool production in southern England.
It's not clear how Nonna's life would have ended. Almost 2,000 years after she and her family died, the archaeologist Sir Mortimer Wheeler discovered a mass grave at Maiden Castle. Many of the skeletons showed evidence of a violent death. We know the invading Roman army led by Vespasian eventually occupied Maiden Castle, but the nature of their conquest is unknown.
Read more about Mortimer Wheeler's discoveries
Thomas Hardy
No writer has evoked the Dorset countryside quite like Thomas Hardy. Using the fictional name of 'Wessex' for his home county, Hardy poured the sights, sounds and atmosphere of the local countryside into his famous 19th century novels. He was born just outside Dorchester and wrote most of his novels while living in the town itself, which is referred to as Casterbridge in his fiction. Maiden Castle was his local hill and the landscape crept into his work. In The Mayor of Casterbridge (1886) protagonist Michael Henchard runs across the hillfort to warn his employee Donald Farfrae of trouble at home, while Farfrae himself goes there for trysts with the heroine, Elizabeth-Jane. Hardy lived to see his novel adapted into a film by Sidney Morgan, and visited the actors and crew on set at Maiden Castle.
His short story 'A Tryst at an Ancient Earthwork' (1893) is set at Maiden Castle and is the basis for Hardy's voice in Echoscape. In it, the narrator walks to the hill at night and remarks that even when the fort isn't visible, 'the form asserts its existence… as persistently as if it had a voice.' On top of the hill with a storm approaching he hears something resembling human voices, which 'must be the lingering air-borne vibrations of conversations uttered at least fifteen hundred years ago.'
Paul Nash
The modernist painter Paul Nash was fascinated by the British landscape, and in particular by its ancient earthworks. His former lover Eileen Agar wrote that the painter was interested in Maiden Castle, Silbury Hill and Avebury 'because they added a new dimension to the landscape of today, adding architecture and ideas to nature'. Nash's watercolour Maiden Castle (1943) foregrounds the ramparts of the hillfort, emphasising the presence of ancient time in the modern day.
In the 1930s Nash visited the excavations of Tessa Verney Wheeler and Sir Mortimer Wheeler at Maiden Castle. He took photos of the excavated skeletons and of the hill itself. Nash described the scene:
the sun beat down on the glinting white bones which were disposed in elegant clusters and sprays of blanched springs and branches. Or some seem to be the nests of giant birds; the gleaming skulls like clutches of monstrous eggs.
His painting Encounter in the Afternoon (1936) depicts bird-like stone shapes on top of a grey grid. The grid is thought to be inspired by the grid system used by the Wheelers, while the shapes of the stones seem to echo his description of the bones he found at Maiden Castle.
As an official war artist during the First World War Nash expressed his horror at the 'unspeakable' destruction of men and nature by painting scenes of desolate, war-torn landscapes, such as in the famous work, We Are Making a New World (1918). Excerpts from his war letters to his wife are used in the script of Echoscape to evoke his memories from this time.
Discoveries at Maiden Castle

Learn more about Sir Mortimer Wheeler's discoveries during his excavations of Maiden Castle.

History of Maiden Castle

Read a comprehensive history of Maiden Castle, from its beginnings as a neolithic settlement to its abandonment after the Roman invasion.

Mini Guide to Prehistoric Monuments

Ever wondered what the difference between a henge and a hillfort is? Watch this short animation for an answer to this and many more questions about prehistoric monuments.