History of Mistley Towers
Mistley is a building of considerable architectural significance – one of only two churches designed by Robert Adam, whose client was Richard Rigby of Mistley Hall.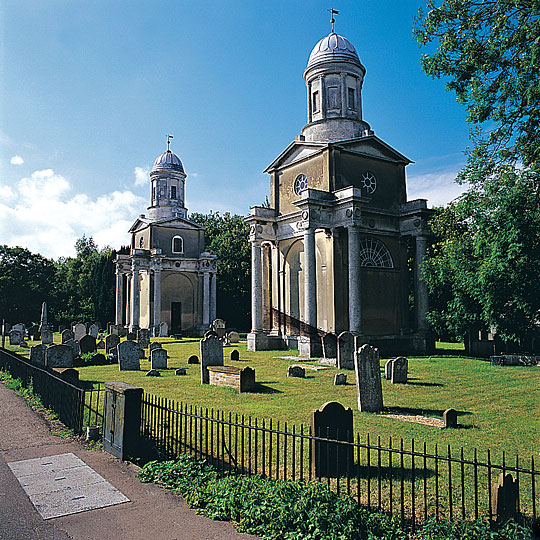 Origins
Rigby's father had made a great deal of money at the time of the South Sea speculation, and Rigby himself attained further wealth and influence when George III made him Paymaster General of the Forces in 1768.
At that time the village of Mistley consisted of warehouses, a granary, a large malting office and new quays. There was also a medieval church, only the porch of which survives, and a new church that Rigby's father had built to the north of the village in 1735. When Rigby hatched a scheme to turn Mistley into a fashionable spa this plain, rectangular brick building was not in keeping with his grand plans.
Rigby originally called in Robert Adam to design a saltwater bath by the river, but this plan was never carried out and instead the architect was put to work on the church in around 1776. Adam's scheme was unusual in that it avoided the standard form of 18th century parish church design, which consisted typically of a rectangle with a western tower or portico (or both) and perhaps an eastern chancel. Instead, by adding towers at the east and west ends and semi-circular porticoes on the north and south sides, Adam created a design that was symmetrical along both the long and short axes. This unusual arrangement was possibly influenced by the design of Roman tombs and the result was most unconventional. Mistley would certainly have stood out from other 18th century churches.
Sadly for Rigby his grand plans for the spa were unsuccessful. The main body of the church was demolished in 1870 when a new and larger church in the then fashionable Gothic Revival style was built nearby. However, the towers were preserved as a seamark, and made symmetrical by adding the columns from the porticoes to the sides formerly attached to the nave. They were then sold to two local families who intended to use them as mausolea, but this did not happen and they fell into disrepair. They were restored in the 1950s by the distinguished local architect Raymond Erith under the auspices of the Georgian Group.
Description
Even in its ruined state Mistley remains an unusual and interesting site. The towers are built in rendered brickwork with decoration in Portland stone. Tuscan porticos project from the outer sides, topped by small lantern domes.
The eastern tower was originally the chancel of the church and inside you can still see its painted commandment boards and a painted representation of the Holy Trinity on the ceiling. The western tower is identical internally, though without the painted decoration.
The churchyard contains a number of early to mid-18th century monuments including an obelisk and a large, polished, black granite Egyptian-style mausoleum to the Norman family.
Further Reading
Bolton, AT, The Architecture of Robert and James Adam 1758–1794 (Woodbridge, 1985)