History of Monk Bretton Priory
The substantial ruins of Monk Bretton Priory, near Barnsley, are now edged by housing estates and industrial developments. When the monastery was built, however, the site in the wooded valley of the River Dearne was peaceful and remote.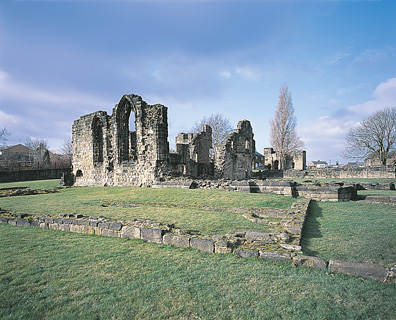 Founded in about 1154 by a local landowner, Adam Fitzswaine, it was a daughter house of the rich Cluniac priory at Pontefract. But within 50 years bitter quarrels – at times even involving gang warfare – had broken out between the two houses, as Pontefract sought to retain direct control of Monk Bretton. The dispute was only resolved in 1281, when Monk Bretton seceded from the Cluniac Order and became a Benedictine house.
The later history of Monk Bretton was, in comparison, uneventful. The priory owned properties across South Yorkshire, with rights over five parish churches, and worked coal and ironstone in the Barnsley area. In 1295 it housed 13 monks and a prior; there was exactly the same number at its closure in November 1538 during the Dissolution of the Monasteries.
After 1538 the priory was swiftly plundered for usable building materials: the north aisle of the church, for example, was dismantled and reconstructed as the parish church of Wentworth (though this was itself demolished in the late 18th century). The bells and church plate were taken to London and melted down.
In 1589 the estate was bought by William Talbot, Earl of Shrewsbury, and the west range of the cloister was converted into a country house for his son Henry. The priory site changed hands several times over later centuries, before being placed in state guardianship in 1932.
Description
Little remains of the church, although there are several particularly fine examples of medieval grave slabs. Some of these still retain lead lettering set into the stone; others are decorated with beautifully incised crosses.
The cloister buildings are better preserved. They include the high south wall of the monks' refectory, with its two great windows; parts of the chapterhouse; and the west range which is almost complete. This range shows extensive evidence of the conversion work undertaken in the 1580s. It was used as a residence until the late 19th century, which is how it survived.
Located beyond the cloister at the south-east corner of the site are the well-preserved drains that flushed the latrine block with running water brought from the River Dearne.
North-east of the church a large building of the late 13th century stands alone. It retains its medieval double-ridged roof, and, inside, tall octagonal pillars support the upper storey. The building was probably the courthouse and administrative building for the management of the priory estates.
The imposing priory gatehouse, which was built in the early 15th century, is still almost intact, although roofless.
Further Reading
Booker, D, Monk Bretton Bygones (Barnsley, 1993)
Gilyard-Beer, R, and Graham, R, Monk Bretton Priory (English Heritage, London, 1966)
Hey, D, The Making of South Yorkshire (Ashbourne, 1979)